State of the Union: 5 Key Points That Could Impact Your Wallet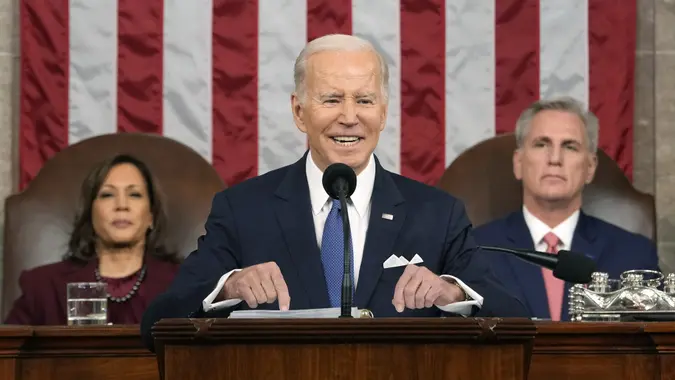 Martin Jacquelyn/Pool/ABACA/Shutterstock / Martin Jacquelyn/Pool/ABACA/Shutterstock
President Joe Biden delivered his second State of the Union on Tuesday, Feb. 7 covering a range of topics including issues at home, such as inflation and the debt ceiling, to global ones, such as the war in Ukraine.
Social Security: Manchin Proposes 'Easiest' Social Security Fix In Response to Debt Ceiling — Would Biden Agree?
Find Out: With a Recession Looming, Make These 3 Retirement Moves To Stay On Track
The president also addressed several hot-button issues, such as the debt ceiling and social security. Meanwhile, newly elected Gov. Sarah Huckabee Sanders (R-Ark.) delivered the Republican rebuttal.
Here are the personal finance issues Biden addressed during his speech:
Debt Ceiling 
Amid deadlocked debt ceiling negotiations, Biden reminded Congress that Republicans have lifted it several times under previous administrations, "without preconditions or crisis."
In a bipartisan plea, he asked Congress to "commit here tonight that the full faith and credit of the United States of America will never, ever be questioned," according to his remarks.
Make Your Money Work for You
Government Shutdown 2023: Will Social Security Payments Stop Now That Debt Ceiling Has Been Reached?
"The first contentious part of Biden's speech was about the debt ceiling," said Howard Dvorkin, CPA and chairman of Debt.com. "When Biden accused some of his "Republican friends" of wanting to "take the economy hostage," the GOP jeers briefly interrupted his speech."
Dvorkin added that as a CPA, he is feeling a bipartisan depression about that.
"The Republicans need to pay the bills the government has already run up, but the Democrats need to get serious about spending. Biden and Huckabee-Sanders talked over each other about that," added Dvorkin
Junk Fees
Biden also spoke about eliminating so-called junk fees which are hidden in everything from hotel fees to airline fees, concert fees, cable fees and bank fees that end up costing American consumers a lot of money. He called on Congress to pass the Junk Fee Protection Act.
"We've reduced exorbitant bank overdraft fees, saving consumers more than $1 billion a year," he said. "We're cutting credit card late fees by 75%, from $30 to $8."
Bobbi Rebell, CFP, founder of Financial Wellness Strategies and author, Launching Financial Grownups, said that with inflation still very top of mind, consumers are increasingly frustrated with all the add-on costs companies impose on consumers.
Make Your Money Work for You
Your Wallet: Biden Reasserts Need To Crack Down on Junk Fees — How Much Do They Cost You?
"Biden hit on a growing pain point for so many Americans who already feel the pinch of higher prices. Resentment is growing against companies who impose things like "resort fees" and unexplained "administration fees" etc., especially when they are not optional and are merely seen as ways to hide the true cost of goods and services," she said.
Last October, the president announced a crackdown on these fees and earlier this month, he introduced the Junk Fee Protection Act.
Debt.com's Dvorkin said he too, was happy to hear Biden talk about junk fees because it's truly a problem average Americans face every day.
"Yet it's also true that Biden talked longer about the Junk Fee Prevention Act than he did about the inflation rate," added Dvorkin. " And it's also true that the Republican response from Arkansas Gov. Sarah Huckabee Sanders focused more on culture wars than inflation. Until both parties get down to the boring business of fixing government spending and the economy, they'll be hearing more jeers from us, and not just each other."
Make Your Money Work for You
Social Security and Medicare
Biden said that some Republicans wanted to "take the economy hostage unless I agree to their economic plans," adding that some of them say that part of debt ceiling negotiations entail cutting Social Security and Medicare.
"I won't let that happen. Social Security and Medicare are a lifeline for millions of seniors," he said. "So tonight, let's all agree to stand up for seniors. Stand up and show them we will not cut Social Security. We will not cut Medicare."
House Republicans, meanwhile, countered his statement, posting in a tweet a video of McCarthy saying the cuts were "off the table."
Billionaire Tax
The president reiterated his call for the Billionaire Tax — a plan he had introduced last March — in which the White House would impose a minimum 20% tax rate that will apply only to American households worth $100 million or more.
The Billionaire Minimum Income Tax — which is part of the administration's fiscal year 2023 budget — "would make sure that the wealthiest Americans no longer pay a tax rate lower than teachers and firefighters," according to a White House document at the time.
"Under my plan, nobody earning less than $400,000 a year will pay an additional penny in taxes," Biden said during his speech. "Let's finish the job. Reward work, not just wealth. Pass my proposal for a billionaire minimum tax. Because no billionaire should pay a lower tax rate than a school teacher or a firefighter."
Student Loan Forgiveness
Biden was brief in addressing his student debt relief program which is being blocked by several lawsuits and whose fate is awaiting the Supreme Court's hearing of the case at the end of the month.
Student Loan Forgiveness: Timeline of Events Leading Up To the Supreme Court Review
"And we're making progress by reducing student debt and increasing Pell Grants for working- and middle-class families," he said.
More From GOBankingRates
Make Your Money Work for You