10 States That Are Beating Inflation and 10 That Are Not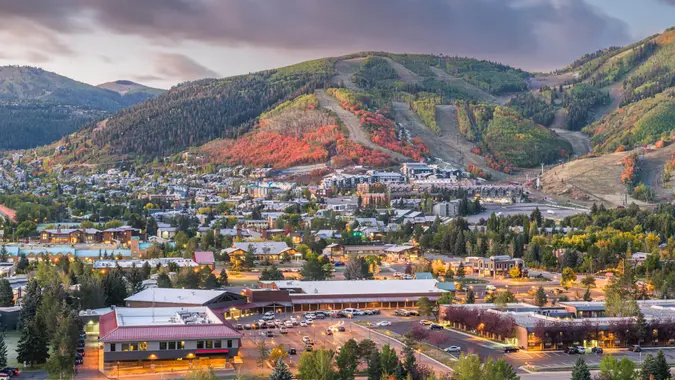 Sean Pavone / Getty Images/iStockphoto
America's world-leading $26.53 trillion GDP represents the combined economic productivity of its 50 states plus the District of Columbia.
Naturally, bigger states with more residents kick in a greater percentage and smaller states deliver less. For example, California's $3.6 trillion GDP is poised to surpass Germany as the fourth-largest economy in the world, while Vermont contributes nearly 100 times less at just $40.6 billion.
Home to nearly 40 million people, California is America's most populous state, while Vermont is home to fewer than 650,000 people, more than only Wyoming.
But population size is just one driver of economic productivity.
A new WalletHub study analyzed the most important economic indicators to identify how each state and Washington, D.C., are performing during the current era of high inflation. Its findings confirmed that size isn't everything.
The Many Elements of a Thriving Economy
The study ranked each state according to its performance in 28 key criteria across three broad categories:
Economic activity: Includes things like change in GDP, share of fast-growing businesses, startup activity, exports per capita and public debt.
Economic health: Measures factors like unemployment rate, household and personal income, government surpluses or deficits, share of the population in poverty, share of the uninsured population and foreclosure rates.
Innovation potential: Examines elements like the share of jobs in tech and STEM fields, number of patents per capita, R&D spending and entrepreneurial activity.
Make Your Money Work for You
The Current Climate Has Produced Winners and Losers
The study used a 100-point scale to rate all 50 states plus D.C., with higher being better, based on their performances in all three categories, each carrying 33.33 possible points.
The top 10 winners, from best to No. 10 best, were:
Washington
Utah
Massachusetts
Colorado
California
Idaho
North Carolina
Washington, D.C.
Texas
Arizona
The bottom 10 losers, from No. 1 worst to No. 10 worst, were:
West Virginia
Louisiana
Alaska
Mississippi
Hawaii
Oklahoma
Kentucky
North Dakota
South Dakota
Maine
What Makes a State Thrive or Fail in the Era of Inflation?
The study's authors asked a panel of experts about the most effective ways for state and local officials to help their economies, retain highly skilled workers and compete for business investment.
Kent Jones, an economics professor, talked about providing affordable housing, fostering a climate that promotes entrepreneurialism and welcoming highly educated professionals instead of tarring them as elitists.
Janet Harrah, the director of a business research center, said that elected officials should focus solely on the public goods and services that only the government can provide.
Burton Abrams, a research fellow and professor emeritus of economics, said that low taxes and peace kept through the fair application of justice are at the heart of all thriving economies.
They and others expanded on their answers with convincing and well-crafted points. To further explore the issue, GOBankingRates spoke to an expert in the field whose unique perspective comes from developing economies in real life.
Make Your Money Work for You
Healthy Economies Attract Businesses Looking for Permanent Homes
Jess Fields is an economic development expert who spent 30 years writing, speaking and consulting on the topic. He served as the Article V project coordinator for the Center for Tenth Amendment Action at the Texas Public Policy Foundation, one of the largest state-level public policy think tanks in the United States. He also served on the College Station City Council from 2010 to 2013, representing all of the city's roughly 100,000 residents in an at-large position. He has owned a small business in College Station since 2007 and founded Precision Outreach, a communications strategy and public relations firm specializing in campaigns and government affairs.
Here's a look at his insight into the matter.
Incentivizing Companies To Relocate Won't Work If You're Not Prepared To Receive Them
In Fields' experience, there's only one true path to building and maintaining a healthy economy.
"The single most effective way for any government, state or local, to promote economic development is with excellent infrastructure," he said. "A lot of localities, especially, throw money at companies seeking to move, but this becomes a rent-seeker's paradise as companies that want to take advantage of the system compete for the biggest incentives possible."
Giving away tax dollars to businesses that don't plan on putting down roots only further saps the local economy for the benefit of companies that are in it only for cheap access.
Make Your Money Work for You
"The most permanent and lasting economic development strategy is to build out what is required for a business to come in and start production on day one," Fields said.
But those efforts go beyond only the tangible.
"Infrastructure isn't just physical roads and pipes, but also the regulatory structure," Fields said. "Are staffers going to be helpful with paperwork? Is the process going to make sense? Infrastructure means that a business can slot its operations into an environment easily and quickly."
While all the experts have different takes on what's needed to thrive, only time will tell what works for each state.
More From GOBankingRates