5 Surprising Cities That Could Be More Affordable in 2022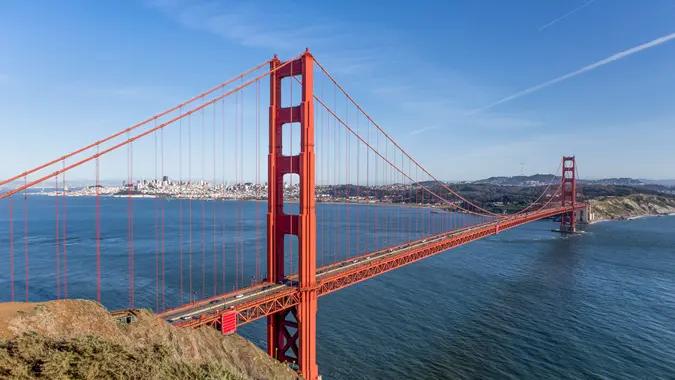 Evan Bracken / Shutterstock.com
The pandemic has caused some highly unusual economy trends. Many products have gotten more expensive due to supply chain issues, and remote work has led people to search for cities with a lower cost of living.
Oftentimes, that has meant moving to secondary markets and rural areas with lower population densities that still offer the basic amenities people need. As the pandemic has progressed, people have gotten more creative with their moves, but even cities like Austin, Texas are becoming too expensive for some people.
Learn: Here's How Much You Need To Earn To Be 'Rich' in Every State
See: 10 Ways To Lower Your Cost of Living Without Moving
These trends could make one think that all of the cities with a typically high cost of living have become more expensive too, but that isn't necessarily the case. As more people have fled expensive areas in favor of more remote places, some of those high COL areas have actually gotten cheaper since the beginning of the pandemic. A report from Rent.com shows that housing, groceries and transportation have gotten cheaper in several cities associated with a high cost of living. That could present an opportunity for those who were priced out of those markets in the past. Let's take a look at some of the highlights.
Make Your Money Work for You
Honolulu, Hawaii
Honolulu is the second-most expensive city in North America according to Numbeo's cost of living list, so it certainly isn't the most affordable place to live. Honolulu's cost of living is rated at 176.5 according to BestPlaces, compared to the benchmark of 100.
Nevertheless, the capital city of Hawaii is a major destination for those looking for an island getaway. That comes at a premium, though, not only due to the city's warm weather but also because it is isolated and thus logistically challenging to deliver goods there. Hence, groceries are the second most expensive in Honolulu. Despite this, the city's cost of living dropped by about 5% between 2020 and 2021, with utilities dipping by over 15% and housing by over 6%.
Explore: How Long $1 Million in Savings Will Last in Every State
Washington, D.C.
Washington, D.C. is the 12th-most expensive place to live in North America, according to Numbeo. The cost of living is 152.1, and the nation's capital is a perennially expensive place to live. In addition to Capitol Hill and the White House, people come from across the globe to see the Smithsonian museums, Arlington National Cemetery and other notable places in the area.
But D.C. has become less expensive as people spread out, opting for remote work. The overall cost of living has declined by 3.73% there. Notable decreases have come from housing and utilities, which have fallen 7.58% and 7.22%, respectively.
Make Your Money Work for You
Check Out: Best Places To Live On a $50,000 Salary in Every State
San Francisco, California
San Francisco is often thought of as one of the most expensive places to live in the U.S. Numbeo's data confirms that, rating it the sixth-most expensive city in North America. It also has the highest rent of all cities, putting it at number two on the cost of living plus rent index. San Francisco does have a lot to offer with its temperate weather and an endless supply of sun, though.
Still, the high costs in the city have pushed some residents away, and that has contributed to a decrease in the cost of living overall. Rent.com's report shows that the overall cost has decreased by 3.44% in San Francisco. Most costs have decreased modestly, though — rent is down 3.66%.
Time To Move? The Richest Small Town in Every State
Brooklyn, New York
New York can be one of the most expensive places to live. Manhattan, in particular, has no shortage of homes with seven-figure price tags. New York is "the city that never sleeps," and there is always something to do there. That makes it a desirable place to be, and that makes it the fourth-most expensive place to live in North America. Rents there are second only to San Francisco.
Make Your Money Work for You
However, just across the East River from Manhattan lies Brooklyn, a New York borough that is still very much central to the city. The Brooklyn Bridge, Coney Island and Prospect Park are among the major attractions in Brooklyn. The cost of living is down in Brooklyn, though, with a 3.27% decrease. Groceries and housing are down 6.65% and 6.08%, respectively.
The Economy and Your Money: All You Need To Know
Seattle, Washington
Seattle may not be the capital of Washington state, but it happens to be the largest city in the state. Home to Amazon, Starbucks and other big names, Seattle has no shortage of good jobs and plenty of great spots for some outdoor adventures. Although its climate isn't as mild as that of San Francisco, it rarely gets too bitterly cold or unbearably hot. However, the city is also expensive, coming in at number 10 in North America.
Despite being expensive, costs in Seattle have come down as a result of the pandemic. As a tech-friendly city, many of Seattle's jobs can be done remotely. The overall cost of living is down 3.13% there; housing has fallen by 8.52%, and healthcare is 4.58% cheaper.
More From GOBankingRates
Make Your Money Work for You