10 Surprising Household Products Not Hit by Inflation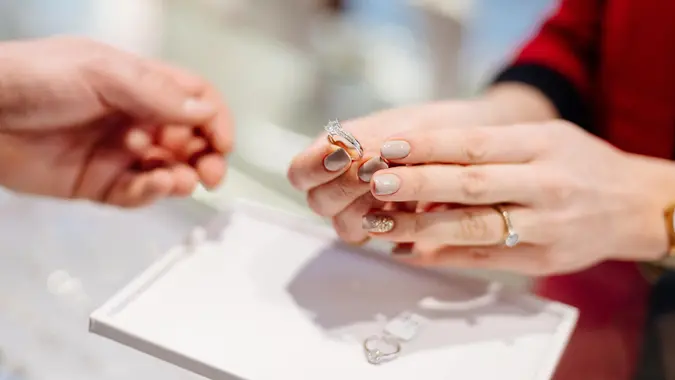 djedzura / Getty Images/iStockphoto
While many popular grocery store items, including avocados, eggs and meat, have skyrocketed in price over the last year due to inflation, certain products are seemingly unaffected and have even decreased in price.
GOBankingRates pulled statistics from the U.S. Bureau of Labor Statistics' Consumer Price Index (CPI) to examine which household items have been least impacted by inflation.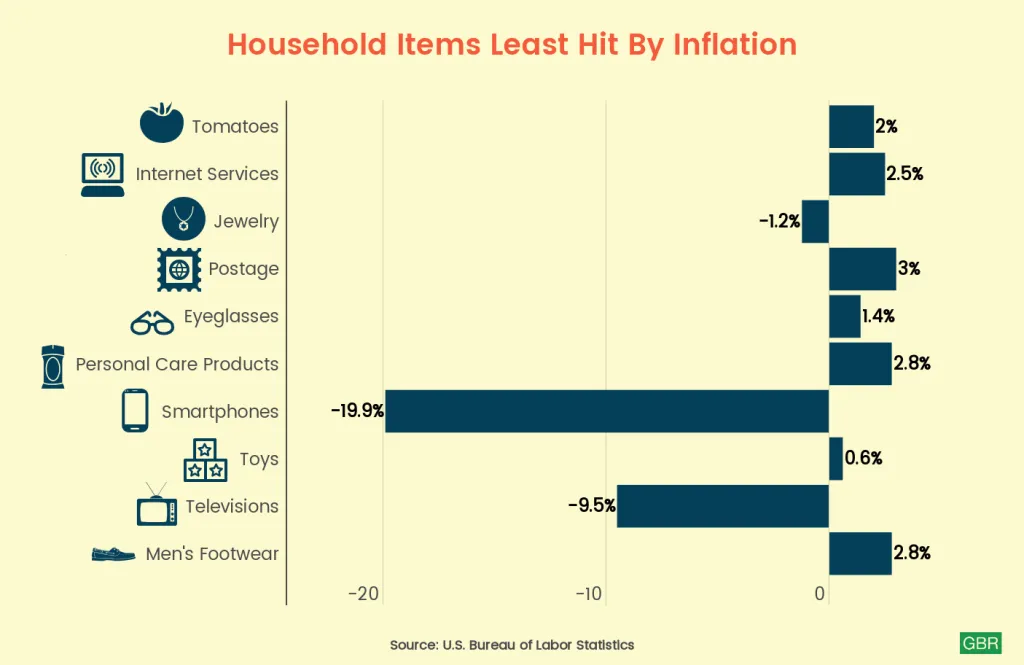 Tomatoes
Tomatoes have quietly avoided the inflationary impacts facing other fruits and vegetables, only inflating by 2%. 
One of the biggest reasons why tomatoes are less susceptible to feeling the brunt of inflation may be thanks to victory gardens. Tomato plants, according to the National Garden Bureau, are among some of the easiest plants to grow in a garden. Remember that when growing tomatoes, you'll need the plant to receive as much direct sunlight as possible and be within warm temperatures to produce the highest yield. 
Internet Services
Internet services have only inflated by 2.5%, with broadband internet especially proving to be stable and affordable. 
The NCTA — The Internet & Television Association details in a graph on its website how internet prices have remained well behind the overall rate of inflation for the past decade. Knowing that broadband internet is not fueling inflation allows American consumers to receive a great value in internet prices and proves that the internet is indeed affordable for all.
Smartphones and Televisions
Electronic devices are declining in price, most notably smartphones (19.9%) and televisions (9.5%). Some of the reasons why smartphones and televisions haven't been impacted by inflation may be traced back to the early days of the COVID-19 pandemic. Lockdowns meant purchasing entertainment items, like TVs and smartphones, to keep us entertained while sheltering in place. As reported by USA Today, the demand dropped for these items along with their prices.
Make Your Money Work for You
Another reason why smartphones and televisions are less impacted by inflation may be because of the season. In an article about how to save money as consumer prices keep rising, Samantha Gordon, deals editor at Consumer Reports, said the best time of year to purchase televisions is generally between fall and early winter. This marks the beginning of holiday sales as well as the release of new electronic models.
Jewelry
Jewelry has declined ever so slightly in price by 1.2% and the overall outlook on jewelry remains optimistic. 
In 2020 and 2021, the luxury jeweler retail industry saw unprecedented growth. Flush with cash and nowhere to travel to, consumers turned to "sentimental spending" buying engagement rings and other pieces of jewelry like watches for their loved ones. With more than 2.5 million weddings scheduled to take place this year in the United States, the prediction for most jewelers is that sales growth will continue for the rest of 2022.
Eyeglasses
While the price for eye care and eyewear has been slightly impacted by inflation, eye care and eyewear have not increased at the same pace as prices in other areas, said Alysse Henkel, director of research data and analytics at The Vision Council in an interview with Eyecare Business. 
Contributions to increases in eyewear pricing may be more tied in with supply chain problems and staffing challenges, the former of which is anticipated to continue into 2023.
Toys
While toys are among the least hit items by inflation at 0.6%, it's difficult to say whether that will remain true throughout the rest of the year. 
In April 2022, TheStreet reported that Hasbro planned to raise prices on its toys and games due to lower profits, rising costs of plastic necessary to make toys and supply chain disruption. Prices are expected to be implemented midyear 2022.
Make Your Money Work for You
Men's Footwear
How has men's footwear escaped the clutches of inflation? 
Many brands, including Skechers and Steve Madden are acknowledging the challenges of the current inflationary environment as reported by Footwear News. Despite these concerns, spending habits, especially those surrounding personal consumption expenditures, have yet to soften much when it comes to men's footwear.
Postage
Postage is going up in 2022, but the overall price hike by the United States Postal Service (USPS) will be well below the current inflation rate. In April 2022, Reuters reported the USPS filed notice with the Postal Regulatory Commission to raise the price of first-class mail stamps from 58 cents to 60 cents. 
Personal Care Products
At a 2.8% increase, personal care products seemingly have not been hit hard by inflation. However, this is a gradually changing narrative throughout 2022.
On the heels of the baby formula shortage, sanitary products, in particular tampons, began experiencing a nationwide shortage. Tampon inventory reportedly dropped by 60% across the United States, with contributing factors including demand for raw materials, a lack of workforce for manufacturing and delivery and overall rising costs.
More From GOBankingRates