6 Things Millionaires Are Doing With Their Money To Prep for an Economic Downturn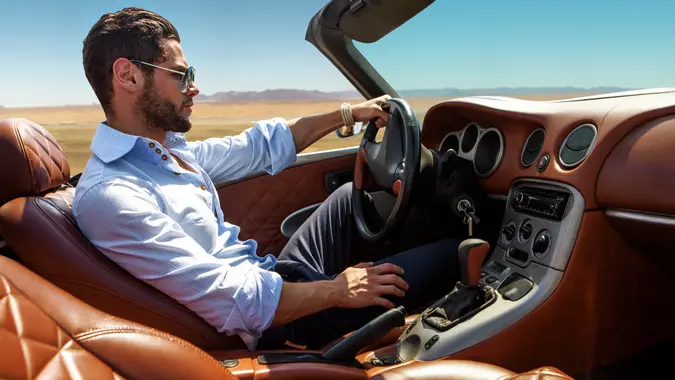 AS Inc. / Shutterstock.com
The majority of Americans (67%) believe the economy will enter into recession later this year, a new Northwestern Mutual study found. It also found that among those anticipating a recession, three out of four expect it to have a high or moderate impact on both their near-term (78%) and longer-term (75%) finances.
Even the ultra-wealthy don't believe they'll make it through a recession unscathed, so many are taking preemptive steps now to be ready when the downturn hits, the study found. Here's a look at what millionaires are doing to prepare, plus, what the average American can learn from these behaviors.
The Majority of Millionaires Are Building Up Emergency Savings
The study found that the No. 1 thing high-net-worth individuals are doing to offset the effects of a potential recession is building up their savings and emergency funds — 50% of millionaires are taking this action.
"The strategy of putting some money aside to have some dry powder aside for both opportunities, or for potential unknown challenges, is a sound one," said Tim Harrison, founder and CEO of Harrison Financial Services – Northwestern Mutual Private Client Group in Omaha, Nebraska. "Higher interest rates are making it harder to borrow for big purchases, but they also make it easier to save and invest for goals tomorrow."
Harrison notes that building savings has been a proven strategy for the ultra-wealthy to make it through past downturns.
Make Your Money Work for You
"Many high-net-worth individuals accumulated their wealth through running a business and they are often fairly aware of the economic and business cycles," he said. "These individuals have been through a few recessions and have 'muscle memory' and intuition around what is necessary in tightening cycles."
Nearly Half of Millionaires Are Cutting Costs
Even those with money to spare are tightening their purse strings. The second-most common action millionaires are taking to be ready for a recession is cutting costs — 46% of high-net-worth individuals said they are currently reining in their spending.
"I am not surprised that high-net-worth individuals are cutting costs," Harrison said. "This is analogous to an athlete knowing you have an event coming up and so you train, you focus and save up your energy for the event, and you try to get mean and lean to be able to perform through the challenge. The HNW look at a recession the same way: they conserve their strength and energy for the potential for rainy days ahead.
"The goal is to find the balance, so they can enjoy today without feeling like they are sacrificing the future," he continued. "Cutting back on expenses now can help them to act from a position of strength later on. Planning can create that opportunity."
Here's What Else Millionaires Are Doing To Be Ready for a Recession
The study found that other preemptive actions being taken by millionaires to prepare for a potential recession include postponing large expenses (38%), pulling back from stock investments to reduce risk (32%), taking on a side hustle or additional income stream (26%) and pulling back from speculative investments such as cryptocurrencies to reduce risk (22%).
Harrison believes that many of these steps are wise choices. He notes that by postponing large expenses, these individuals can add to their savings and potentially benefit from later price drops: "If they can afford to wait — and save until prices fall and recession fears fade — they could generate a better financial outcome," he said.
Make Your Money Work for You
Harrison also thinks it's a good idea to reevaluate the risk levels in your portfolio.
"Have your advisor review and evaluate your investments to make sure you own companies that are more resilient in hard times and are less sensitive to recessionary times," he said. These include "value stocks and 'owning things people need' versus things that are discretionary or luxury items that people may wait to buy until things are good again."
While most millionaires are taking steps to prepare their finances for a recession, the study also found that 19% of high-net-worth individuals are not taking any action.
"There is a segment of the high-net-worth population that may feel like they are insulated enough from a recession to resist making any changes," Harrison said. "For anyone who feels uncertain, the best answer is always a custom-built financial plan. Planning can help to free people from financial anxiety by providing greater certainty. The best confidence comes from knowing that you can enjoy today without sacrificing tomorrow's dreams. However, it is always a good idea to adjust to your surroundings to be aware of what may be around the corner, as you just never know what surprises may come your way."
What the Average American Can Learn From Millionaires
Though the average American has less wealth on the line to potentially lose during a recession, many of the actions being taken by high-net-worth individuals should be adopted by everyone, including building savings and cutting costs.
Make Your Money Work for You
"Pay yourself first," Harrison said. "Continue to save and invest for your future first and then no matter what is left over, you have already done the hard part first. Manage your budget and cut back discretionary costs accordingly with what is left over."
Harrison also said that this is a good time to take steps to increase your income.
"Many may want to seek opportunities to grow their earning potential," he said. "Regardless of the time and economic circumstances, continuing education is often a strong investment one can make to grow your wealth-building potential in the future."
More From GOBankingRates