97% of Americans Are Worried About the Economy: 4 Tips To Ease Recession Anxiety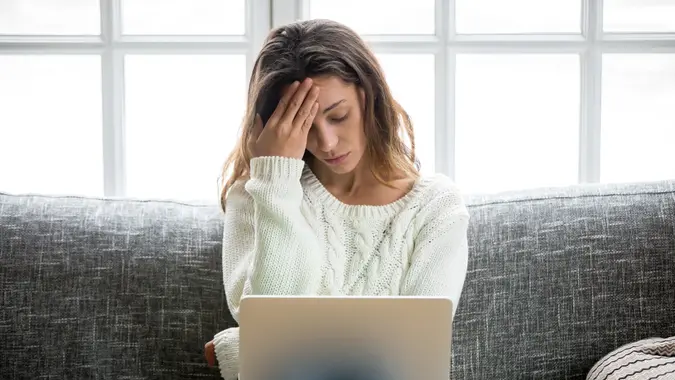 fizkes / iStock.com
When it comes to fluctuations in the economy, it's natural for people to worry. No one wants to see their money losing value, but a recession could do just that. The current state of inflation and interest rates has Americans concerned whether another recession could turn the stock market on its head.
Find: 13 Ways To Make $100 in Just a Day
Learn: The Minimum Salary You Need To Be Happy in Every State
A recent GOBankingRates survey asked what concerned people about the economy. Surprisingly, only 3% of respondents said that they weren't worried about the economy at all. That means that a shocking 97% of Americans are anxious about where the economy is headed. The most common worries selected were inflation, gas prices and grocery prices.
Even if a recession seems inevitable, worrying about it won't help your wallet (or your well-being). Here are a few ways to protect your finances should a recession become a reality.
1. Spend Less
It might go without saying, but reigning in your spending can help keep more money in your pocket. That's easier said than done, right? Try this: download and review your most recent bank statement.
Make Your Money Work for You
When you take away the essentials like rent, utilities and groceries, it's much easier to see where your money is going. Then use this information to create a budget that you can stick to. Try cutting out extraneous expenses and find ways to save on the essentials. If you're able to spend less, you can put more money toward other important things.
Take Our Poll: Do You Have a Side Gig or Other Hustle?
2. Save More
An emergency fund can provide a lot of calm during a stormy recession. Unfortunate things happen every day — appliances break and pipes burst. Life doesn't stop during a recession. The best way to prepare for the unexpected is to have an emergency fund.
Factor this emergency fund into your budget. Can't afford to save very much? Not a problem. It doesn't matter how small the contribution may seem — everyone has to start somewhere. A common rule of thumb is to save enough to cover six months of expenses, so should anything terrible happen, there's enough money to get you back on your feet.
3. Pay Off Debt
High-interest debt can put a vice around your wallet. Those high interest rates will steadily increase your monthly payments as long as the debt remains. Instead of only paying the minimum each month, use any extra money to pay down high-interest debts and avoid paying even more in the long run. The more that you're able to pay off, the less interest you'll pay and the more your wallet can breathe.
Make Your Money Work for You
4. Don't Panic
Some Americans have spent years acquiring and managing investments in order to increase personal wealth and save for retirement. During a recession, however, these investments are likely to lose value. The best thing to do in this situation is stay calm and not cash out immediately. The market will recover, it's just a matter of time. So rather than panic-selling stocks for less than they're worth, wait it out, and when the market does recover, the investments will gain value again.
More From GOBankingRates
Make Your Money Work for You