US Hit Debt Ceiling, Says Yellen — What Does That Mean for You?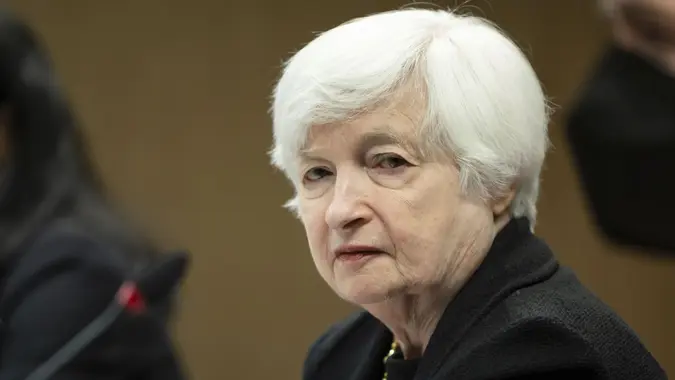 MICHAEL BUHOLZER/EPA-EFE/Shutterstock / MICHAEL BUHOLZER/EPA-EFE/Shutterstock
The Treasury Department has started "extraordinary measures" today to prevent the country from defaulting on its obligations.
Debt Ceiling 2023: As the US Hits Its Debt Ceiling Limit, Yellen Announces First Extraordinary Measures
Read: How To Invest In Precious Metals To Protect Your Retirement
Best Banks: Here's How Much Americans Have in Their Savings Accounts in 2023
Treasury Secretary Janet Yellen shared in a memo to Congress that the department would begin by suspending new investments in the Civil Service Retirement and Disability Fund (CSRDF) and the Postal Service Retiree Health Benefits Fund (PSRHBF) from today until June 5, 2023.
While this would buy some time, it might also rattle markets and affect the economy and the lives of many Americans.
"The fallout is serious," Mark Zandi, chief economist at Moody's Analytics told CNBC. "It would create chaos in financial markets and completely undermine the economy," he added. "The economy would go into a severe recession."
Make Your Money Work for You
On Friday, Jan. 13, Treasury Secretary Janet Yellen told Congress that the country will reach its debt limit on Thursday, Jan. 19, after which the Treasury Department "will need to start taking certain extraordinary measures to prevent the United States from defaulting on its obligations."
Congress previously increased the debt limit to approximately $31.381 trillion on Dec. 16, 2021.
In a letter to newly elected House Speaker Kevin McCarthy, Yellen wrote: "Failure to meet the government's obligations would cause irreparable harm to the U.S. economy, the livelihoods of all Americans, and global financial stability."
Yellen added that even threats of a potential failure have caused real harm in the past, "including the only credit rating downgrade in the history of our nation in 2011."
So far, there has been no agreement or compromise made in resolving the issue.
What 'Extraordinary Measures' Might Yellen Enact?
What two extraordinary measures would the Treasury Department be forced to take in the event of a failure to raise the debt ceiling? Temporarily redeeming existing — and suspending new — investments of the Civil Service, Retirement and Disability Fund and the Postal Service Retiree Health Benefits Fund, as well as suspending reinvestment of the Government Securities Investment Fund of the Federal Employees Retirement System Thrift Savings Plan, as Yellen's letter indicated.
Make Your Money Work for You
"The period of time that extraordinary measures may last is subject to considerable uncertainty due to a variety of factors, including the challenges of forecasting the payments and receipts of the U.S. government months into the future," she wrote.
As the Treasury Department explained on its website, increasing the debt limit does not authorize new spending commitments. It simply allows the government to finance existing legal obligations that congresses and presidents of both parties have made in the past. In turn, the federal government would have to at least temporarily default on many of its obligations, from Social Security payments and salaries for federal civilian employees and the military to veterans' benefits, among others, per the Committee for a Responsible Federal Budget (CFRB).
"Failing to increase the debt limit would have catastrophic economic consequences. It would cause the government to default on its legal obligations," the Treasury Department indicated.
Congress Prepares For a Fight Over Raising the Debt Ceiling
A Republican-led Congress is likely to argue in favor of spending cuts in exchange for support in raising the debt ceiling. Many Democrats appear reluctant to agree to such terms, however.
Make Your Money Work for You
"Congress is going to need to raise the debt limit without — without conditions. And it's that — it's just that simple," press secretary Karine Jean-Pierre said during a Jan. 8 news conference. "Attempts to exploit the debt ceiling as leverage will not work. There will be no hostage-taking. The full faith and credit of our country is too important to allow any of that, because to default would be to force extraordinary costs on the American economy and American families."
Take Our Poll: How Do You Think the Economy Will Perform in 2023?
Gen Z Shifts To Taking on Debt: Is It a Foreboding Sign of Recession?
Former Treasury Secretary Lawrence Summers also told Bloomberg on Jan. 13 that "a default would be a catastrophe — it would mean higher borrowing costs forever."
More From GOBankingRates
Make Your Money Work for You