What 2022 Means for Stimulus Checks and the Child Tax Credit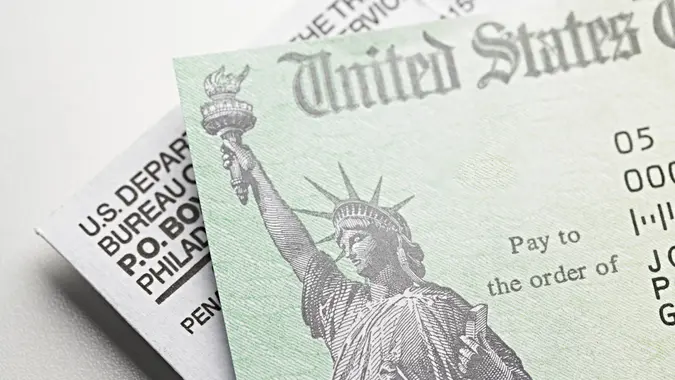 Bill Oxford / Getty Images/iStockphoto
So far, most American adults have received $3,200 in direct stimulus payments — $1,200 from the CARES Act in March 2020, $600 at the end of that year and then $1,400 from the American Rescue Plan under the Biden administration in 2021. That doesn't count payments for qualifying dependents or other stimulus money like expanded unemployment or advance payments on the child tax credit.
But all good things must come to an end, and it now appears that with 2022 upon us, the pandemic stimulus well has mostly run dry. If you were banking on another round of tax-free cash payments in 2022, you'll probably be disappointed. It's now all but certain that a fourth installment isn't coming — but there's more to it than that.
The Politics and Economics of the Time Make More Checks Unlikely
Despite the arrival of a highly contagious variant of the virus and a startling spike in infections, the social and economic conditions that justified the first three rounds of pandemic stimulus have changed.
Make Your Money Work for You
"Despite the continued hardship being experienced across the U.S. by millions of Americans, at this juncture, another stimulus check looks unlikely," said Olivia Tan, a Florida-based personal finance coach and the co-founder of CocoFax. "The U.S. economy will keep growing at a healthy pace through 2022, with J.P. Morgan's chief U.S. economist Michael Feroli expecting job creation to push unemployment down to around 3%. As well as strong GDP growth of 3%, he also thinks that the outlook for wages and inflation appears favorable for next year."
In short, the economy doesn't seem to need rescuing. But more importantly, it's a midterm election year and the political will required for a lift so heavy simply isn't there — the Democrats couldn't even get President Joe Biden's Build Back Better plan past their own razor-thin majority. Also, as CBS News points out, many economists have directly linked stimulus payments with rising inflation — and another round could very well send prices even higher.
Make Your Money Work for You
But Many Still Support More Stimulus
Despite a lack of consensus and the roadblock of political gridlock, millions of Americans are still in financial turmoil — 1 in 4 now struggle to meet basic household expenses, according to CBS. The omicron variant has closed colleges, forced the cancellation of thousands of holiday flights and has sent much of the leisure and entertainment industry back into hibernation, according to an analysis from J.P. Morgan.
There has been pressure from special-interest groups — both Tan and CBS cited advocacy by the Senior Citizens League calling for new stimulus checks for older Americans, for example — and a Change.org petition for recurring $2,000 monthly payments is approaching 3 million signatures.
The Child Tax Credit Is Dead for January
Along with the Economic Impact Payments, most parents got extra help from the expansion of the child tax credit. The American Rescue Plan increased the credit to as much as $3,600 per child. For the first time ever, half of the full credit was delivered in advance as monthly payments throughout 2021, but those payments have run their course.
The credit would have continued into 2022 if Congress had passed Biden's Build Back Better legislation, but talks broke down between the president and West Virginia Sen. Joe Manchin, a holdout in his own Democratic party. Therefore, it's now certain that there will be no advance child tax credit payments coming in January.
Make Your Money Work for You
But You Might Get Two in February
A local CBS affiliate recently reported that Biden hasn't given up on Build Back Better and that the administration might try to break the legislation into smaller pieces that have a better chance of passing individually. One of those smaller break-off pieces of the bill would include a renewal of the child tax credit for 2022.
If that passes, it's likely to include an extra payment to make up for the advance credit not issued in January. That payment would arrive in February along with the payment already scheduled for that month, giving eligible Americans two payments in the second month of the year.
Either Way, Half the Credit Is Still Waiting
While the fate of the child tax credit is uncertain for 2022, one thing is certain. The most anyone received in the form of advance payments for the 2021 credit is $1,800 — they'll receive the other half of the fully refundable credit when they file their 2021 tax returns this year. A minority of households opted out of the advance payments altogether and will receive the whole windfal come tax time.
More From GOBankingRates 
Make Your Money Work for You