What Has Caused the Most Sticker Shock for Americans in 2023? (Hint: It's Not Gas Prices)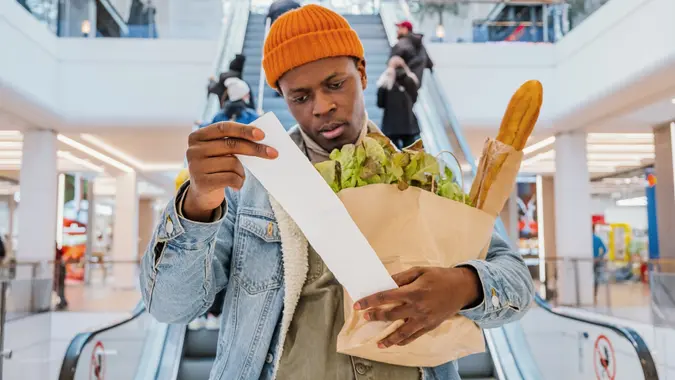 Elena Perova / iStock.com
Although 2023 wasn't as tough as 2022 when it comes to inflation, it was still a force to be reckoned with and it continues to pressure consumers into tightening their budgets even more. Largely as a result of inflation, many Americans have been paying steeper prices for everyday goods. But which items caused the most sticker shock for consumers in 2023?
GOBankingRates surveyed more than 1,000 American adults last month to find out. Here are the results.
Utility Prices
According to the survey, 11.17% of Americans felt that the cost associated with utilities was their biggest unexpected expense in 2023. In states like California, utility prices have soared of late. San Diego Gas & Electric, which provides essential utility services to the San Diego County area, reported an increase of 35% in electric bills.
The explosive rise in utility costs in California started in 2022. From January 2022 to January 2023, electricity rates for Pacific Gas and Electric, Southern California Edison, and San Diego Gas & Electric increased between 16% and 23%, per a report from the state auditor.
Though California was dealt one of the worst blows in terms of rising utility costs, the entire nation has been feeling the pain. In 2022, U.S. residential electricity bills increased 5%, after adjusting for inflation, according to the U.S. Energy Information Administration.
Housing Prices
The survey revealed that 12.24% of Americans cited housing prices as the biggest unexpected expense in 2023. As of March 2023, average home prices saw an annual increase of 6.3% to $424,495, per Realtor.com.
Make Your Money Work for You
It's interesting that home prices have been ticking up while interest rates are soaring. Typically, high interest rates discourage prospective homebuyers from taking the plunge, but these past couple years have been erratic. Due largely to a severe housing shortage, people are all but forced to pay high prices for homes, despite the steep mortgage interest rates.
Gas/Transportation Prices
According to the survey, 25.95% of Americans felt that gas/transportation prices were their biggest unexpected expense of 2023. It has indeed been a wild year for gasoline prices, with some significant increases along the way. In September, AAA reported that the national average for gasoline in the U.S. hit $3.88. Western states were hit the hardest. For example, during this time, California's average gas price hovered at $5.69 per gallon.
It wasn't only the U.S. that was blasted with high gas prices this past year. Here's a look at the highest prices other countries paid for gas per gallon, per We Are Neighbors: 
France: $9.26
Belgium: $9.27
Israel: $9.66
Central African Republic: $9.80
Monaco: $9.97
Denmark: $10.14
Greece: $10.23
Iceland: $10.31
Norway: $10.57
Hong Kong: $13.40
The reasons gasoline prices soar are complex. The U.S. Energy Information Administration (EIA) cites the following contributing factors: the cost of crude oil, refining costs and profits, distribution and marketing costs and profits, and taxes.
Food Prices
A whopping 34% of Americans have been blindsided by the unexpected expense of food, the GOBankingRates survey found. The cost of food has been soaring over the past couple years. According to the U.S. Government Accountability Office, in 2022, consumers saw the largest annual increase in food prices since the '80s — up by 11% from 2021 to 2022. 
Make Your Money Work for You
Inflation is a major factor in the significant increase in food prices, but other factors contributed, such as global disruptions to the food supply chain caused largely by the pandemic. The conflict in Ukraine (one of the world's largest providers of wheat) also played a role, as did major droughts throughout the world.
It's worth noting that the survey found that 16.65% of Americans did not have any unexpected expenses in 2023.
More From GOBankingRates