Supply Chain Problems in 2021: How They Impacted the Economy and What's Next?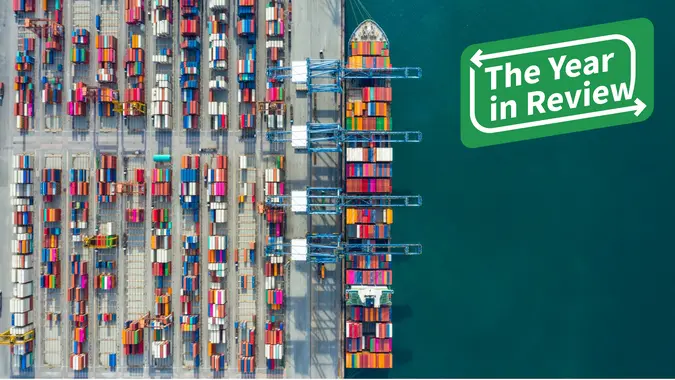 AvigatorPhotographer / iStock.com
Supply chains are networks — ways to source and supply various goods and services across the globe. Unfortunately, due to complications resulting from the pandemic, both businesses and consumers have learned firsthand how vulnerable these networks are, and how critical they are to deliver what we and others often desperately need. 
Here's how the supply chain impacted the economy this year — and also what the future may hold. 
Why Did the Supply Change Shortage Occur?
Supply chain shortages first began back in the first quarter of 2020 — at the beginning of the pandemic. Factories all over the world were forced to slash or halt production due to the spread of COVID-19 and the resulting lockdowns. Because factories were not shipping as many goods — or any goods at all — shipping companies responded accordingly by clearing their schedules.
Shipping companies were subsequently called to action to ship personal protective equipment around the world. Unfortunately, many of those containers were unloaded in destination countries, emptied of goods and not returned, which led to a shortage of shipping containers. 
At the same time, consumers were forced to shelter in place, which meant they were no longer participating in activities like eating out, traveling and getting personal care services. Soon, they became restless and found other ways to occupy themselves around their home, such as making home improvements, buying home office setups, investing in gaming systems and ordering small home appliances. 
Make Your Money Work for You
Even though some companies increased production to meet the new level of demand for their products, they were not able to source some of the parts or raw materials they needed to continue production due to factors like transportation delays, shutdowns of China's main ports, container shortages and a reduced labor force to load and unload goods. So production eventually halted, and a shortage of goods prevailed.
How Do Supply Chain Shortages Affect Businesses?
"Most consumers don't truly understand how astoundingly intricate today's supply lines are," said economic expert Monica Eaton-Cardone, owner, co-founder and COO of Chargebacks911. "Corporations might import some parts from China, other parts from India, maybe some rare-earth elements from elsewhere — and if there are any delays at any point, it limits how quickly these products can be sourced, assembled, packaged, shipped and sold. 
"As we've recently seen, this causes prices to rise because all the efficiencies that were so carefully built into the supply chain have collapsed. Eventually, this leads to scarcity, shortages and lots of unhappy consumers — especially during the holiday season. A broken supply chain is unpredictable, and the system cannot function without reliability in sourcing and predictability in shipping."
Why Does the Supply Chain Make Such a Difference for Our Overall Economy?
"To compete in the global economy, businesses must outsource and create supply chains," said Dr. Tenpao Lee, professor emeritus of economics at Niagara University. "The success of a supply chain is based on tremendous collaboration, coordination, and communication. Any small disruption would ruin the whole supply chain system. For example, car manufacturing cannot proceed without simple computer chips. Port congestion can paralyze many related industries."
Make Your Money Work for You
Eaton-Cardone explained further: 
"When our supply chains work as intended, they're truly a marvel of modern business science," she said. "The price of smartphones, for instance, would rise exponentially without reliable, dependable supply lines. Some of the smartest, most highly-capable people at the world's largest corporations have dedicated their life's work to maximizing every efficiency imaginable. It's all they do, and they're very good at it. So these are deeply intricate, highly complex logistical systems, but everything needs to be moving at the same time in order to maximize efficiencies. Sadly, this is also its biggest vulnerability: An immovable stoppage at one point can destabilize the entire operation, and the Rube Goldberg-esque system of assembly will screech to an inglorious halt."
What's Potentially Next Regarding Supply Chain Issues?
"At some point, our supply chain crisis will subside and return to normal," said Carlos Castelán, managing director of The Navio Group, a retail consulting firm that advises businesses on how to navigate supply chain challenges. 
"But until then, the key going forward is inventory," he said. "For business retailers, inventory could be the difference between success and failure during early 2022. The first and possibly second quarter of 2022 will be a test of retailers' supply chains and operational capabilities. With shortages of many key components for manufacturers as well as labor shortages – or stoppages in the global due to COVID – retailers are facing a variety of different headwinds across different fronts."
Make Your Money Work for You
Having a strong inventory position while providing convenience to customers — in many ways, just basic retail fundamentals — will position local retailers to meet demand.
Dr. Lee agrees that companies must be well-prepared to effectively handle the ongoing supply chain issues. And it would seem that the government has a lot of work to do, too. 
"The pandemic provided a good opportunity for businesses to be creative in configuring and balancing their business insourcing and outsourcing activities," Dr. Lee said. "Only companies with a competitive edge will prevail in the long term. In the meantime, the government needs to re-evaluate its infrastructure strategy with enhanced traditional pillars such as port capacities, and new developments in the fields of artificial intelligence, automation, and 5G information technology."
More From GOBankingRates