Grant Cardone: Here's How Wealthy People Invest Their Money for Retirement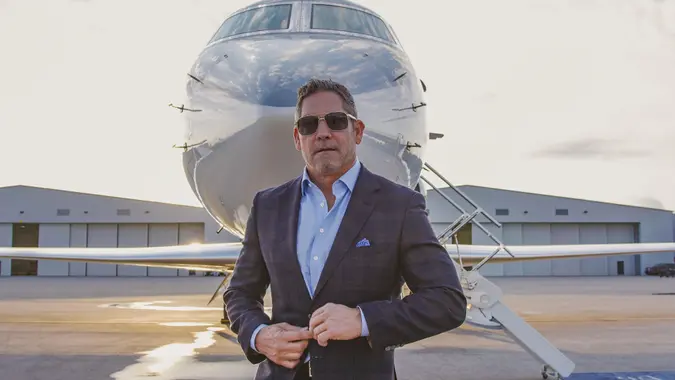 ©Grant Cardone
Planning for retirement is a crucial part of financial planning. For many Americans, this involves setting savings targets for their 401(k) plans or IRAs — but Grant Cardone, author of "The 10X Rule," said the wealthy take a different approach.
"If you study wealthy people, they are not focused on 401(k) [plans] and IRAs," he told GOBankingRates. "People have gotten wealthy selling 401(k) plans and IRAs — Vanguard and Fidelity have made a lot of money managing people's retirement [savings]."
If you want to invest for retirement like the wealthy, here's how Cardone says to do it.
Take Cues From the Financial Institutions
Cardone said that instead of giving your money to firms like Vanguard and Fidelity, you should follow what they do with their funds.
"Do what those groups do with the money that you give them — what they're doing is they're investing in insurance products, companies that produce passive income and they're heavily invested in real estate that produces income," he said.
Invest the Bulk of Your Funds in Income-Producing Real Estate
Cardone believes that investing in income-producing real estate now is the best way to ensure you are financially secure in retirement.
"When you hit retirement, you do not need a lump sum in an IRA or 401(k)," he said. "What you need when you retire at 65 or 68 years old is income to take care of your expenses. I would look for vehicles that, when you retire, are going to pay you money every month."
Make Your Money Work Better for You
Cardone has taken his own advice. He explains why he decided on real estate as the best investment for the long haul: "When I was 30 years old, I started looking for the asset class where I couldn't lose money," he said. "That means I can't just save money because money is going down in value. I can't be in the stock market because I could lose money.
"No. 2, I need passive income from my investment," he said. "No. 3, I want some appreciation in the asset over long periods of time. And No. 4, I'd like to get some tax write-offs because taxes are everybody's biggest expense, no matter what income bracket you're in. So what fits those four criteria? There's only one asset class that does all that. It's not gold, silver, Bitcoin or the stock market — it's real estate."
Cardone said that he keeps 95% of his wealth invested in real estate.
"Even when it comes down in value — like right now, all valuations are coming down — my income from the real estate doesn't go down," he said. "The value can come down but the income is still taking care of me. And I'm not selling today anyway, so that's fine."
As Cardone notes, rent prices have always increased over time, so your income from owning these assets should increase as well.
"If you look back at rents in 1940 in this country, they were $27 a month. This year, the median rent in America is $2,000," he said. "And that will continue to happen. In the next seven years, I predict the median rent in America will be $3,000, which means there will be tremendous amounts of wealth created in rental properties."
Make Your Money Work Better for You
More From GOBankingRates