10 Places To Retire That Are Just Like Arizona but Way Cheaper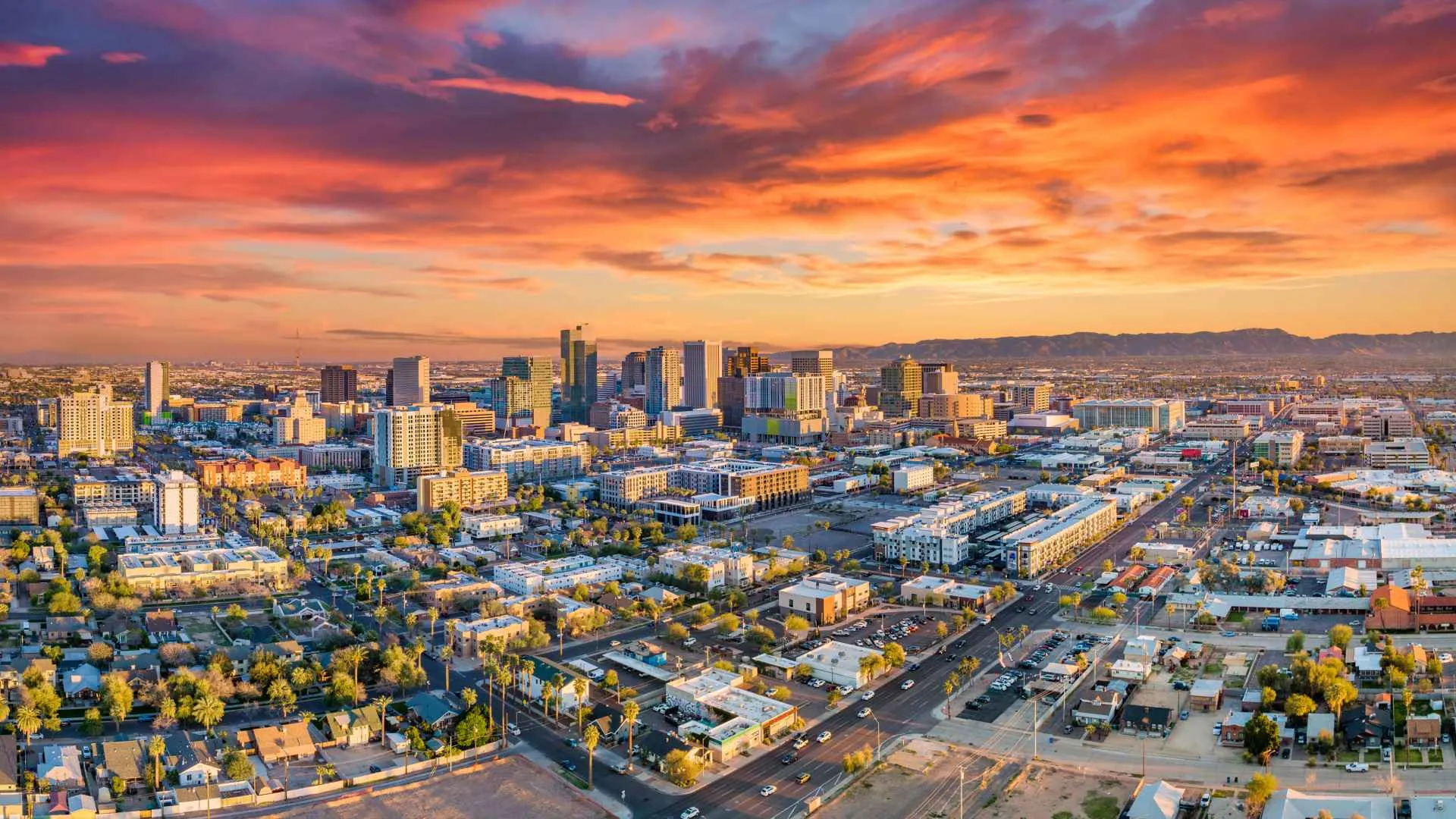 Mesquite, Nevada
"Mesquite is a fantastic option for retirees seeking a warm climate and affordability, while still enjoying accessibility to larger cities," said Pete Evering of Utopia Property Management.
Similar to Arizona, Mesquite provides over 300 days of annual sunshine for enjoying outdoor activities like golf, hiking and exploring picturesque desert scenery. Median home prices are around $357,000 — much less than Arizona's median of $423,436, according to Zillow. This allows retirees to get more for their money.
Mesquite's location near the Arizona border also means it shares a similar arid desert climate, with hot summers and mild winters. This makes it ideal for retirees who want to enjoy Arizona-like weather without the high property taxes and costs.
Just an hour from Las Vegas, Mesquite offers easy access to world-class entertainment and healthcare facilities. But retirees can reside in peaceful surroundings away from the Strip's crowds and noise.
Make Your Money Work Better for You
Springfield, Missouri
"Springfield is a very inexpensive town to retire in with cost of living a whopping 16% below the national average," said Marty Zankich of Chamberlin Real Estate School. Median home prices are around $227,659, almost $200,000 less than in Arizona.
Though landlocked, the Springfield area provides scenic Ozark lakes, rolling hills and bustling small towns at affordable prices. Outdoor enthusiasts can enjoy recreational boating and water sports at The Lake of the Ozarks, located just 90 minutes away.
For entertainment, Branson, renowned for its live music and theater shows, is only 45 minutes from Springfield. This makes it a convenient weekend getaway spot.
Springfield has an array of restaurants, retirement communities and senior-oriented clubs and social events. These amenities make Springfield a welcoming town for retirees seeking community connections.
The low crime rate, friendly local atmosphere and natural scenery make Springfield an appealing retirement locale for active seniors who want to stretch their dollars.
Austin, Texas
Austin's wealth of accessible healthcare options, abundant parks and recreational programs make it well-suited for retirees, according to Alex Coffman of Teifke Real Estate.
Major providers like St. David's Healthcare offer top-notch medical care, while the nearly 500 parks provide ample opportunities to stay active outdoors.
Through its Department of Parks and Recreation, Austin offers a range of recreational programming tailored for seniors. This helps retirees stay engaged with their community.  
While boasting the amenities and warm climate of popular retirement locales like Arizona, Austin's lower cost of living allows retirees to retain more savings.
According to data from Best Places, overall cost of living in Austin is over 5% lower than Phoenix, specifically lower housing and grocery costs. This makes it easier to live comfortably on a fixed income.
Make Your Money Work Better for You
St. George, Utah
"St. George has a similar climate to Arizona with plenty of sunshine and warm temperatures," said Emma O'Connor, owner of Home Buyer Network.
Surrounded by Zion National Park and Snow Canyon State Park, St. George provides easy access to outdoor recreation like hiking and mountain biking. For water lovers, activities like kayaking and paddle boarding on the Virgin River bring natural scenery right into town.
Downtown St. George also offers restaurants, shops and cultural attractions for times retirees want to relax indoors. The city has invested in developing a thriving central district.
St. George's climate provides over 200 sunny days a year, allowing retirees to stay active year-round in the scenic outdoors. The area averages highs of 91 degrees in July and 63 degrees in January.
While smaller than Arizona's largest cities, St. George's population of approximately 90,000 means amenities are accessible without excessive congestion.
Port St. Lucie, Florida
While the state of Florida is often considered prohibitively expensive, Port St. Lucie offers affordable coastal Florida living, explained O'Connor.
Located midway between Miami and Orlando, Port St. Lucie provides amenities specially tailored to retirees, including golf courses, recreational centers and communities for residents 55 and over.
With no state income tax and median home prices around $392,423, according to Zillow data, costs are lower than popular snowbird havens like Naples.
Outdoor enthusiasts can enjoy year-round golf, fishing, hiking and kayaking with a climate characterized by hot, humid summers and mild, dry winters. Average highs range from 75 degrees in January to around 91 degrees in July.
For city access, Port St. Lucie is just 45 minutes from downtown West Palm Beach's dining, nightlife and cultural attractions when retirees seek urban amenities.
Make Your Money Work Better for You
Traverse City, Michigan
For retirees who prefer a cooler four-season climate over Arizona's arid heat, Traverse City is an excellent option, suggested O'Connor.
Traverse City's location on the shores of Lake Michigan provides access to swimming, boating and year-round outdoor activities amid stunning Great Lakes scenery. Nearby Sleeping Bear Dunes National Lakeshore spans 35 miles of Lake Michigan coastline.
The lively craft brewery scene and farm-to-table culinary options give Traverse City a hip vibe beyond typical quiet retirement towns. Traverse City is also home to the National Cherry Festival and Interlochen Center for the Arts.
Traverse City's downtown combines small city walkability with cultural attractions like museums, live theater and art galleries. Outdoor enthusiasts will also love the extensive biking and hiking trails through scenic forests and vineyards.
While colder than Arizona, Traverse City still enjoys four distinct seasons with warm summers and moderate spring and fall weather perfect for being active outdoors.
Chattanooga, Tennessee
Chattanooga offers a laid-back atmosphere reminiscent of Tucson with plenty of outdoor activities, said O'Connor.
Its location along the Tennessee River provides options for fishing, boating and watersports. Meanwhile, Lookout Mountain, Missionary Ridge and the Cumberland Plateau offer scenic hiking and biking trails through the surrounding Appalachian terrain.
Downtown Chattanooga features trendy restaurants, shops, music venues and cultural attractions like the Hunter Museum of American Art and Creative Discovery Museum. Historic sites like the Chickamauga Battlefield and Lookout Mountain Battlefield also provide opportunities to explore the region's heritage.
With a low cost of living and median home price around $372,000, retirees can enjoy Chattanooga's blend of outdoor recreation and urban amenities affordably.
Chattanooga's climate brings warm, humid summers and mild winters perfect for year-round enjoyment of the outdoors. The area averages summer highs of 89 degrees and winter highs of 50 degrees.
Make Your Money Work Better for You
Biloxi, Mississippi
"Biloxi is located on the Gulf Coast and has a warm climate similar to Arizona," said O'Connor.
In addition to 20 miles of sandy beaches, Biloxi offers coastal charm, fishing and an array of casino resorts and restaurants. Its proximity to the water provides sunny weather perfect for golf, tennis, hiking and water recreation.
At around $223,276, median home prices in Biloxi are less than half Arizona's median price. This allows retirees to get more for their money without compromising on weather.
Biloxi's location on the Gulf Coast brings hot, humid summers and mild, dry winters with average highs of 63 degrees in January.
The city's free Island View Casino Cruises provide affordable entertainment, while the Maritime and Seafood Industry Museum explores the area's heritage.
Corpus Christi, Texas
"Corpus Christi offers similar sunshine, warm temperatures and access to the Gulf Coast as Arizona cities," said O'Connor.
Located on the Texas Gulf Coast, Corpus Christi provides opportunities for fishing, boating and beach recreation. The city's location within the Corpus Christi Bay means residents can enjoy the coast without high oceanfront prices.
The city's parks offer lovely outdoor spots like the Blue Hole swimming area and the Hans Suter Wildlife Refuge for bird watching. When seeking indoor activities, the U.S.S. Lexington Museum and Texas State Aquarium provide family-friendly local attractions.
While smaller than Arizona's biggest metro areas at around 317,000 people, Corpus Christi offers amenities without excessive traffic and congestion. Median home prices around $307,000 are lower than Arizona averages.
Corpus Christi's Gulf Coast location brings hot, humid summers and mild winters ideal for comfortably enjoying outdoor recreation year-round.
Make Your Money Work Better for You
Las Cruces, New Mexico
"Las Cruces [is] a charming city in southern New Mexico that offers a similar climate to Arizona, with warm winters and sunny days," said Teddi Schill, a realtor in Portland.
At just over $282,000, according to Zillow data, median Las Cruces home prices are nearly half Arizona's $423,436 median. This substantial savings lets retirees stretch their retirement dollars further.
Las Cruces enjoys a mild desert climate characterized by abundant sunshine, low humidity and limited rainfall. Winters are cooler but still mild compared to much of the country, with average highs in the 60s.
Nearby outdoor attractions like the Organ Mountains-Desert Peaks National Monument and White Sands National Park provide plenty of opportunities for hiking, mountain biking and scenic drives through rugged desert landscapes reminiscent of Arizona.
Weighing amenities, climate and affordability, Las Cruces offers access to Arizona's lifestyle perks without being priced out of the market. Retirees can invest their savings into comfortable desert retirement.
Photo Disclaimer: Please note photos are for representational purposes only. As a result, some of the photos might not reflect the locations listed in this article.
More From GOBankingRates

BEFORE YOU GO
See Today's Best
Banking Offers