Retired But Want To Work? Try These 8 Jobs for Seniors That Require Little to No Experience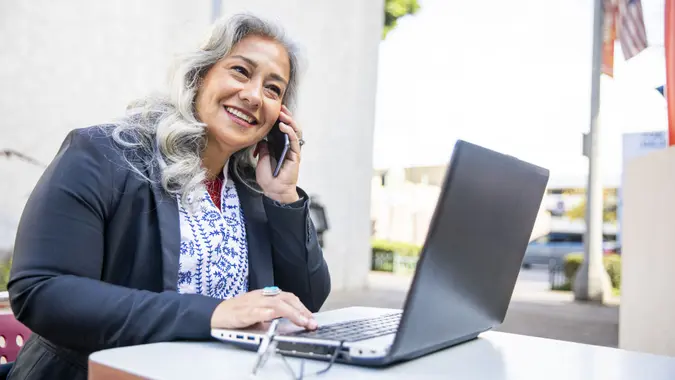 adamkaz / Getty Images
Multiple studies show that staying active later in life can improve your longevity and even quality-of-life in your later years. One study, as reported by Harvard University, found that people who worked past the age of 65, even in a post-retirement job or second career, were three times more likely to report being in good health. They were also half as likely to have serious health problems, according to the study.
Whether you are working to earn money to increase your retirement income or simply to keep busy and stay healthy, today's job market offers plenty of opportunities for seniors.
These eight jobs make great part-time jobs, with little to no experience and even opportunities to work from home.
Keep in mind, as FlexJobs pointed out in a blog post, "no experience" doesn't mean you don't bring anything to the table. It means you may not be familiar with a given field, but have the soft skills and willingness to learn. Seniors with decades of job experience behind them — including time management, communications and leadership skills — might just be a perfect fit.
Administrative Assistant / Virtual Assistant (roughly $34/hour)
If organizational skills have always been your forte, consider working as an administrative assistant. The average wage for executive secretary or executive administrative assistant is $34.16 an hour, per the U.S. Bureau of Labor Statistics. An executive assistant works in an office setting, typically handling tasks such as scheduling meetings and calls, writing, booking travel, etc.
Make Your Money Work Better for You
If you'd rather work from home, consider becoming a virtual assistant. You might perform similar tasks, but from the comfort of your home office for a remote team.
Customer Service Representative ($18.16/hour)
If you have great people skills (and a bit of patience), work as a customer service representative could be a good choice. You can work from an office or at home, fielding customer inquiries about order status and complaints about orders. You may have to do some troubleshooting or answer general questions.
Data Entry Clerk ($18.26/hour)
If you're looking for a job you can do from home, with minimal involvement from other people, data entry might fit the bill. In addition to entering data, you might verify information or prepare materials for printing, according to the U.S. Bureau of Labor Statistics.
Sales Representative (roughly $28/hour)
If you're looking for a job with virtually limitless profit potential, consider a new position in sales. Insurance and advertising sales representatives regularly make close to $30 per hour. If these fields don't interest you, think about companies and products you enjoy and see if they use a network of sales representatives.
Online Teaching (up to $40/hour or more)
Retired teachers and other professionals can bolster their savings through online teaching gigs. You can teach English as a second language to adults, tutor school-age children online, or even provide and sell courses related to your prior professional experience. The sky's the limit on how much you can earn, especially if you price and sell your own classes on a site like Udemy.com. You can also work for companies like Tutor.com or Kaplan. Certified teachers may command higher pay, but plenty of tutoring jobs are always available for those without a teaching degree.
Make Your Money Work Better for You
Rideshare Driver ($20 — $30/hour)
If you're craving human companionship after leaving the work force and you're looking to get out of the house, it might make sense to work a few shifts a week as a rideshare driver for a company like Uber or Lyft.
Drivers can make up to $30 per hour, according to Indeed.com statistics. You'll need a reliable vehicle and a valid driver's license, of course.
Pet Sitter / Pet Walker / House Sitter (up to $27.07/hour)
Active seniors who love animals can make extra cash walking dogs or caring for animals while the owners are on vacation or at work. You can also couple this lucrative side gig with house sitting, where you stay in someone's home, care for their pets, and watch over their belongings and property while they are away. You can get started at websites like Rover.com.
Real Estate Agent ($25+/hour)
Are you looking for a second career in retirement that could, ultimately, prove quite lucrative? Once you pass the licensing exam, you can become a Realtor. Realtors can work full- or part-time, and your income will be based on commissions from sales. That means the more you work, the more you can earn.
Whether you're looking for a part-time gig to keep busy or you're ready to embark on a second career after retirement, you'll find plenty of options. What you bring to the table as a retired adult with a lifetime of experience can set you apart in a crowded sea of candidates once you understand how to present your skills to showcase yourself as an asset to any company.
Make Your Money Work Better for You
More From GOBankingRates