9 Money Moves to Do Before 2023 Ends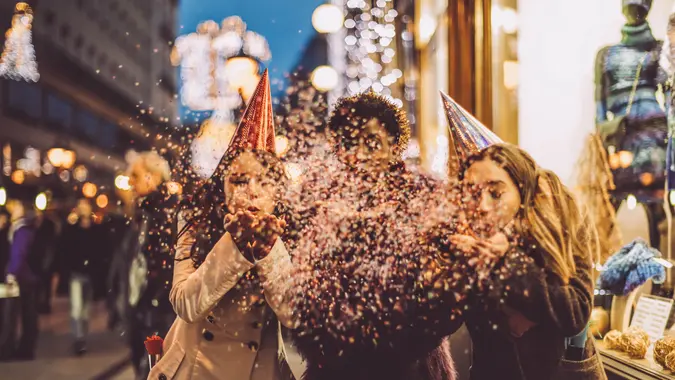 Eva-Katalin / Getty Images
With the year winding down, it's not just time to start planning your holiday season — it's also time to make some smart financial decisions. Here are nine money moves to consider before the ball drops on 2023, ensuring you start the New Year on the right financial foot.
1. Review Your Financial Goals
Take a look back at the goals you set at the beginning of the year. How did you do? Use this time to assess your progress and set new, realistic goals for the upcoming year. It's also a great moment to adjust your current financial plan to better align with your long-term objectives.
2. Maximize Retirement Contributions
If you have a 401(k), IRA, or another retirement plan, try to contribute as much as you can up to the maximum limit. This not only bolsters your retirement savings but can also reduce your taxable income for the year.
3. Use Up FSA Dollars
If you have a Flexible Spending Account (FSA) and there are funds left, spend them. These accounts are often "use it or lose it," and you could forfeit any unspent money at the year's end, depending on your plan's rules.
4. Review Your Insurance Coverage
Life changes, and so should your insurance. Review your health, life, auto, and home insurance policies to ensure they still provide adequate coverage. It's also a prime time to shop for better rates or bundle services for discounts.
5. Create or Adjust Your Budget
Budgets should evolve as your life does. Whether it's a change in income or expenses, make the necessary adjustments. Prepare a budget for the next year, keeping in mind any anticipated changes like a move, job change, or major purchase.
6. Check Your Credit Report
Year-end is a good reminder to check your credit report for errors and potential fraud. You're entitled to one free report from each of the three major credit bureaus per year, so take advantage of this.
7. Tax Loss Harvesting
If you have investments outside of a retirement account, consider tax loss harvesting to offset any capital gains you may have realized during the year. Sell off underperforming stocks to claim losses on your taxes, but be mindful of the wash-sale rule.
8. Charitable Contributions
Make any charitable donations before December 31st to take advantage of the tax deductions. Ensure that you get a receipt for any donation, and remember, it must be to a qualified organization if you plan to write it off.
9. Automate Savings
If you haven't already, automate your savings. Set up automatic transfers to your savings account, investment account, or retirement fund to ensure you continue to save without having to think about it.
Bonus Tip: Holiday Spending Plan
Holidays can be financially straining. Create a spending plan for gifts and festivities and stick to it. It's easy to get carried away, but your future self will thank you for the restraint.
By tackling these financial tasks before the end of the year, you can not only improve your financial situation for the present but also set a strong foundation for the year ahead. Remember, financial health is a journey, not a destination, and the end of the year is the perfect time to ensure you're on the right path.
Editor's note: This article was produced via automated technology and then fine-tuned and verified for accuracy by a member of GOBankingRates' editorial team.
More From GOBankingRates