A New Mortgage Now Costs $500 More a Month — 7 Tips Which Could Lower That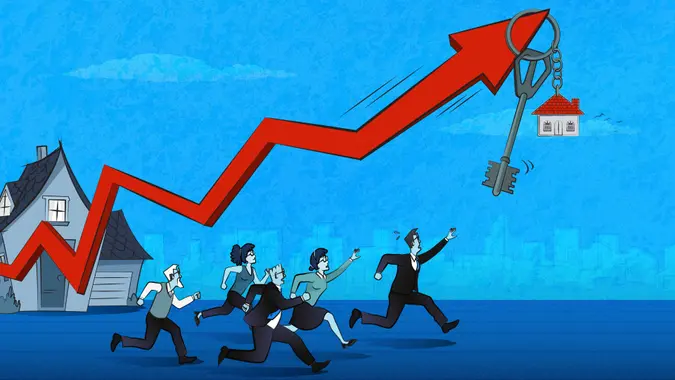 Cemile Bingol / Getty Images
According to Freddie Mac, the interest rate for a 30-year fixed mortgage has skyrocketed since last February — from 3.89% to 6.5%. This major hike has caused monthly mortgage payments to balloon, leaving borrowers with significantly less wiggle room in their budgets.
See: 8 Places in California Where Home Prices Have Plummeted
Find: 3 Things You Must Do When Your Savings Reach $50,000
Fortunately, there are several strategies you can try to secure a lower interest rate:
Improve Your Financial Health
Your loan offers are based, in part, on your financial health. A high debt-to-income (DTI) ratio and mediocre credit score can prevent you from securing the best possible interest rate. So, before you apply for a mortgage, try to boost your score and pay off some of your other debt.
Amass a Larger Down Payment
The more money you put down at closing, the less you have to borrow, making you a lower risk to the lender. That means the bank won't be as concerned with collecting its money upfront in the form of high interest payments, so you may receive a lower rate.
Compare Mortgage Options
While a 30-year fixed mortgage seems like the standard way to finance a home, you have other options. You may want to consider an adjustable-rate mortgage, government-backed loan, or shorter loan term — all of which typically feature lower interest rates. For example, 15-year mortgage rates of 5.76% were available, as of this writing.
Get Quotes From Multiple Lenders
If you ask three different lenders for a mortgage, you'll probably get three different loan offers. So, take some time to shop around before committing to a bank. You may want to check with an online lender, a traditional bank, and a credit union to get a variety of quotes.
Take Over the Seller's Loan
If the seller has an FHA, VA, or USDA mortgage, you may be able to take over their loan. If you do, your interest rate will be what they agreed to when they bought the home (which could be substantially less than current rates).
Buy Discount Points
You can save money on interest by buying discount points. For every 1% of your mortgage you cover, your lender will typically lower your rate by 0.25%.
Take Our Poll: What Are Your Financial Priorities in 2023?
Paying Your Mortgage With a Credit Card: Are There Benefits?
Request a Rate Buydown
If the seller is motivated to close the deal, you may be able to negotiate a rate buydown. During a rate buydown, the seller gives the lender a portion of the sale proceeds in exchange for reducing your interest rate.
More From GOBankingRates