42% of Lottery Winners Are Doing the Smart Thing, Experts Say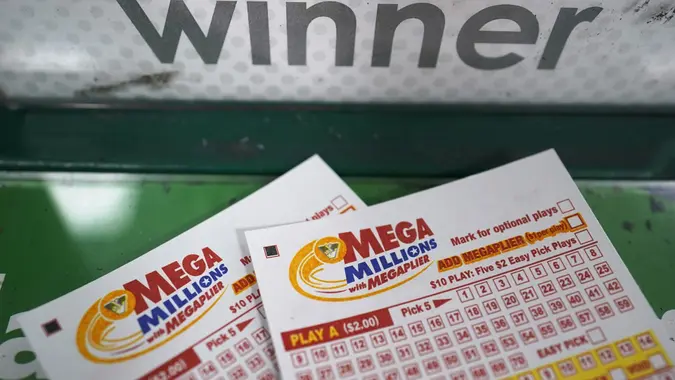 Steve Helber / AP / Shutterstock.com
And just like that, a billionaire is born. A ticket purchased in the state of Maine matched the winning numbers for the Mega Millions lottery's estimated $1.35 billion grand prize on Jan. 13. Four second-prize tickets, each worth $1 million, sold in New York. 
Learn: Why Buying Property in These Vacation Destinations Could Be a Great Investment
How To: Protect Your Financial Future With Gold and Silver
Discover: How 2023 Recession Will Differ From 2008 and How You Should Prepare Differently
What does a newly minted millionaire or billionaire do with the windfall? According to a recent poll by GOBankingRates which posed the question, "What's the first thing you would do if you won a big lottery jackpot?" and received over 11,000 responses, 42% of folks said they would pay off debt. 
Given that the average American is buried in debt, the fact that so many would use a new batch of cash to dig their way out of it isn't shocking. 
"It's not surprising that the majority of people would choose to pay off debt first with their winnings," said Andrew Lokenauth, founder of Fluent in Finance. "Paying off debt can provide a sense of financial security and can free up money for other expenses or investments."
Make Your Money Work Better for You
Paying Off Debt Is a Smart Move To Make  
Paying off debt is probably the smartest thing that one can do with a financial windfall such as winning the Mega Millions lottery, experts say. 
Take Our Poll: What's the First Thing You Would Do If You Won a Big Lottery Jackpot?
"Paying off debt certainly is a good strategy and, I think, it should be the main priority for everyone," said Andrew Griffith, CPA (NY), CRMA, associate professor of accounting at the LaPenta School of Business of Iona University. "No one is actually wealthy when they have debt; instead, those with significant debt levels just have an appearance of being wealthy."
But paying off debt is a process in and of itself, and one needs to go about it wisely, especially if it includes large amounts of high-interest credit card debt.
"The best method for paying off debt is the avalanche method, where you tackle the highest-interest debt first while making minimum payments on the other debts," Lokenauth said. "This method can save you more money in the long run, as it minimizes the amount of interest you pay over time.
Make Your Money Work Better for You
"It is important to avoid the worst methods when paying off debt, such as taking on more debt to pay off existing debt, or using a debt settlement company," Lokenauth said. "These methods can have negative long-term consequences for your credit score and financial stability."
You Can Spend, But Have a Plan — and Ideally a Financial Planner 
GOBankingRates' poll found that 20% of respondents would share their lottery winnings with family and friends, which isn't necessarily a bad thing, but a plan would need to be in place. This is the same if you want to buy a house with your winnings, which 7% of respondents said they would do.  
"The best money to spend would be on an attorney, a financial professional and a trust," said Robert Persichitte, CPA, CFP, CFE, a financial planner at Delagify Financial. "Depending on your state, you can accept the proceeds through a trust that you set up before accepting the winnings. This gives the benefit of hiding your identity. If your identity is public, you will get calls from legitimate advisors, salespeople, scammers and acquaintances asking for money."
Make Your Money Work Better for You
Having a plan also can save you some money on taxes. 
"Depending on your state and your agreements with people before buying the ticket, you could shift some of the taxes to the recipient's return," Persichitte said. "They'll likely pay taxes at a lower rate. They need to be on board, so talk to an attorney first."
Another benefit of planning first is that it can help you decide how to accept the winnings. 
"In most big jackpots, you can have a lump sum (one-time payment) or an annuity (a series of payments over time)," Persichitte said. "You need to consider your cash flow needs, taxes and investment preferences before deciding."
In any case, the worst way to spend money is without a plan intact. 
"While the jackpot might seem huge, it needs to last for a lifetime, so some quick calculations should help understand the plan for the future," Persichitte said. "For example, if you buy a $1 million house. If you don't set aside enough for your $10,000 in annual property tax and $30,000 in annual maintenance, you might lose your dream home."
More From GOBankingRates
Make Your Money Work Better for You