7 Worst Mistakes First-Time Coin Collectors Need To Avoid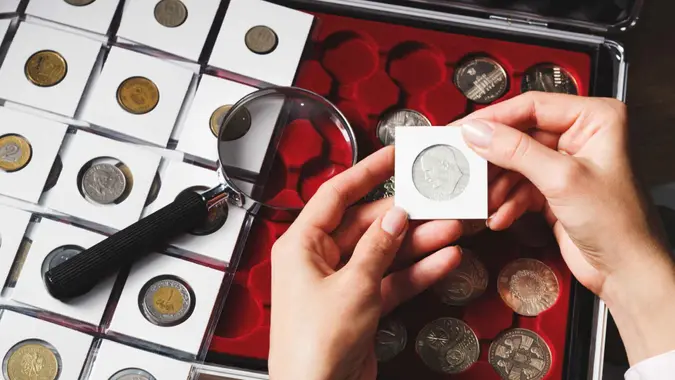 Igor Butseroga / Getty Images/iStockphoto
Collecting coins can be fun and even lucrative. But there are seven mistakes you'll want to avoid as a first-time coin collector.
Coin Collecting Mistakes To Avoid
Here are the seven most common mistakes you'll always want to avoid as a first-time coin collector, according to Biltmore Loan and Jewelry:
Negligence and naivete: Oftentimes, people clean an old coin in an incorrect manner and end up ruining it. Particularly, silver coins can lose their sheen each and every time you polish them. Using harsh or abrasive solutions in an attempt to bring back a coin's original luster can cause the exact opposite effect. Unfortunately, the Numismatic Guaranty Corporation (NGC), the Professional Coin Grading Service (PCGS) and other authorities on coins say that this error can severely diminish the value of a collectible coin. To add, it's never advisable to handle coins with your bare hands. Natural oils from human hands can cause damage to coins at the time they're handled and in the long term. Instead, always wear gloves when handling rare coins.
Making dead-end investments: A detail you'll find in many collectible coins is a note indicating "low mintage" or "extremely low mintage." Because of the growing interest in precious metals, this association has become more common. Mintage is defined as the total quantity of a particular coin that the mint produced. Although, a specific coin with a low mintage does not necessarily indicate rarity. It's important to do your research about specific coins before buying them.
Listening to baseless tips: As with the stock market, it's of paramount importance to learn about what coins you're purchasing before doing so. Unless you get advice from an experienced coin specialist or from the NGC or PCGS, avoid following any meritless information that can result in a financial loss. Unfortunately, there's no way to accurately predict which coins will be in-demand within the next week, the next year, or even the next decade.
Make Your Money Work Better for You
Impulsive coin purchases: It requires a lot of time, effort, and interest to learn the details and inner workings of any new hobby. This includes coin collecting. Here are some questions you might want to consider: How can you be sure of a coin's authenticity? Do engravings have significance? How much should you pay for a rare coin? These are just a few of the questions you'll need to ask each time you purchase a coin. Without extensive knowledge about coins, it's easy to make regrettable purchases.
Buying fake coins: Coins found in slabs — which are hard plastic, tamper-proof cases that are sonically sealed and hold a coin — do not automatically symbolize rarity, authenticity, or pristine condition. As easy and enticing as it may be to purchase coins off of eBay or other similar websites, it's wise to avoid spending your money on coins that are not from reputable sources such as professional certification services.
As mentioned earlier, the NGC and PCGS are the two most prominent certification and authentication services. These are followed by the second-tier companies of Independent Coin Graders (ICG) and the American Numismatic Association Grading Service (ANACS).
Ordering coins from TV dealers: We've all seen a show on the infomercial section of the TV guide preaching about how they have the rarest coins in the world for the best prices. Keep in mind that just because an advertiser is telling you that a particular coin on their program is the best deal you'll ever find doesn't make the claim true. One reason for inflated prices for coins on infomercials is that these programs come with marketing and advertising costs that are passed on to the consumer through the price of the coin.
Make Your Money Work Better for You
To add, though the coins may actually have collectible value, they may not be as rare as TV dealers say. Lastly, even if the infomercial claims that they're selling coins that are certified by NGC and PCGS, there's no guarantee or quality control to be sure that they're graded authentically. Also, you can never be certain whether the coins are in the same condition as when they left the NGC and PCGS.
Conducting limited research: As with any type of investment, it's crucial to conduct extensive research before shelling our cash. Only knowing common knowledge about coins, including popular kinds to buy or average buying prices will not help you succeed. 
As you grow your collection, you must also expand your understanding of numismatics, which is the study of coins. It's advisable to consult industry-specific blogs such as those maintained by the NGC, PCGS, and other private or sovereign mints across the globe.
More From GOBankingRates