Here's the Average Net Worth of Each Generation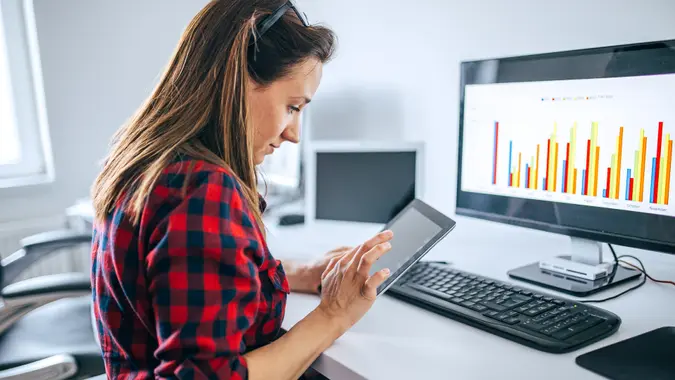 South_agency / iStock.com
Between 2019 and 2022, Americans' real median net worth surged 37%, the largest three-year increase over the history of the Federal Reserve Board's triennial Survey of Consumer Finance.
Understanding what a net worth means and where you stand might help you make some financial adjustments that could bolster your finances. But there are some generational disparities — and wealth is not equally distributed, the survey showed.
But first, what is someone's net worth?
Simply put, it's your assets minus your liabilities or debt. According to the Federal Reserve Survey of Consumer Finances, published in October, both median and mean net worth rose for all age groups.
Families younger than 35 years old saw the largest growth, with their median and mean net worth more than doubling between surveys, yet they also remained the least wealthy age group. The wealthiest group — 65 to 74 years old — also saw a large growth. Meanwhile, families older than 75 saw relatively modest median wealth growth, according to the Fed.
Here is a breakdown of household net worth by age, according to the survey. Also see how you can build your net worth.
35 and Younger   
Median net worth: $39,000
Average net worth: $183,500
Ages 35-44
Median net worth: $135,600
Average net worth: $549,600
Ages 45-54
Median net worth: $247,200 
Average net worth: $975,800
Ages 55-64
Median net worth: $364,500
Average net worth: $1,566,900
Ages 65-74
Median net worth: $409,900
Average net worth: $1,794,600
Make Your Money Work Better for You
Ages 75+
Median net worth: $335,600 
Average net worth: $1,624,100
Hurdles for Younger Generations
The most recent research into these questions indicates that younger generations — Gen Z and millennials — are less wealthy than Gen X and the boomers were at the same age.
As Samuel Gregg, distinguished fellow in political economy at the American Institute for Economic Research, explained, millennials and Gen Zers own approximately 74 cents for every $1 of wealth owned by boomers when they were the same age.
"Should that trend continue over time, this will create some substantial disadvantages for millennials and Gen Z," he said.
For instance, it means less disposable income for them because they have to spend more on necessities such as food, fuel and housing — which in turn compromises their lifestyle quality.
Gregg added, "It also means that these younger generations have less by way of capital to invest, whether in the stock market or property, less to put away immediately for retirement and less to devote immediately to paying off loans or mortgages. That does not augur well for their long-term economic security."
Advantages of Younger Generations
The most obvious advantage is time. Indeed, younger generations have the advantage of having their highest-earning years ahead of them. But, more important, they have the power of compounding interest on their side.
"That's how the oldest generations typically gained wealth," said Todd Stearn, founder and CEO of The Money Manual. "You want to reinvest gains on your retirement plan assets and get the benefits of compounding interest for as long as that money is kept in the accounts. For many people today, this would be in a 401(k) plan at work."
Make Your Money Work Better for You
However, he noted that if you have credit card debt you might have experienced compounding interest working against you.
"Many Gen X folks and millennials had to pay student debt, and that kept them from saving for retirement," Stearn said. "But there's a new federal law called SECURE Act 2.0 that allows your employer to contribute to your 401(k) retirement plan when you make qualified student loan payments. This is a big advantage that you should ask about at work, if it applies to you."
Another factor is that cost of living was certainly lower for baby boomers, but they also suffered from awful inflationary years.
"Actually inflation for boomers in the 1970s was much higher than even today," Stearn said.
Another thing younger generations have on their side is that they are more entrepreneurial than older generations were and are finding ways to bolster their income that can pay off in very big ways.
"They are more active in creating more passive income streams, in part because this is one way for them to increase their overall income and generate greater wealth over time," Gregg said. "That could also result in more long-term economic independence and far less reliance on one job for long periods of time. For many Gen Zs and millennials, that seems to be a very desirable lifestyle choice." 
More From GOBankingRates
Make Your Money Work Better for You