The 7 Craziest Tech Gadgets That Billionaires Love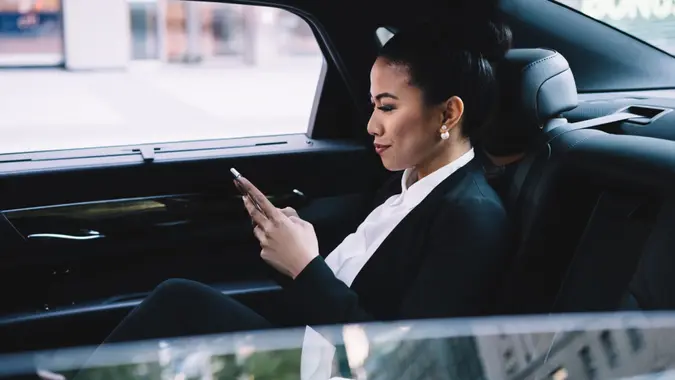 GaudiLab / Getty Images/iStockphoto
If you were to ask wealth management planners about the financial habits of their wealthiest clients, they would tell you the mega-wealthy go by the book: first mastering basic money skills like budgeting, then moving on to smart saving and smarter investing without needless spending.  
Most billionaires don't become rich by accident and are meticulous about what goes out of their accounts. While some of the wealthiest people in the world feel the need to own a tricked-out superyacht, private islands or one-of-a-kind collector items — like The Batmobile or 30 journals belonging to Leonardo Da Vinci, which were bought by Chick-fil-A's S. Truett Cathy and Bill Gates for $250,000 and $30.8 million, respectively — most ultra-high net worth individuals spend money to make money.   
But billionaires love their tech toys. The most advanced devices, equipment, appliances and tools don't cost as much as your everyday luxury mansion in wealthy enclaves like Atherton, California or Scarsdale, New York, and they get used all the time because of their convenience and coolness.
In fact, some of the following can be had for mere tens or hundreds of thousands of dollars. Here are seven of the craziest tech gadgets beloved by billionaires.
1. Jetpacks
You'll only need to splash out $400,000 to buy a Gravity jetpack. Five turbine jet engines power this Iron Man-style, 75-pound suit with a top speed of 80 miles per hour. While this jetpack is technically on the market, it's also technically far away from being adopted by the general public. Regulatory and airspace restrictions will keep anyone from flying to and from work right now, but you can test a suit for a few hours at one of Gravity's flight centers for about $3,000.
Make Your Money Work Better for You
2. Refrigerators
The Meneghini La Cambusa refrigerator (even the name screams "opulence") is a custom-made luxury refrigerator manufactured by the Italian company Meneghini Arredamenti and designed to resemble a beautiful piece of furniture rather than a traditional refrigerator.
Costing $41,000, the "fridge" includes a three-way door cabinet, each 6 feet long and 9 feet wide, has a 75-gallon storage capacity and incorporates kitchen appliances like a coffee maker, ice dispenser and microwave, per Nerdable. 
3. Headphones
Beats Pro by Dr. Dre X Graff are the most expensive headphones in the world, retailing for $750,000. That price is not a typo. Decorated with 123 carats of diamonds and 3.5. carats of rubies in platinum by the world-famous jeweler Graff. If you want to spend less, check out Focal Utopia by Tournaire ($107,000) or Onkyo's H900M Diamond ($100,000) headphones.
4. Earbuds
Sticking with sound, if you're into in-ear earbuds rather than over-ear headphones, there is only one brand to buy if you've got the cash to spend and five weeks to wait. Each earbud uses 25 grams of 18-carat solid gold handmade by a Swedish goldsmith and costs $14,500 for the pair, thankfully.
5. Personal Submersibles
Despite the tragedy surrounding the deep sea Titan submersible "Titanic" mission in June, personal submarines are tech toys for wealthy water lovers. According to Robb Report, there's a wide range of personal subs perfect for researching depths or entertaining undersea. A U-Boat Worx Nemo, a SEAmagine Ocean Pearl or a DeepFlight Super Falcon 3S will set you back $632,800, $1 million and $2 million each.
Make Your Money Work Better for You
6. Turntables
Billionaires want to take advantage of every trend. The return of vinyl records over the past few years has prompted many to pull out their dusty players or go out and buy a new turntable. Rich audiophiles with money to burn will now have a field day shopping for high-end stereo equipment.
The most expensive turntable in the world is AV Design Haus' Dereneville VPM. At $650,000, you should be able to get the remaining Eagles to play their greatest hits in your living room, but if you want something other than the company, the Dereneville VPM will make any old records sound amazing.  
7. Toothbrushes
According to Rarest.org, there are several tech-heavy toothbrushes on the market. Many are still using plastic, some chrome or titanium. However, the most expensive toothbrush, the Heritage Toothbrush, has an 18K solid gold handle and costs $6,500. 
More From GOBankingRates