Dave Ramsey Calls Credit Score an 'I Love Debt' Indicator, Says Debt Is 'Always Dumb'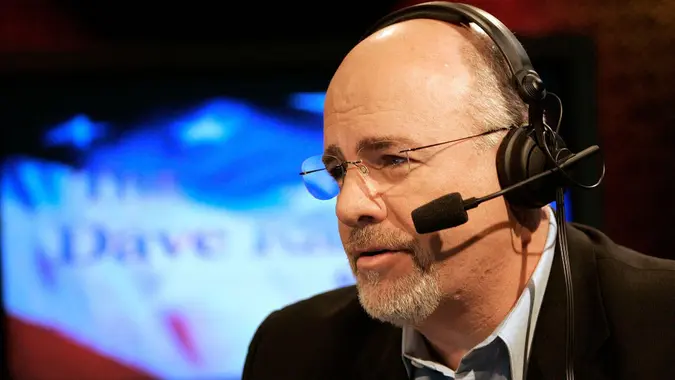 Mark Humphrey/AP/Shutterstock / Mark Humphrey/AP/Shutterstock
Americans are once again racking up debt after a brief slowdown during the height of the COVID-19 pandemic. In 2022, U.S. consumers added more than $1 trillion to the nation's overall debt load vs. the previous year, according to a recent report from Experian. That represents an "extraordinary increase" not seen in more than a decade, the report said.
In terms of year-over-year percentage gains, personal loan debt grew at the fastest rate in 2022 at 18.3%. It was followed by credit card debt (16%), student loans and home equity (9.3% each), and mortgages (9%).
Those numbers might put to rest any notion that consumers learned to live without debt during the pandemic, when spending slowed to a crawl. The numbers also highlight what financial guru Dave Ramsey considers maybe the biggest hurdle to building wealth and financial security: going into debt.
Ramsey drove that point home in a March 16 tweet:
Make Your Money Work Better for You
"Debt is not the answer to your money problems. It IS the problem."
The Ramsey Solutions website made its case against debt in a February blog titled "The Truth About Debt." Among other things, the blog stated that "debt always equals risk, and it's always dumb."
That even applies to what is often considered "good debt" – the kind you leverage for investments such as rental property loans. Those properties can pay off as long as they are rented out. But when the economy turns south and your property sits empty, it suddenly becomes a liability instead of an asset.
"While your calculator may say that leveraging debt can help you get rich faster, it doesn't consider risk," Ramsey Solutions noted. "But when you pay cash for everything, you don't have to worry about that risk."
Ramsey is equally down on debt tied to student loans, car loans and credit cards. In its blog, Ramsey Solutions ran data from the Federal Reserve, TransUnion and Experian and found that the average consumer spends about $1,200 a month between student loans, car loans and credit card balances. That comes to about $117 more than the average full-time American worker earns in a week, according to the U.S. Bureau of Labor Statistics.
Make Your Money Work Better for You
"Basically, if you're making the average debt payments in the U.S., you're throwing an entire week of your income out the window," Ramsey Solutions said.
Credit card debt can be a particularly big drag on your finances because of high interest rates — especially now, following a series of Fed interest-rate hikes designed to tame inflation.
The average credit card interest rate as of March 8, 2023 stood at an astronomical 24.1%, according to Forbes Advisor's weekly credit card rates report. Rates are much lower for consumers with credit scores of 740 or above, at 16% to 18%. But that's still a high price to pay if you don't pay your balance off in full every month.
Many financial experts recommend getting a credit card to build a credit history and improve your credit score. That might be true as far as it goes, but it doesn't necessarily lead to wealth and financial security.
As Ramsey Solutions put it, a credit score is "really just an 'I love debt score'" that has "nothing to do with how wealthy you are, or how well you handle your money."
Take Our Poll: What Do You Plan To Use Your Tax Refund For?
Make Your Money Work Better for You
Ramsey Solutions recommends cutting up your credit cards, paying off all your existing debt and staying debt-free. As it stated on the blog, you don't necessarily need a credit card to buy a home or rent an apartment, despite popular belief.
If you don't already have a credit card, there are numerous reasons you should avoid getting one, including if you are already deep in debt, have exhausted your savings, or have a tendency to spend more than you can afford.
More From GOBankingRates
Make Your Money Work Better for You