4 Financial Experts Reveal How They Spent Their First Big Paycheck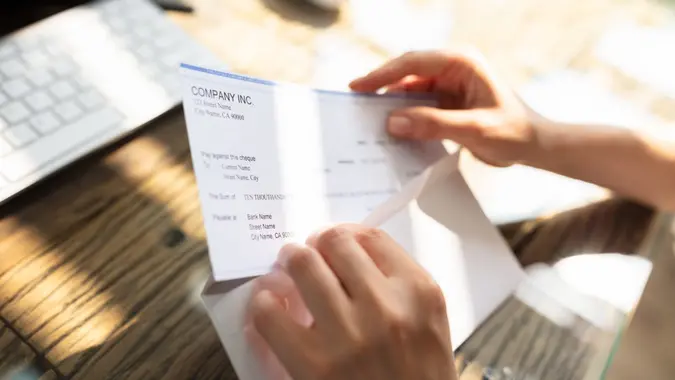 AndreyPopov / Getty Images/iStockphoto
When you think about financial experts, you might imagine someone who is extremely savvy with their money, meticulously planning and optimizing their every penny for maximum wealth generation.  While that can be true in some cases, it's not as though there is some law or wealth accumulation creed to which every financial expert is beholden.
Sometimes, financial experts spend their money in ways that may seem consistent with how most people spend money. In other words, they spend money on things they want, or even on surprises for their loved ones. Sometimes, they spend their money on nothing more than paying down debt and shoring up their savings accounts.
I interviewed a few successful financial experts and, indeed, they spent their first big paychecks on things indicative of someone who is far from rich. Nevertheless, it's clear they had a few more dollars in the bank than they had in the past.
Debt Repayment
According to the New York Fed, total household debt in the first quarter of 2022 was $15.84 trillion. With such a staggering number, it would serve most of us well to pay down those debts before spending on most other things. So, it's no surprise that (at least) one expert focused on debt repayment with his first big paycheck.
"This is going to sound boring, but I simply paid down some debts and banked it, enjoying the feeling of not having to live paycheck-to-paycheck for the first time," said Chris Motola, financial analyst at MerchantMaverick.com. It can be tough to make those debt repayments when you don't have much. But when you start to earn a real paycheck, it makes sense to start repaying your debt.
Make Your Money Work Better for You
Student Loans
Student loans are another form of debt, but they are worth mentioning separately because of how large the national student loan debt burden has become. According to Experian, student loans are now the second-largest type of debt, with only mortgages having a larger collective balance. Many jobs require at least a bachelor's degree, but the cost of tuition at many schools has risen rapidly. This highlights the need to pay student loans down to avoid falling too far behind.
Savings
Just about any personal finance guru will recommend having an emergency fund of at least three months' worth of expenses set aside to cover expenses like car repairs or medical bills. In addition, you might have a savings fund to cover expensive items or go on vacation.
Motola also mentioned using his first big paycheck to shore up his savings. "I saved most of it in a typical savings account. It would be a while before I started looking at investments. I had to rewire my brain out of a scarcity mindset toward one that could have an appetite for risk and long-term yields."
Retirement
Saving for retirement is important, yet the average person is woefully behind in this area. For Americans over 65, the average retirement income is $38,515 with a net worth of $170,516. If you have been neglecting your retirement savings, that's a good way to spend (or, well, not spend) your first big paycheck.
Make Your Money Work Better for You
"It might not be as exciting as buying a new sports car, but as a financial professional one of my main goals is to prioritize my retirement savings," said Anthony Rosetti, director and wealth manager at Round Table Wealth Management. "So, when I received my first big paycheck, I wanted to ensure the first thing I did was make contributions to my retirement accounts."
A Car Payment
Cars can be expensive, and many Americans live in places where cars are required for day-to-day needs, including commuting to work. One expert used his first big paycheck on a car payment – not for himself, but for his father. "I remember I used 80% of my paycheck towards a car payment," said Lyle Solomon, principal attorney at Oak View Law Group. "I bought my favorite Holden Astra CDX that year and gave it to my father."
Solomon said that his father loved cars and named the Astra "Lilly" after his mother. "He was car-loving and cared for that old baby like his own son," Solomon said. "Till his last day, he cared about both of his vehicles and died at 78."
A Nice Gift
In some cases, it can be a great idea to spend your first big paycheck on a nice gift, especially if you're already in good standing with your debt and savings. Whether you buy something for yourself or for a loved one, there's nothing wrong with splurging occasionally.
That's exactly what one expert did with his first paycheck. Michael Taylor of Shifting Shares said he "committed to treating investing as a full-time job and in 2017, I hit big on a trade and had a fantastic July."
Make Your Money Work Better for You
Some people might have used that money on a new car or a down payment on a house, but Taylor had a different idea. "I decided to take 10% of that score and surprise my father with a trip to mainland Europe. I didn't go too crazy with it, but that trip meant a lot, as my dad has been a sounding board for me in my career, and being able to come back from losing big was really special."
More From GOBankingRates