Higher Salary or Less Stress? New Survey Reveals What Americans Need To 'Feel Wealthy'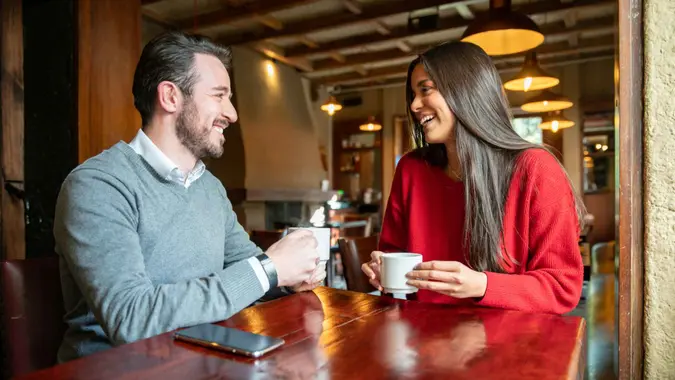 Hispanolistic / Getty Images
If the last few years have taught us anything, it's that the modern economy is turbulent and often challenging. However, a growing number of Americans feel that having just enough money to get by — and managing to live well with less stress — is the true meaning of "wealthy."
According to Charles Schwab's 2022 Modern Wealth Survey, the average American believes that being rich means having a net worth of $2.2 million. However, the survey finds that being "wealthy," at least in the minds of those polled, has little to do with making a higher salary and building actual financial wealth.
Among the 1,000 adults surveyed, 48% claimed they already feel wealthy. However, this group has an average net worth of $560,000, about a quarter of the $2.2M they think it takes to be rich. Schwab found that millennials are more likely to say they are wealthy, with 57% of those aged 26 to 41 feeling this way compared with only about 40% of Gen Z, Gen X and baby boomers. For millennials who say they feel wealthy, their average net worth is about $530,000, per CNBC.
The sixth annual Schwab survey, conducted by Logica Research, examines how Americans think about saving, spending, investing and wealth. This year, the study found that more respondents value well-being (40%) over money (32%) or assets (26%) when asked what it means to be wealthy. Per Schwab: "And they did this not by choosing their favorite answer to a multiple-choice question, but in their own words. Well-being was more important than anything else."
Make Your Money Work Better for You
Across the board, those surveyed tended to veer toward answer choices that gave priority to healthy relationships and having flexibility, freedom and less stress in their lives. Respondents overwhelmingly embraced value-driven "wealth" over material possessions and making more money by selecting things like enjoying experiences (70%) over owning nice things (30%), not having to stress over money (70%) over having more money than most people they knew (30%) and having a healthy work life balance (69%) over maximizing their earnings (31%).
Additionally:
67% felt that being generous with loved ones now was more important that leaving an inheritance (33%).
Being in good health (63%) was favored to being successful (37%).
62% of respondents believe that enjoying healthy relationships with loved ones, while 38% consider having a lot of money more meaningful.
40% answered that having a higher salary meant being wealthy, but 60% said that having the flexibility of working where and how they want is how they define wealth. 
"Americans today aren't as worried about keeping up with the Joneses, and more importantly, they understand that they can be happier with fulfilling experiences and relationships, even if they have less money than them," said Jonathan Craig, managing director and head of investor services at Charles Schwab.
As the Schwab survey shows, many Americans are changing the way they look at life, moving away from the "bigger, better" mentality and toward investing in an enjoyable stress-free life.
"We're seeing these trends at Schwab as well," Craig added. "First, when people think about managing their finances and building wealth, it's so much more personal than just money and investments. How they invest and what they invest in reflects their unique goals and passions."
Make Your Money Work Better for You
More From GOBankingRates