Space Travel Is the New Vacation for the Super Wealthy: How Much It Costs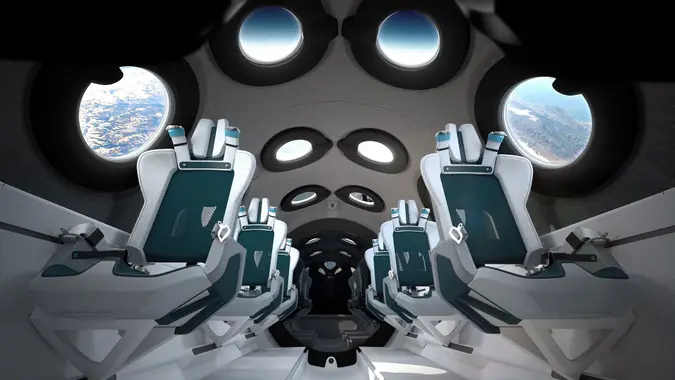 ABACA / Shutterstock.com
Taking flight has new meaning if you're traveling on a spaceline. Ever since actor William Shatner flew into space with Amazon founder Jeff Bezos on the Blue Origin flight in July 2021, the 1% — and those of extremely affluent means — are ready to become space travelers.
Related: How Rich Is Meghan Markle?
Find Out: How Much Is Prince Harry Worth?
Before anyone gets beamed up, just how much does a spaceflight cost? As per airline travel, the answer depends on the spaceline. Here's a look at the top spacelines offering flights and a rough estimate of what you can expect to pay for space travel.
Virgin Galactic
Those taking flight on Virgin Galactic will experience weightlessness, breathtaking views of Earth and a life-changing transformation through their innovative spaceflight system. According to the Virgin Galactic website, four passengers may fly on their spaceflight. This flight lasts 90 minutes. Passengers, upon the shut down of the rocket motor and arrival into space, may unbuckle their seatbelts and float out of their seats into micro-gravity. Gaze through one of 17 windows for stunning views of Earth as the vehicle prepares to re-enter Earth's atmosphere using feather technology.
Make Your Money Work Better for You
Live Richer Podcast: Unexpected Ways Losing a Spouse Can Affect Your Finances and Retirement
So, when do we fly? In February 2022, Business Insider reported Virgin Galactic had opened ticket sales for commercial flights. The price tag was $450,000, including a $150,000 deposit for the 90-minute spaceflight.
At the present moment, tickets are not currently for sale for the rest of 2022. Those interested in flying Virgin Galactic are invited to visit the website and select "I want to make a spaceflight reservation now," to complete an application form via email.
Blue Origin
Similar to Virgin Galactic, Blue Origin is currently requesting those interested in purchasing a spaceflight ticket to complete a contact form on its website for the New Shepard crew capsule containing six seats. Those filling out the form are encouraged to provide more details than simply their contact information. They need to share their accomplishments, noteworthy adventures they have experienced and the New Shepard feature that excites them the most.
Make Your Money Work Better for You
How much is it? This answer is a bit trickier to find. In 2021, The New York Times reported Blue Origin had begun taking spaceflight reservations and neared $100 million in sales. However, Blue Origin publicly declined to state ticket prices.
What we do know, however, is Oliver Daemen was aboard Blue Origin's first crewed flight in July 2021, in a seat auctioned off by the company for $28 million after the person who paid for that seat wasn't able to go. And the winner of this seat remains a mystery.
SpaceX
SpaceX, by the numbers, has had 181 total launches, 143 total landings and 119 total reflights. In 2021, The New York Times reported the accounts of space travelers, including a physician assistant, a community college professor, a data engineer and the billionaire who financed their trip, Jared Isaacman, after spending three days in orbit and arriving back on Earth. The mission, known as Inspiration4, contained four crewmates on a private spaceflight. 
Make Your Money Work Better for You
Inspiration4 was widely hailed as a triumph for its passengers and SpaceX founder, Elon Musk. The mission raised more than $160 million for St. Jude Hospital with Musk tweeting he would contribute an additional $50 million. While we do not know the exact number of how much it cost Isaacman to finance the Inspiration4 mission, our guesstimate is the numbers may not be too far off from the New Shepard. (Read: millions of dollars.)
The Future of Space Travel
While space travel itself is still in the early stages, it already appears to be dividing into commercial and private spaceflight options. Much like flying on Earth, there will be private flights available to the super rich. Commercial flights, for those not in the 1%, will make it possible for those who wish to see space. 
Many questions remain moving forward, such as whether there will ever be room for more than four to six passengers per crew capsule, if more options will be created for multiday experiences and whether, eventually, space travel will mirror airline travel with dozens of capsules scheduled to exit and re-enter Earth's atmosphere any given day. What we do know, as indicated by Virgin Galactic's sold-out tickets, is the future of the space tourism industry is booming.
More From GOBankingRates
Make Your Money Work Better for You