How To Stay Rich Once You Get There, According to Experts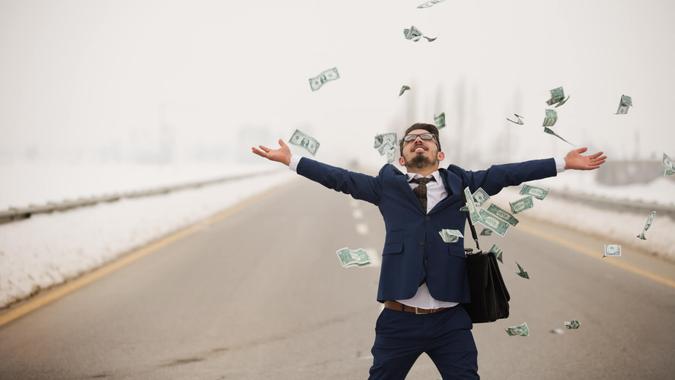 ridvan_celik / iStock.com
It's hard to imagine that there's a working person in the country who doesn't want to earn more money, but a higher income by no means guarantees a higher net worth or even a better lifestyle. There's no shortage of stories about star athletes who went from rags to riches and back to rags again after tearing through royal fortunes at breakneck speed.
Find Out: How Much You Need To Be 'Rich' in 50 Major US Cities
See: 5 Steps To Take Right Now To Be Rich in 5 Years
But high earners can watch their treasure vaporize even if they live outside the fast lane of mansions and supercars. Bad money habits, it turns out, tend to follow people up every rung of the income ladder.
When Incomes Rise, Spending Is Rarely Far Behind
If you get a raise, it's only natural to want to buy things that you couldn't afford on your previous salary. The problem is, something will always be just out of reach no matter how much money you earn. If getting your hands on that thing is your yardstick for success, no amount of income will ever be enough. 
Make Your Money Work Better for You
"It's often as simple as baseline expectations for one's quality of life increasing in proportion to one's salary," said Chris Motola, a financial analyst with MerchantMaverick. "If an upwardly mobile person changes his or her tastes from Burger King to Shake Shack or a staycation to a European vacation, that individual may easily still wind up in a situation where he or she is living paycheck to paycheck."
There's a term for the phenomenon that Motola describes.
"It's lifestyle inflation," said Michael Miller, CEO of VPN Online. "Most high earners think that since they earn a lot of money, they can afford to buy whatever they want."
Brian Davis, a real estate investor and founder of SparkRental, put it even more concisely: "Most people spend nearly every dollar they earn, no matter how many dollars that is."
More Tips: Cutting Out These 24 Expenses Will Save You Over $15,000 a Year
Make Your Money Work Better for You
It's a Slow, Gradual Crawl to Irresponsible Spending
When cash is tight, it's all you can think about, but financial security can lead to a dangerously blasé attitude toward money.
"High earners got trapped in the higher lifestyle," said Alcides Otiniano, founder of Prosperous Frugal. "It might not seem related to money initially, as you feel you deserve it for your hard work, but you end up spending progressively more and being more indulgent."
That slow, steady shift toward reckless spending can sneak up even on people who lived prudently before the big raise. That's where the term "lifestyle creep" comes from.
"Lifestyle creep is the change in lifestyle of a person in response to the increase in income or social level," said Will Tigerton, a financial analyst and founder of LeanBackPlayer. "Experts also consider the unending thirst for finer things as part of lifestyle creep. The best example of this is when a family is going out for dinner. If before, the family enjoys the food from a local restaurant nearby, with lifestyle creep, the family will try to find a restaurant that can serve better food, hence, more expensive bills. Buying branded things will also be one of the changes usually accompanying lifestyle creep. Even if there is an increase in the family's income, the increase in expenses outruns the budget."
Make Your Money Work Better for You
High Earners Feel Like They Got the Hard Part Out of the Way
A raise or a promotion can spark a perfectly healthy dose of well-earned confidence, but when it festers into overconfidence, a financial fall is never far off.
"What many people get wrong about money is that building wealth is half the journey," said Amanda Sullivan, research analyst at CreditDonkey. "Maintaining wealth is where the real work comes in. When you're earning the big bucks, it's easy to get trapped in toxic mindsets and habits. Living outside your means, being careless with your investments, and not thinking about the future are just some ways you can let your financial situation go over your head. Being overconfident in your financial stability can enable bad habits, so stay on your toes when making purchases or other financial commitments."
It's Easy To Ignore Hidden Expenses, but They're There Just the Same
An outsized salary can lull you into thinking that you can afford the finer things, but the bigger the purchase, the bigger the hidden costs.
"Many high earners try to keep up with those in their circle yet do not understand a lot of the basics of finance," said Aviva Pinto, managing director and wealth manager at Wealthspire Advisors.
In Pinto's experience, people who earn high salaries often fall into the same financial traps as those who come into wealth quickly, like lottery winners or pro athletes. All, according to Pinto, have a tendency to ignore — willfully or otherwise — the following considerations:
When your income grows, so do your tax obligations: An athlete's $5 million contract can dwindle by 40% or more before the athlete sees even a single dime of it.
Big purchases tend to have big associated expenses: A $1 million house costs a whole lot more than $1 million when you factor in things like maintenance, furnishings, real estate taxes, pool and grounds upkeep, alarm systems and utilities.
Inflation and longevity: People are living much longer lives and the cost of goods and services always trends up.
So, How Do You Get Rich Off of a Rich Person's Income?
Earning too much money is a good problem to have — so how do broke rich people get out of their own way? The trick is to let your lifestyle plateau as your income climbs.
"Word to the wise," said Davis, who lives off of 40% of his income with his wife and saves and invests the rest. "If you want to truly get rich, freeze your lifestyle spending where it was in your mid-20s. As you get raises, put it all towards investments. By delaying gratification, you can build true wealth, rather than just running on a bigger hamster wheel."
More From GOBankingRates
Make Your Money Work Better for You