I'm a Self-Made Millionaire: Here's How I Built Generational Wealth and How You Can As Well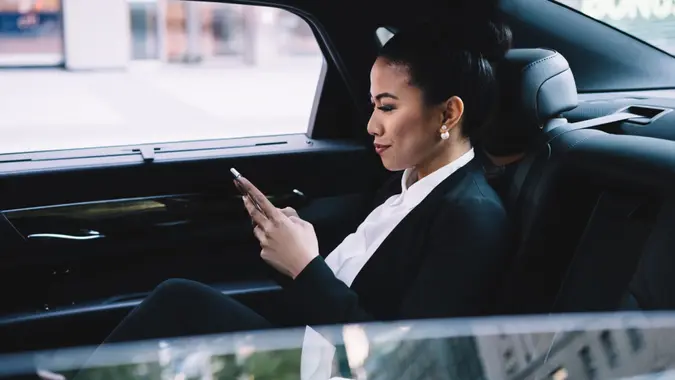 GaudiLab / Getty Images/iStockphoto
Some millionaires were born into wealth and privilege, but many others found their fortune through good ideas and the hard work needed to bring those ideas to life.
GOBankingRates spoke with two self-made millionaires who secured their financial futures by turning their passions into income-generating businesses. They followed different paths, but both shared many of the same traits, which are nearly universal among successful people.
A Love of Landscaping Spawns Two Big Businesses
Bryan Clayton is the CEO and co-founder of GreenPal, which matches lawn care providers with prospective customers in need of landscaping services. It vets each partner company and contacts them on behalf of the customers, who can then compare free quotes from nearby companies without having to call around.
It's now an industry leader that facilitates more than 9,000 bookings a day — but its success was a long time coming.
"My journey to becoming a self-made millionaire started early," said Clayton. "By the age of 13, I was already immersed in the landscaping business, which I grew over the years to encompass over 150 employees and annual sales of $10 million."
Clayton refers to Peach Tree Inc., where he grew into a market leader in the Southeast.
"Selling this business was a pivotal moment, marking my entry into the millionaires' club," he said.
But his thirst for entrepreneurship didn't stop there.
"I embarked on a new journey with GreenPal, a tech start-up that has since grown to command over $30 million a year," Clayton said.
Make Your Money Work Better for You
Take Our Poll: Do You Think AI Will Replace Your Job?
The Six Qualities for Wealth and Success
Clayton believes that all self-made millionaires possess six key traits.
The first is an unquenchable thirst for industry-specific knowledge.
"A deep understanding of your chosen industry can give you a significant advantage," said Clayton.
The second is a relentless sense of commitment.
"Go all in on your chosen business or idea," said Clayton. "It's about pouring your heart, soul, and time into making it successful."
The third is to get moving as soon as possible — don't let paralysis by analysis or the fear of failure keep you on the sidelines.
"I started young, and this early experience gave me a head start," said Clayton.
The fourth is persistence.
"Success doesn't come without setbacks," said Clayton. "You need to keep pushing through."
Fifth is a natural love of learning.
"I was always eager to learn more and adapt to new business trends and practices," said Clayton.
The sixth and final quality is universally important for success in any endeavor — financial prudence.
"Living below your means, smart investing, and understanding the power of compound interest are crucial," said Clayton. "The path to becoming a self-made millionaire isn't easy, but with the right mindset, specific knowledge, and an unwavering commitment, it's entirely possible."
A Teen Mom Grows Into a Two-Time CEO
Rachel Neill had her first child at 16. While the challenges of teen motherhood hold many women back, Neill defied the odds and founded two successful businesses. She now has six children ranging from 21 to a baby.
Make Your Money Work Better for You
Neill had a good career and — considering her family obligations — she had every reason to stay put at her job and continue climbing the corporate ladder. But she wouldn't be satisfied until she was her own boss."As an executive at a fast-growing start-up, I had a front-row seat and spent years studying what it takes to raise funding, and what makes a company grow into a long-lasting success," she said. "I could have stayed there and collected a nice and steady paycheck, but I knew I wanted more for my family and generations to come. So I took the leap into entrepreneurship and never looked back."
Imposing Obstacles Prove No Match for Self-Determination
She used the knowledge she gained and the money she earned as a tech executive to strike out on her own.
"Several years later, I left to start my own career match-making and consulting firm," said Neill in reference to her Carex Consulting Group. "It paid off."
Carex grew into an industry-disrupting staffing company with roughly two dozen employees — but Neill wasn't done yet. The inspiration for her next undertaking came straight from her home.
"During the pandemic, I had some downtime and needed to keep my kids busy," she said. "So we started an entirely different venture, a kids play e-commerce business with funding from a crowd fundraising site."
She refers to Figgy, which makes specialized play couches for homes, schools, and daycares.
Clayton's six rules guided much of Neill's journey, as well — but she stresses the importance of surrounding yourself with good people.
Make Your Money Work Better for You
"Although nothing comes without sacrifices and hard work, the right team and the right timing, no matter where you are in life, surround yourself with others who are doing what you dream of," she said. "Ask questions, learn everything, and one day you will be ready to take the leap into entrepreneurship, and ultimately the leap into generational wealth."
More From GOBankingRates