8 Middle-Class Money Traps That Don't Exist Outside the US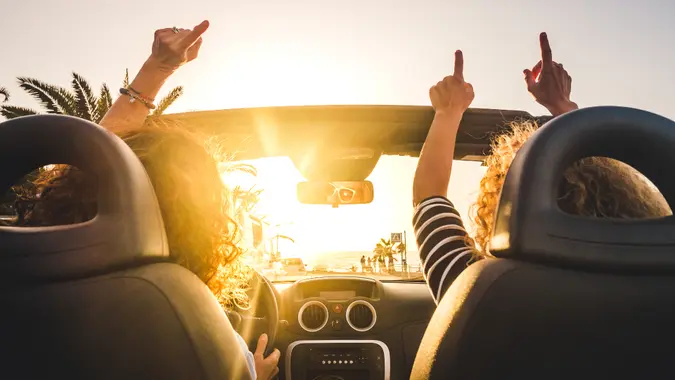 simonapilolla / Getty Images/iStockphoto
Back in the 1970s, approximately 61% of American households were considered "middle class" — now, that percentage has shrunk to just 50%, according to Pew Research Center. Meanwhile, the percentage of upper-income and lower-income households has risen over the past several decades. This has resulted in a widening income gap between households.
But what makes the difference between income classes?
When it comes to the middle class, most people have some disposable income and have obtained some college education. Many of these individuals have also achieved a certain level of financial stability, and might even be preparing for retirement or have an emergency savings fund or other investments.
However, middle-class households also often carry consumer debt — such as a mortgage or high-interest credit cards. They may also be more prone to falling for certain money traps or other financial pitfalls that those in the upper class might have successfully navigated away from.
Some of these money traps either only exist in the United States, or are more prominent in the U.S. than they are in any other country. If you live in the U.S. and consider yourself to be in the middle class, here are some of the biggest money traps that could be affecting your finances.
Believing Homeownership Equals True Wealth
Homeownership has traditionally been an American dream, but many people believe that owning a home equates to being wealthy when that's not necessarily the case.
Make Your Money Work Better for You
"Instead of financial independence or financial security, the 'American Dream' is homeownership. But, homeownership is not a very effective way to accumulate long-term wealth for retirement, despite conventional wisdom suggesting the contrary," said Robert R. Johnson, PhD, CFA, CAIA, professor of finance, Heider College of Business, Creighton University.
"Many people continue to believe the myth that residential real estate is the best long-term investment, and the evidence simply suggests otherwise," Johnson said. "People fall prey to the stories of individuals realizing substantial gains by buying a home and selling it at a much higher price years down the road. The fact that in the United States a large percentage of an individual's net worth is concentrated in home equity adds to the mistaken belief."
Consistently Living Above Their Means
While not exclusive to the U.S., many Americans live at the top of or above their means. Some of this is due to them wanting to "keep up with the Joneses." But this can lead to more debt and other financial complications down the line. It can also make it more difficult to prepare for retirement, pay off existing debt or build wealth.
A common example of this is purchasing a house that they can technically afford but that won't necessarily leave any room for other financial goals.
"People often ask mortgage bankers how big a mortgage they can qualify for and anchor their home buying decision on houses at the top of their range," Johnson said. "The problem that people get into is that too large a portion of their monthly income is consumed by mortgage payments, effectively crowding out other, more lucrative investments — like building wealth in the stock market."
Make Your Money Work Better for You
Falling for Lifestyle Creep
Similar to living above one's means comes another U.S. middle-class trap known as falling for "lifestyle creep." This is essentially when one's nonessential spending increases alongside their income. While many people might perceive this increased spending to be necessary, the reality is that it often isn't.
"Sometimes, increased income naturally leads to more discretionary spending — but if left unchecked, 'lifestyle creep' can prevent individuals from achieving their financial goals in the long-run," said Steve Sexton, CEO of Sexton Advisory Group. "While the cost of living and lifestyle preferences naturally change as we evolve and mature, it's important to understand how your expenses stack up and have clarity on how your money is being allocated and invested to build future wealth. Without this roadmap, building true wealth in the long run can be very difficult to achieve."
Pursuing Higher Education Without a Clear Plan
While obtaining a higher education could help you land a higher-paying job, it's not a guarantee. And unfortunately, many people who go to college end up with student loan debt they can't afford to pay back. This is especially common with those who don't have a clear career trajectory or financial plan.
"A middle class money trap that seems to only exist in the U.S. is student loan debt. Pursuing higher education often comes with hefty student loan debt, which can impact financial freedom for years," said Scott Lieberman, founder of Touchdown Money.
According to the Education Data Initiative, approximately 43.6 million Americans carry federal student loan debt. Including both federal and private student loans, the average borrower owes around $40,505 in student-related debt.
Make Your Money Work Better for You
There is good news, though. Federal student borrowers may be eligible for affordable loan repayment options.
"Federal student loans offer smart repayment options, including the new Saving on a Valuable Education (SAVE) plan, which is an income-driven repayment plan that calculates payments based on a borrower's income and family size — not their loan balance," Lieberman said. "This plan, and other income-driven repayment options, can help student loan borrowers pay down their student loan debt at a manageable rate and not have to make hard decisions between paying down debt vs. saving for retirement."
Funding Their Lifestyles With Credit Card Debt
The U.S. has one of the highest — if not the highest — amounts of credit card debt in the world with a total balance of $1.03 trillion. On an individual scale, the average American — middle class included — carries $5,733 in credit card debt.
"Credit card debt is one of the fastest ways to diminish any financial gains you've earned. It's not uncommon for many middle-class individuals to fund their lifestyle with high-interest credit cards they can't afford to pay down in full every month," Sexton said. "My motto is, it's always better to earn interest than pay interest — so, unless you're able to pay down your credit card bill in full every month, credit card debt is likely preventing you from optimizing your financial wellness."
Relying Too Heavily on a 401(k)
Many U.S.-based companies offer 401(k) plans, a type of employer-sponsored retirement plan. But while contributing regularly to this plan — and taking advantage of any employer-matching contributions — can be beneficial for their financial futures, some people neglect other savings or investment opportunities.
Make Your Money Work Better for You
"The most prominent issue I see with America's middle class today is their attitude toward saving. Many families distrust the stock market and rely too heavily on their 401(k) to see them through to retirement," said Ian Wright, founder and director of Business Financing.
"While having a 401(k) is undoubtedly a good idea, there are also dangers that your savings won't rise in line with inflation," Wright said. "Because of this, it pays to diversify your investments a little, and looking at the stock market can be a useful secondary investment strategy."
Believing the Stock Market Will Make Them Rich
Portfolio diversification is often an essential part of breaking free from the middle class and becoming wealthy. But when it comes to investing in the stock market, and whether it's a smart financial decision, opinions are split.
Some Americans believe that the stock market is too risky, while others think it will make them wealthy. The former can keep them from investing at all; the latter could lead to some major financial mistakes.
"Put aside any ill-conceived notions about penny stocks possibly making you a millionaire, and you'll find far steadier shares and products that can slowly bolster your savings," Wright said. "Of course, anybody unfamiliar with the market should do their homework first. A good financial advisor should be able to steer potential investors towards more low-risk products that can help to fortify their savings."
Thinking Real Estate Comes With Higher Returns Than the Stock Market
And on the other side of that coin comes the fear of investing in the stock market at all. Instead, many people in the U.S. will turn to residential real estate instead of investing in the stock market, believing it will lead to higher returns.
Make Your Money Work Better for You
"Nobel laureate economist and Yale Professor Robert Shiller makes a compelling case that real estate, particularly residential homes, is a much inferior investment when compared to stocks," Johnson said. "Shiller finds that on an inflation-adjusted basis, the average home price has increased only 0.6% annually over the past 100 years."
In comparison, "the average return on a large stock index (the S&P 500) has been approximately 10% while inflation has averaged around 3%," Johnson said. "The inflation adjusted return of the stock market over the past 90 years has been approximately 7%. In addition, stocks do not need a new furnace, a lawn mowed, or a new roof, and they do not require annual property tax payments."
More From GOBankingRates