Fly in Style: 4 Most Luxurious Private Planes & How Much They Cost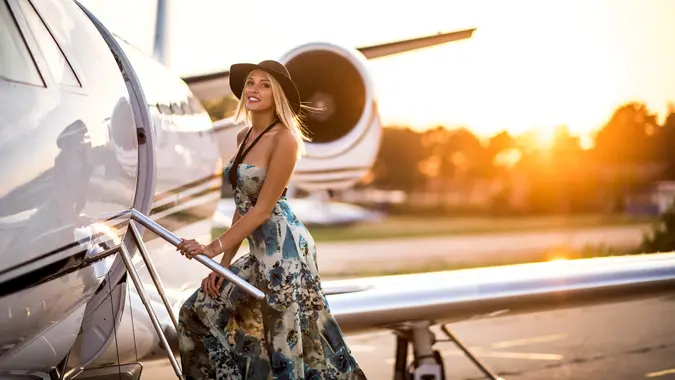 EXTREME-PHOTOGRAPHER / iStock.com
With a $65 million price tag, the Gulfstream 650ER is the everyone-who's-anyone plane for the gilded class. Jeff Bezos has one. So does Elon Musk. Compared to the world's biggest, swankiest and most expensive private jets, it might as well be a toy. 
Learn: 8 Best Remote Jobs That Pay at Least $50 an Hour
Small Business Spotlight 2022: GOBankingRates Celebrates Small Businesses Across the US
Some of the world's most luxurious private planes are owned by heads of state or royalty. Others are owned by outlaw oligarchs or one-percenters who are so secretive that the world knows the plane but not the owner. All, however, put standard-issue private jets to shame. Here's a look at the top four.
Airbus A340-300
Cost: $350 million
Since the start of the war in Ukraine, the world has learned about Russia's oligarchs and their inventory of enviable toys. Governments around the world have been scrambling to confiscate their mega-yachts and super planes. 
Among them is metal magnate and close Putin ally Alisher Usmanov — one of the richest people in Russia and the world — who is now facing tough sanctions from the U.S. and other countries.
His plane of choice is the Airbus A340-300. According to Private Jet Charter, he paid $230 million for the plane and then spent $170 million tricking it out with amenities such as a luxury dining room and ultra-luxe bedrooms suites.
Make Your Money Work Better for You
Take Our Poll: Are You Struggling To Keep Up With Your Utility Bills?
Airbus ACJ350 Custom
Cost: $366 million before luxury customization
Lufthansa Technik is a global aircraft services company known for designing the world's most elite airplane interiors — and the Airbus ACJ350 Custom is the jewel in its crown. According to the Robb Report, its two Rolls-Royce Trent engines can fly up to 12,400 miles on a full tank of gas — literally enough to fly nonstop to anywhere on the planet. 
Known unofficially as the "flying penthouse," it boasts 2,900 square feet of flexible living space that can be closed off or opened up depending on how much privacy you and your guests need during that specific flight. 
There's a VIP bath and bedroom in the front of the plane, as well as an office and a lounge. There's another lounge in the middle of the plane, along with a formal dining area and a full galley for luxury meal service, with an induction cooking system that wastes no heat. In the back by the tail, there's a full spa where guests can go for massages, steam baths and showers.  
Make Your Money Work Better for You
Boeing 747-8 VIP
Cost: $376 million before luxury customization
To capitalize on demand from ultra-wealthy jet-setters who wanted ultra-luxury jumbo jets converted into private planes, Boeing began selling VIP versions of its 737 — but even that was too small for one high roller. In 2016, a client — who remains confidential — took delivery of a custom Boeing 747, according to Business Insider. The longest and second-largest airplane ever built, it comes complete with 4,786 square feet of space to hang out in while you fly. 
Some of that square footage is dedicated to a stateroom with its own lounge. More goes to an enormous office and conference room. Another section of the plane has a regal master bedroom with adjacent sleeping suites for guests. 
Every inch of the plane is built with the finest materials and most cutting-edge components. Those who have been inside one have said that it dwarfs the accommodations of the world's most luxurious hotels. Each one is custom-built to the exact specifications of the client. 
Air Force One
Cost: $5.3 billion for a pair ($2.65 billion each)
The most famous plane in the world (thanks, Harrison Ford), Air Force One is actually two planes. The new pair, which President Biden will be the first commander-in-chief to ride in, costs $5.3 billion, according to Defense One. 
Make Your Money Work Better for You
Each of the new Boeing model 747-8 jets costs around $800 million, with the rest of the gargantuan price tag going to a new hangar at Andrews Air Force Base and all of those super-cool and highly classified modifications that have made the plane so famous. They will replace the aging VC-25A models, which have been keeping presidents safe and on schedule since the George H.W. Bush administration.
The so-called "presidential configuration" is not simple to operate — the 100,000-page owner's manual alone costs $84 million. Although it won't be able to refuel mid-air like the current model, the new flying White House will have a range of 5,900 nautical miles, enough to make it to every populated continent from Washington, according to Business Insider. It will be bigger and more fuel-efficient than the current model, but one change will be immediately evident to all who see it: The iconic blue and white paint job might be replaced with something more reddish.
More From GOBankingRates
Make Your Money Work Better for You