North Carolina Has $1.02 Billion in Unclaimed Cash — Here's How To See if You're Owed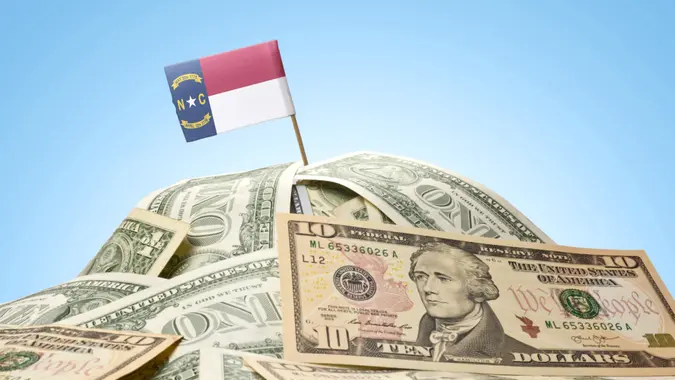 eyegelb / Getty Images/iStockphoto
Do you think you might have missed the boat on getting previously unclaimed money owed to you by your state of residence? Think again. All states have unclaimed property offices. For North Carolinians, there is apparently $1.02 billion in unclaimed cash available to citizens through the state's NCCash Match Program, according to NBC affiliate WAVY.
See: Costco's Best Deals? Employee Reveals 10 Standout Buys for Your Money
Find: With a Recession Looming, Make These 3 Retirement Moves To Stay On Track
Money or other assets can go unclaimed for a variety of reasons — but typically, when the government, an organization or a company owes you money and can't reach you to issue a refund, they transfer the funds over to the state treasurer's office to find its proper owner.
Unclaimed property can include "uncashed checks, forgotten bank accounts, deposits and other abandoned funds," according to Dale Folwell, North Carolina state treasurer. Other unclaimed money sources could be utility bill security deposits, a lost paycheck, or the contents of a safe deposit box.
Speaking about the NCCash Match program last year, Folwell stated the chances were good that NC residents have at least a few unclaimed dollars at NCCash.com.
Make Your Money Work Better for You
"There are exactly twice as many records of things that belong to people than there are adult citizens, in North Carolina," said Folwell. "It's probably about $180 on average. It doesn't matter if it's $8, $80 or $80,000 we found for the trucking company in the Triad. People are just delighted to have their own money given back to them."
Any unclaimed money is owed to you legally, but you need to make the effort and claim it yourself. Any individual rightfully owed less than $5,000 by NCCash.com should be receiving a letter from Folwell's office confirming that your unclaimed funds will be mailed within two months.
Whether you receive a letter or not, you should enter your name at NCCash.com to search for unclaimed property. Simply type in your first and last name (or business name), narrow your search by submitting your city and ZIP code and click the search button.
Upon selecting all the properties you wish to claim, choose "Continue to File Claim," verify your relationship to each property and click "File Claim." After entering your personal information, select "Next" to file the claim.
Make Your Money Work Better for You
Take Our Poll: What Are Your Financial Priorities in 2023?
North Carolina Food Stamps Schedule: When February Benefits Are Sent
Since the program began, more than 150,000 claims have been paid to North Carolina residents, according to Folwell. The state returned more than $100 million to claimants between July 1, 2021, and June 30, 2022, per WAVY.
More From GOBankingRates
Make Your Money Work Better for You