5 Passive Income Money Apps To Grow Your Wealth Fast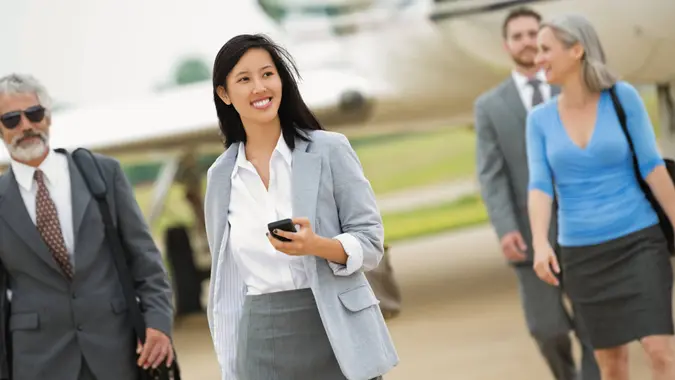 Steve Debenport / Getty Images
A steady stream of earnings that you don't have to work for is the holy grail of personal finance. And, with a little bit of savings and the right app, you can make the dream of passive income a reality.
See the List: GOBankingRates' Best Banks of 2023
Find: With a Recession Looming, Make These 3 Retirement Moves To Stay On Track
The following is an introduction to some of the most exciting yet accessible platforms for building new income streams. They involve everything from property to renewable energy to luxury items, each with its own risk level and potential for returns. So before you take on a side hustle to create a new source of cash, consider building an automatic income stream that keeps on giving.
Use Energea To Earn Monthly Dividends Through Green Power
Energea is a different kind of investment app that focuses on renewable energy, and its members enjoy enviable returns. As of February 23, the platform has delivered realized returns of 12.26% and has more than $105.46 million in assets under management. Investors receive their passive income as monthly dividend payments.
Just sign up, answer a few questions and start building your portfolio. Account holders purchase equity stakes in renewable energy projects around the world for as little as $100. Energea also supports IRAs for retirement investing.
Make Your Money Work Better for You
As with any investment, there's always a give and take. With Energea, the tradeoff for those big, double-digit returns is low liquidity — don't invest money you'll need within the next three years.
Concreit Lowers the Barriers To Investing in Property
Real estate crowdfunding platforms have offered investors a more accessible alternative to buying physical property for years, but high minimums and low liquidity often stand in the way.
Concreit is an app that builds on the existing concept with greater short-term flexibility, expert assistance and lower barriers for non-accredited investors. A registered investment advisor with the SEC, Concreit provides complete transparency for all investments.
The platform's comparatively conservative strategy (75% short-term debt/25% mid-term equity) offers a minimal risk grade that delivers weekly payouts of passive income for annualized returns up to 5.5%.
Your dividend takes a hit if you redeem within 12 months, but you can get in for just $1. By comparison, Fundrise ties your money up for five years and Yieldstreet has a $2,500 minimum.
Take Our Poll: Do You Have a Second Job or Backup Plan in Case You Are Laid Off?
Groundfloor Created a Savings and Investing Hybrid App
Like Concreit, Groundfloor opens real estate investing to regular people with modest budgets who can't or don't want to buy physical property. But Groundfloor recently spun off a new hybrid saving/investing service called Stairs that can serve as a primary savings account.
Make Your Money Work Better for You
While it doesn't average 10% returns like Groundfloor real estate, it guarantees 4%-6% without tying up your money for six months to a year.
Stairs is backed by non-traded secured debt notes, which repay and reinvest every five days. There are no fees at all, and you can cash out and withdraw your money at any time without penalty.
Wine Fanatics Can Earn 10% Doing What They Love With Vinovest
Oenophiles — yes, that's a thing — are in luck. Their passion happens to deliver excellent returns — if they can get their hands on the best bottles.
That's where Vinovest comes in.
The app uses AI and the input of master sommeliers to build portfolios of high-appreciating fine wines. Vinovest guarantees the authenticity of every bottle.
According to the app, fine wine outperformed the Global Equity Index for the last 15 years, even during downturns. Overall, wine has gained 10.6% annually over the last 30 years. On top of that, the wine market is resistant to inflation and recession. It also enjoys low volatility, and wine investing comes with special tax advantages.
Make Your Money Work Better for You
The minimum investment is $1,000 and there's a 2.5% annual fee, but you take direct ownership of each bottle, which is stored on your behalf in a highly secure, climate-controlled facility. Vinovest's AI makes it easy to sell your bottles at any time, but you always have the option of drinking them if you choose.
Join Masterworks To Get Fine Returns With Fine Art
Like fine wine, investing in fine art might seem out of reach if you're not a member of the aristocracy. But Masterworks lets you invest in multi-million-dollar contemporary paintings for a fraction of what you'd pay to buy the piece at auction.
Masterworks chooses the artists, buys the artwork and holds each example for a set period of time. When it sells it after the term expires, the example's investors split the profits and Masterworks takes a 20% cut. The profit-sharing framework incentivizes Masterworks to get the best deals during both purchase and sale because they have skin in the game. You can also sell your shares before the painting goes on the block.
Like wine, art is resistant to inflation and recession, and the market does not correlate with stocks so your art holdings can serve as a hedge when your ETF is in the tank.
Also like fine wine, contemporary art commands steady appreciation — the market returned 13.8% over the last 25 years compared to 10.2% for the S&P 500.
More From GOBankingRates
Make Your Money Work Better for You