Poor No More: How These 2 People Broke Bad Money Habits and Built Wealth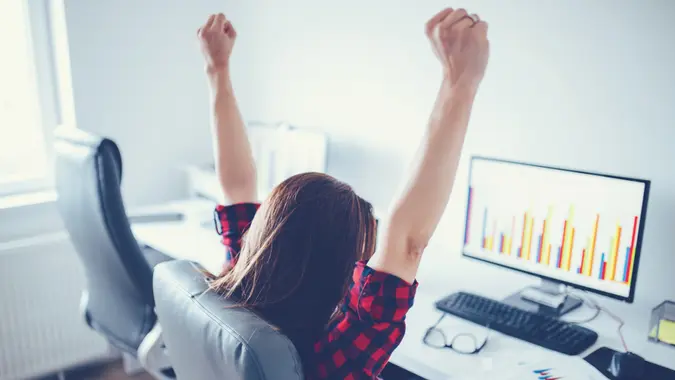 South_agency / Getty Images/iStockphoto
When you're struggling with debt, it could feel like building wealth is a fantasy. There's nothing worse than feeling like you can't catch up with your bills. When you have bad money habits, it can feel like you're stuck. However, the good news is that you can break bad money habits, because many others have done so before you. You're not alone if it feels like poor financial habits are holding you back.
Here's a look at two people who broke bad money habits to start building wealth and what they did to inspire you on your journey.
Examples of Bad Money Habits
There are poor money habits that are obvious, and then there are some that may not appear to be as evident. What are some examples of bad money habits that could make it difficult to get your finances in order? 
Spending as a Vice
"I started building good financial habits when I recognized that my spending was a vice," remarked Mark Bovair, a financial expert behind Frugability Finance, who helps others who are in the same situation that he once found himself in. "My spending was an emotional response to stress. I'd get overwhelmed and start browsing Amazon."
Make Your Money Work Better for You
Bovair admitted to GOBankingRates that he would spend money to feel better. He would turn to Amazon, where he would fill up his cart with whatever he could find.
Getting stuck in a cycle where you rely on spending for joy is easy and can happen to the best of us. This is a common problem, since getting access to credit is easier than ever. Many retailers will offer store-brand credit cards to incentivize spending. Online retailers will save your financial information so that purchasing anything you would like is more convenient than ever. 
Not Tracking Spending
"The first habit we had to break was not tracking our money," commented Jared, a financial coach behind Jrod Money. "We were just spending without any thought about what we were bringing in."
When you don't track your spending, figuring out how to improve your financial situation will be difficult. Even if you earn a high salary, you can still get into debt if you don't know where your money's going.
Avoiding Financial Conversations
"My wife and I would intentionally avoid talking about money, because we were scared of what we would bring up in the conversation," Jared confessed.
When you have a problem, it's important that you embrace difficult conversations. You'll never think of solutions if you're unwilling to discuss the problem. If you continue to brush your poor financial habits to the side, you'll never be able to improve your situation.
Make Your Money Work Better for You
How did it turn out for Jared and his wife? "We are now consumer debt-free and are way better off because of those difficult conversions." While it was difficult to open up about the topic, they eventually got on the same page when they realized that they weren't happy with their financial trajectory.
Financing Lifestyle With Credit
The final bad money habit, which ties in with most other issues, is financing an entire lifestyle with credit. When you rely on your credit card for your lifestyle and everyday purchases, you will likely fall behind. Once you start to fall behind, it can feel like you'll never catch up, because debt can be overwhelming.
How Were These Bad Habits Broken?
In positive news, the guest contributors also shared how they were able to overcome their bad financial habits.
A Breakthrough Moment
"One day, after financing a termite treatment for our home, we decided to finally get serious about paying off our debt and tracking our money," Jared said of the moment that made him realize it was time to get serious.
Sometimes, you need a breakthrough moment where you realize that everything isn't going to be alright. You have to accept that it's time to make changes if you want to avoid going down the path that you're on.
While a moment like this can change your entire situation, hopefully, you won't wait for your financial issues to escalate to this point. If you do have this moment, you have to take it seriously, as it's time for significant changes. 
Make Your Money Work Better for You
Recognizing Patterns
Bovair brought up how he could get a hold of his situation: "When I recognized this pattern, I learned to stop it before it started." Once you embrace difficult conversations with your family and you start to track where your money goes, it's essential that you look out for certain patterns.
Here are examples of what you may have to do at this stage:
Remove your financial information from online retailers, so you're not tempted to shop when feeling down.
Put your money away so your funds are in a locked savings vehicle.
Find alternative options for boosting your mood that don't involve spending money. You can go for a walk, call a friend or find low-cost hobbies.  
You can focus on building wealth once you break your bad money habits. This is the next step. 
How You Can Start Building Wealth
How can you start building wealth once you've finally broken your bad money habits?
Create a Financial Plan
It's essential that you create a plan so that you know what you're striving towards. Trying to save money for the sake of saving money isn't always motivating enough. You're going to want to make some sort of plan. 
What can your financial plan include?
Your path to becoming debt-free. You can create a plan that will take you towards paying down all of your debt so that you can focus on investing.
A long-term financial goal. Examples include saving up for a new home or a fully-funded retirement account.
Whatever else you can think of that motivates you to save money. It's your life and your money, so it's critical that you find financial goals that you're passionate about.
Make Your Money Work Better for You
Automate Your Savings
Bovair mentioned that he relies on the power of automation. "It's not sexy, but I automated my savings once my spending was under control. Deposits from my checking to my investment accounts are happening behind the scenes. Don't see it, don't spend it."
If you have trouble with spending, you could benefit from automating the process so you don't have to rely on self-discipline. You can have automatic deductions setup with your employer or your bank.
Start Investing
"After paying down debt, we started building wealth by simply investing in index funds through tax-advantaged accounts like Roth IRAs and HSAs, along with investing up to the match in our 401(k)s," Jared expressed.
Once you've started making a dent on your debt, you can eventually focus on investing your money so that you can plan for the future.
Stay Consistent
The final step involves staying consistent while you go through the journey. The goal is to aim for progress over perfection so that you don't beat yourself up when you make a financial mistake.
If you stay consistent with your financial plan, you can pay down your debt and start building wealth.
Closing Thoughts
When you're struggling financially, it may feel like there's no light at the end of the tunnel. However, it's important to know that you can turn your financial situation around — if you accept that you have to break a few bad money habits.
Make Your Money Work Better for You
More From GOBankingRates