6 Smartest Money Moves Made by Billionaires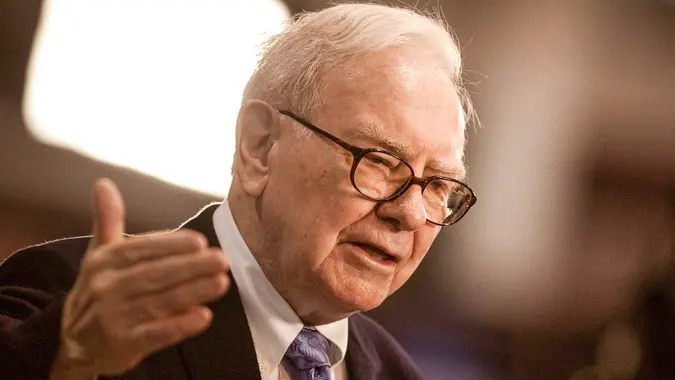 Nati Harnik/AP/REX / Shutterstock.com
Becoming a billionaire is no easy feat. According to Statista, there aren't even 3,200 total known billionaires in the world.
Some of these exceptionally high-net-worth individuals built their fortunes through a combination of educational and economic advantages. Others went about it by taking measured risks, planning strategically and investing in assets that saw exponential growth. A few leveraged their own business ideas to grow their wealth.
While everyone's path is uniquely their own, there are certain smart investments and business ideas that billionaires tend to share. If you're curious about the money moves well-known billionaires like Elon Musk, Warren Buffett and Jeff Bezos made to get to where they are today, here are just a few.
Long-Term Value Investing
Value investing is the method of buying assets for less than their current market value and holding them until they reach their intrinsic value or higher before selling them. This strategy can take years or even decades, but it can also lead to some astonishing returns.
"One of the smartest investments that come to mind is Warren Buffett's long-term value investing strategy," said Jeff Rose, CFP® and founder of GoodFinancialCents.com. "He invested in well-established companies like Coca-Cola and American Express and held onto those stocks for decades, amassing huge wealth."
Make Your Money Work Better for You
Low-Cost Index Funds Investing
There are many ways to start investing, but one that's worked for billionaires like Warren Buffett is investing in low-cost index funds.
Robert R. Johnson, PhD, CFA, CAIA and professor of finance at Heider College of Business, Creighton University, said, "Investing in a broadly diversified basket of securities is a prudent strategy…the returns on the market have been driven by a small percentage of big winners."
Johnson added, "Trying to pick winners, for most, is a loser's game. The solution is to invest in diversified funds and you don't need to pick those winners. But don't take my word for it. Listen to Warren Buffett who said that for building retirement savings, 'Consistently buy an S&P 500 low-cost index fund. I think it's the thing that makes the most sense practically all of the time.'"
Even after Buffett passes away, he still intends to continue with this investment strategy. In a letter to Berkshire Hathaway shareholders, he stated: "My advice to the trustee could not be more simple: Put 10% of the cash in short-term government bonds and 90% in a very low-cost S&P 500 index fund. (I suggest Vanguard's.) I believe the trust's long-term results from this policy will be superior to those attained by most investors — whether pension funds, institutions or individuals — who employ high-fee managers."
Johnson added that many individuals are skeptical about using long-term investing and the power of compounding interest as a way to build wealth, even though it works. In an interview with Jeff Bezos, Buffett stated that using a simple investment strategy works and yet others don't follow it because "no one wants to get rich slowly."
Make Your Money Work Better for You
Investing In Existing Businesses
Another way billionaires have accumulated their wealth is through investing in existing businesses.
"Then there's Jeff Bezos, who invested in creating Amazon, initially a small online bookstore, which evolved into the giant e-commerce platform it is today, making him one of the richest people in the world," said Rose.
Developing Tech Solutions
"Creating innovative tech solutions has been a goldmine for many," said Rose. "Take Mark Zuckerberg, for example; he developed Facebook, a social media platform connecting millions, turning it into a multibillion-dollar business."
Creating Renewable Energy Solutions
Similar to how innovative technology solutions have led to many high-net-worth individuals, renewable energy business ideas have also been highly lucrative.
"Another lucrative idea has been in the realm of electric vehicles and renewable energy," said Rose. "Elon Musk's ventures, Tesla and SolarCity, have revolutionized their respective industries and contributed significantly to his wealth."
Agricultural Investing
"For many, the idea of investing in agriculture is unfamiliar and seems too unconventional since it does not receive as much attention in mainstream investment discussions. Yet, investments in farmland and timberland are much more common than you think, as many of the world's largest investors already understand the benefit of agricultural investing and how it can help them preserve and grow their wealth," said Allison Stewart, director of sales and marketing at Harvest Returns of Fort Worth, Texas. "Not only do these investments offer steady returns and desirable tax benefits, they can offer investors a chance to pursue their dreams of owning farms or ranches."
Make Your Money Work Better for You
Two billionaires who did just this are Ted Turner and Bill Gates.
"Ted Turner, known for founding cable news channel CNN, is the second-largest individual landowner in the United States," said Stewart. "He began buying ranches 30 years ago and now has two million acres and 55,000 bison across seven states. Like many agriculture investors, he generates income by selling the bison he raises."
As for Bill Gates, he's a highly prominent businessman, philanthropist and investor. "Since partially divesting from Microsoft, Gates has invested and continued to grow his personal fortune, which has included investing in agriculture and farmland," said Stewart. "He owns 242,000 acres of farmland across the nation, making him the nation's top farmland owner."
More From GOBankingRates