Social Security 2023: 3 Ways Financial Scammers Are Robbing Elders of Benefits and How To Prevent Abuse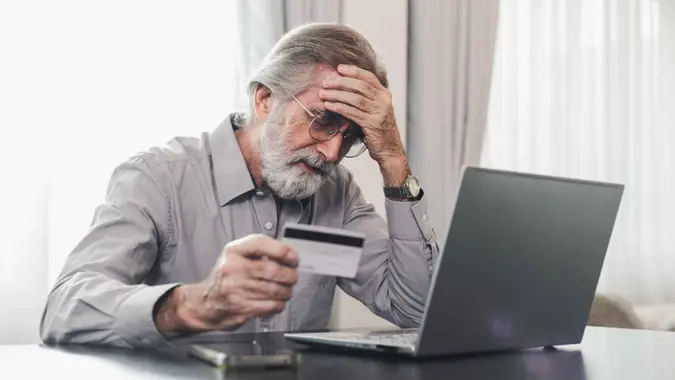 Butsaya / Getty Images/iStockphoto
June 15, 2023, is World Elder Abuse Awareness Day. More than one in 10 adults over the age of 60 have experienced abuse in the U.S. each year, according to the Social Security Administration's (SSA's) latest newsletter.
Elder abuse can take many forms, including physical abuse and neglect. But money scams that target older and retired Americans take place frequently as well. The FTC reported 200,216 report of fraud against seniors in 2022.
The SSA recently shared some telltale signs of financial abuse against the elderly. Recognizing these signs, along with understanding the most common scams and how to prevent them, can help you protect the older adults in your life.
Scams Against Older Americans
Scammers will find creative ways to separate retired Americans from their savings. Sometimes, friends and relatives will target older adults, convincing them to transfer bank accounts into their name, change their will, or even open credit cards for the younger friend or relative to use as if it were their own.
But scammers may also be strangers who use phishing tactics and other techniques to gain access to cash and accounts. Here are some common scams to look out for.
Government Impersonation Calls, Texts or Emails
Your loved one may receive a call, text, or email that looks like it's from the SSA, IRS, Medicare, or another government organization. The organization may request bank account information or money.
Make Your Money Work Better for You
To avoid this scam, understand that these agencies will never call or email. They correspond via U.S. mail. Report scammers to the FTC to help stop this type of fraud.
Sweepstakes Scams
Publishers Clearing House (PCH) is a legitimate organization that bestows millions of dollars to winners annually. But the real PCH will never call winners and will not ask for your personal information or money. Learn how to recognize and avoid this scam and call PCH directly at 1-800-459-4724 if you receive mail that leads you to believe you may have won.
Grandparent Scams
Scam artists may pose as a grandchild or other loved one via text — or even by phone, using sophisticated AI technology. They will claim financial hardship and ask for money. If a senior loved one receives a call like this, they should hang up immediately and call their loved one or another close relative at a number they already have.
Even if the call is real and a grandchild or other relative needs cash, the senior should not feel obligated or coerced. They should speak to other responsible adults about better ways their loved one can handle the situation.
Spot the Signs of Financial Abuse
Knowing the common scams and educating older relatives on ways to spot scams can help prevent elder financial abuse. However, you can also keep an eye out for warning signs of abuse. Common signs include large withdrawals, late mortgage or bill payments, or unusual activity on a loved one's account. For instance, if your aging parent has never used a debit card and now requests one, that could be a red flag.
Make Your Money Work Better for You
Sudden changes to a will or a new joint account holder on bank accounts, especially if it is someone that they have not been close to in the past, could also be a red flag.
If you suspect your loved one is at risk, you might ask to be added as a joint account holder on their bank account. Alternatively, speak to your bank about acquiring "view-only" access to the older adult's account. That will eliminate the risk of having others accuse you of financial abuse while allowing you to keep tabs on your aging parent's account. Banks have a responsibility to report suspected signs of financial abuse, but building a relationship with a personal banker at your nearby branch can make it more likely that they will keep a close eye on an older adult's accounts.
If you suspect financial abuse — but no one is in immediate physical danger — reach out to the National Center on Elder Abuse at 1-855-500-3537.
More From GOBankingRates