Some Millionaires Consider Themselves To Be Poor, Survey Finds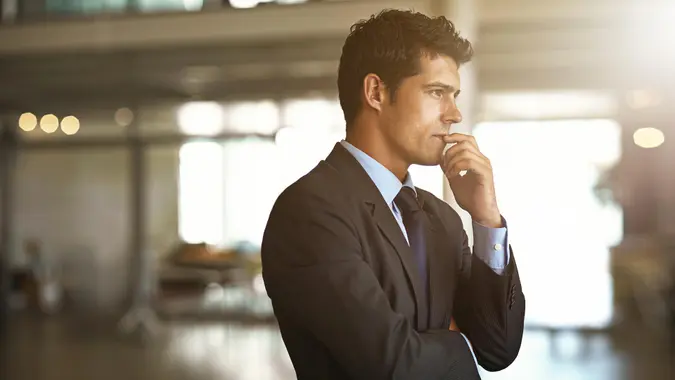 STEEX / Getty Images
What makes us feel "rich" or "wealthy" can be subjective — and a recent Bloomberg survey uncovered just how subjective reaching those thresholds can be. The survey found that 25% of Americans earning at least $175,000 a year consider themselves to be "very poor," "poor" or "getting by but things are tight." Even a small percentage of those with assets worth upwards of $1 million consider themselves to be "poor."
Here's a closer look at why some millionaires still feel poor.
Fear of the Unknown
Even those with $1 million to their name might not feel like they have enough saved for whatever may come their way.
"One issue with Americans and millionaires feeling poor in today's society is the fear of the unknown," said Jamie Hopkins, CFP, managing partner of wealth solutions for Carson Group. "Our system here in the United States has shifted a lot of the financial burden away from companies, families and the government and onto the individual. As such, individuals feel this pressure more than ever before."
Hopkins noted that many of the financial safety nets that were available in retirement for previous generations are no longer a given.
"Companies used to provide pensions and broader retirement healthcare," he said. "Social Security used to provide more of an income replacement in retirement."
Make Your Money Work Better for You
Without these safety nets, many individuals — including millionaires — have to take on the burden of being prepared for any future risks.
"People are self-insuring against inflation, healthcare [costs], volatility and long-term care risks," Hopkins said. "As such, if you have a million dollars, you might not have any real liquidity in your portfolio because all of that money is earmarked for future risks."
Higher Assets May Also Mean Higher Debts
A person with $1 million in assets may also have a high debt burden, which can lead them to feel financially insecure.
"Just because there are assets and income doesn't mean that they are debt-free," said Laura Lynch, CFP, founder of The Tiny House Adviser. "Debt can put significant strain on a sense of security in uncertain times."
Cost of Living Continues To Get Higher
As life gets more expensive, the money you do have starts to feel like less and less. Even millionaires are not immune to inflation and peer pressure to spend more.
"The cost of living has increased noticeably for everyone," Lynch said. "When Americans are constantly aspiring to keep up with the Joneses in terms of their homes, cars, gadgets, travel, etc., their cost of living can easily exceed even a good salary."
More From GOBankingRates
Make Your Money Work Better for You