Jeff Bezos Used These Strategies for Business Success: Here's Why They Work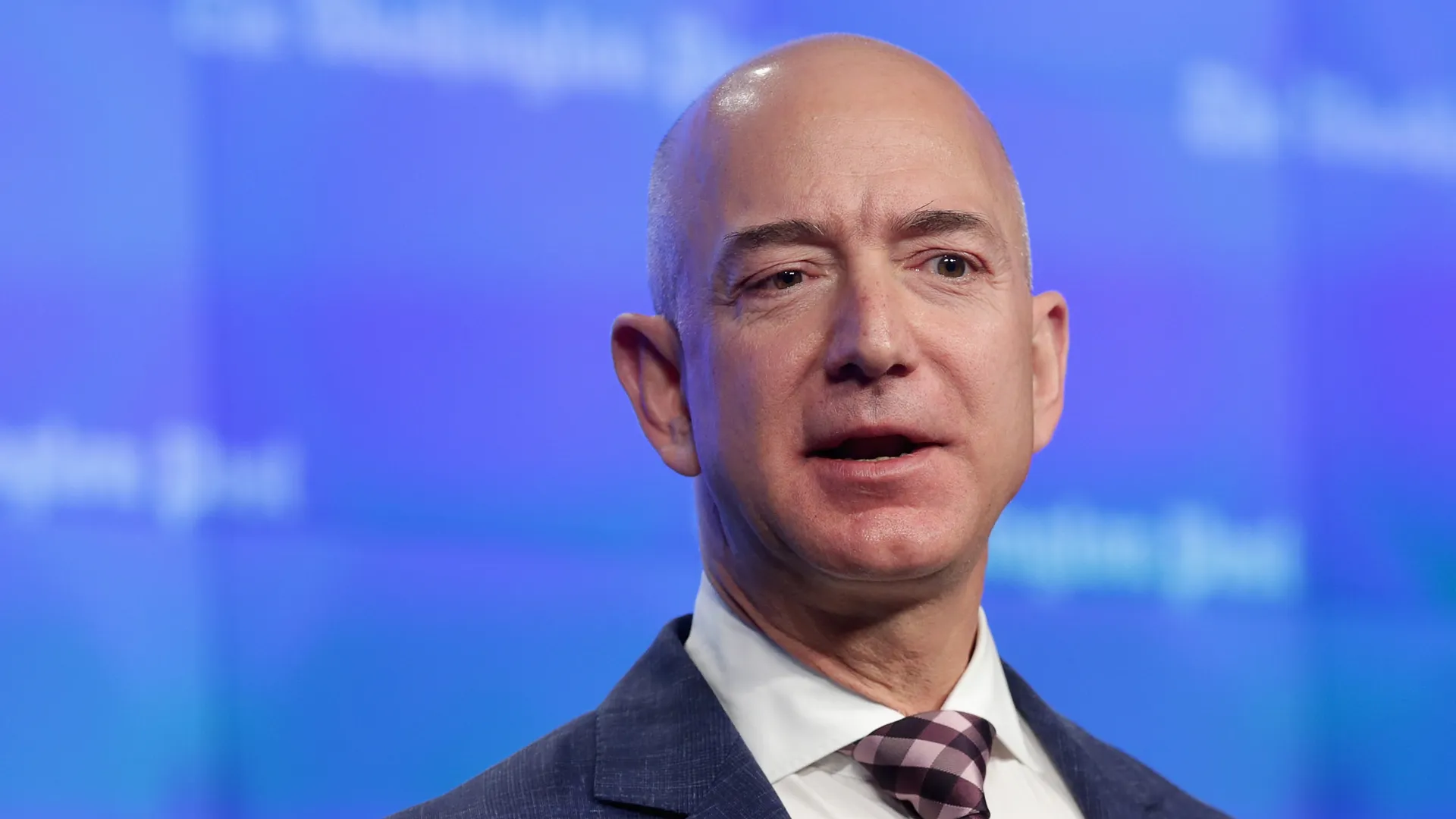 While Amazon founder Jeff Bezos' net worth fluctuates wildly — in August 2020, it was $200 billion, today it's $156.6 billion — when you're talking in billions, what's nearly $50 billion less? He's still the third-richest person on the planet, trailing Elon Musk and French business magnate Bernard Arnault. Bezos owns about 10% of Amazon, holding approximately 990 million shares. Though he stepped down as CEO in 2021, taking up a position as executive chairman, he still professes to be thinking about how to make Amazon the best company it can be.
And the company's market presence holds strong. Even before the pandemic in 2020, Amazon was gobbling up 45% of combined U.S. e-commerce and counting. By 2021, 60% of all online purchases were made on Amazon alone, an astonishing chunk of the market. And its total market cap, the entire stock value of the company, is $1.37 trillion dollars as of early August this year — an astronomical figure.
Although around 168 million people in the U.S. now have a Prime membership, Amazon wasn't always a tech and retail behemoth. Bezos took a big chance in launching the e-commerce giant, leaving behind a high-powered hedge fund job in 1994. Originally just an online bookstore, Amazon became the fastest company ever to hit annual sales of $100 billion in 2015, and in the second half of the 2010s, it grew to define global retail in the new economy and served as a gold mine for investors.
Such staggering success requires keen business acumen. Here are some valuable business insights from Amazon's impressive founder.
Hard Work With Passion Is the Secret Sauce
People are always looking for shortcuts and secrets to wealth that don't involve having to put in the elbow grease, hours and discipline that ultimately end up being the answer. Bezos is no exception. He told CNBC, "When you have a gift and then you work hard, you're really going to leverage that gift." He also noted, "When you do [your work] well, it will lead to your success."
However, he's also emphasized, especially to his kids, that pursuing something you feel passionate about is more likely to make those long hours and commitment feel worthwhile. "You'll get to work with like-minded people and you're going to energize the room," he said, adding, "If you're doing something you love, the day is going to be so fun."
Make Your Money Work Better for You
Align Your Skills to the Market's Needs, Not the Other Way Around
In 2009, Bezos described the corporate philosophy that led to the creation of the wildly successful Kindle. At the time, it was the company's bestselling product.
He explained that one strategy for entrepreneurs to succeed is to determine what they're good at and seek out a segment of the market that needs that skill. The other option, Bezos said, is to find out what customers need and hone your skills accordingly.
Amazon, which had never previously been in the tech business, took the second route with Kindle. E-books required e-readers, so Amazon developed one that customers loved — and love it they do. Nearly 15 years after its 2007 debut, the Kindle remains the greatest disruptor in the history of the centuries-old publishing industry.
Naturally, filling an existing need is a much more realistic way to make a profit, rather than throwing something out there and hoping it lands.
Embrace Failure and Learn From It
Failure may seem to be the thing that companies are avoiding at all costs, but Bezos has a contradictory opinion on the matter. In his 2018 shareholder letter, he wrote, "As a company grows, everything needs to scale, including the size of your failed experiments … If the size of your failures isn't growing, you're not going to be inventing at a size that can actually move the needle."
An example of "failure" in his own company was the Fire phone — which tried to compete with the clear contender, Apple, and failed miserably. He said they were able to take what they learned and adapt and build Amazon's Echo and Alexa products.
What makes failure a success strategy is that, in essence, failure isn't really a bad thing, it's just a part of the steps a company has to take to learn, grow and eventually land on the right product or service for its customers.
Make Your Money Work Better for You
Adapt and Persevere — or Perish
In 2013, Bezos — who had no previous newspaper experience — bought the Washington Post for $250 million. The purchase raised eyebrows. After all, Bezos was a legendary innovator, and print journalism was a yesteryear industry that had been in a rapid decline since the arrival of digital media.
Bezos, however, didn't see it that way. Believing that the Post was a strong brand that employed many talented workers, Bezos opted to buy the company despite the state of the newspaper industry. The way he saw it, the paper had two choices: accept the new reality, lean on its strengths and find a new way forward in the face of a changing world — or go the way of the dodo bird.
"What we need to do is always lean into the future," Bezos said in an ABC interview. "When the world changes around you and when it changes against you — what used to be a tailwind is now a headwind — you have to lean into that and figure out what to do, because complaining isn't a strategy."
By focusing on the needs of readers rather than advertisers, Bezos transformed the Washington Post into a modern, profitable enterprise that attracts paying subscribers. Within three years, the paper had doubled its online traffic.
Forget About Work-Life Balance
Like many successful entrepreneurs, work-life balance as the average person understands it is not necessarily a concept they embrace.
Bezos expressed his view on this at an April 2018 awards show hosted by Axel Springer, "I get asked about work-life balance all the time, and my view is that's a debilitating phrase because it implies there's a strict trade-off."
Instead, Bezos said he believed in a more integrated approach that he described as, "It actually is a circle. It's not a balance," Bezos said.
This advice may sound alarming to those who value and enjoy their downtime, but when one is doing what they love, work becomes something you look forward to doing.
Make Your Money Work Better for You
Take Big Risks and Innovate
If Bezos had played it safe, he'd probably still be an unknown business guy selling books on the internet. Instead, he's risked big…leading to big successes, as the company's value asserts on its own.
For every Fire Phone or Destinations, there's an Amazon Prime, Marketplace or Web Services. Although you might not realize it, Amazon has become the third-largest platform for digital advertising third only to Google and Facebook. AWS is its biggest moneymaker.
Bezos said, "Given a 10% chance of a 100 times payoff, you should take that bet every time."
Without risks, companies stay stuck in a static zone without growth. 
Keep Tinkering 
In Bezos' final shareholder letter in 2021, he made it clear that everything that what his company has done has come from a constant process of innovation and tinkering. "People often assume that the game-changing inventions they admire just pop out of somebody's head, a light bulb goes off, a team executes to that idea, and presto–you have a new invention that's a breakaway success for a long time. That's rarely, if ever, how it happens," he wrote. Instead, he insisted that "one of the lesser known facts about innovative companies like Amazon is that they are relentlessly debating, re-defining, tinkering, iterating, and experimenting to take the seed of a big idea and make it into something that resonates with customers and meaningfully changes their customer experience over a long period of time."
He cited this process as being part of some of their biggest successes, such as:
Amazon Kindle — going from a device on which people could download over 90,000 books to millions and its various iterations
Amazon Echo and Alexa products, which are now widespread
Prime Video going from offering just 5,000 streaming movies to now partnering with the biggest networks around like Starz and Paramount+
Staying on top of fulfilling the high number of orders that customers placed during the pandemic 
Bezos understands that the kind of growth that sets a company apart only happens through trial, error, testing and innovation. 
Remain a 'Day One' Company Forever
Bezos refers to startups as "Day One" companies, noting that these businesses are constantly experimenting and seeking opportunities to grow. However, as businesses develop, they stop taking so many chances and become "Day Two" companies. Bezos said companies that stop innovating and pushing themselves are destined for failure.
"Day Two is stasis," he said. "Followed by irrelevance. Followed by excruciating, painful decline. Followed by death. And that is why (for Amazon) it is always Day One."
In an effort to ensure Amazon stays relevant, Bezos even named the building he worked in Day One.
In his final shareholder letter, he also set perhaps his loftiest goal ever: To "Strive to be Earth's best employer." While the company may have a long way to go, Bezos knows that setting goals is the first step to accomplishing them. 
[rock-component slug="more-from-gobankingrates-3″

BEFORE YOU GO
See Today's Best
Banking Offers