10 of the Most Valuable Quarters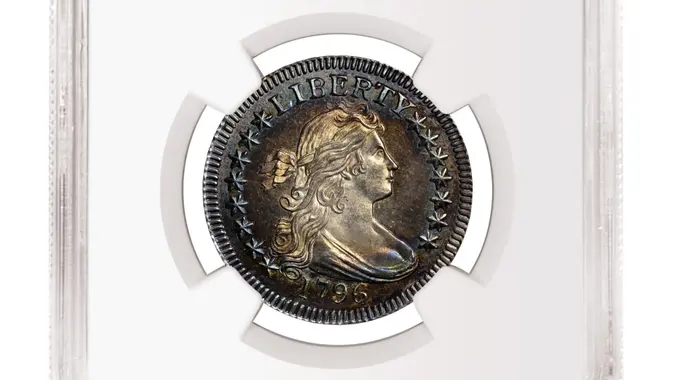 NGCcoin.com / iStock.com
Quarters are anything but chump change.
They can be used for machines to wash and dry your clothes on laundry day. Millions of vending machines still accept quarters for when you want to buy a tasty snack to curb your appetite. And if you happen to wander into an old arcade, you can usually plug a pinball game with quarters to have yourself a grand old time.
Of all the coins you probably are willing to keep in your pocket and spend on the regular, quarters are bound to find their way into your everyday transactions in some form or another.
Like many coins over history, quarters that come with a history also come with immense value. There are even a few you might find out in circulation, including the 1932-D Washington quarter worth over $285 and the 1932-S Washington quarter valued at around $100.
However, if you are to come across these quarters that are in uncirculated condition, you can fetch yourself a nice payday, with the 1932-S Washington quarter going for up to $47,500 and the 1932-D Washington quarter fetching up to $85,000. So a little round cut of coinage that might seem like it's simply just a 25-cent piece can actually rack up thousands of dollars at auction, with a rare few going for over $1 million.
Make Your Money Work Better for You
According to the Numismatic Guaranty Company, many of these valuable quarters were struck in the first year that the denomination was made for the United States — that would be 1796. According to NGCcoin, a 1796-dated silver quarter-dollar that was discovered in superb condition sold at auction for more than $1.5 million in 2013.
But there are other 1796 quarters that are also making waves on the auction scene, including the Specimen 66 that sold at Heritage Auctions in August 2014 for a hefty $881,250. And that's not even the most valuable or taking second place when it comes to valuable quarters.
"Two U.S. quarter-dollars tied at $1,527,500 for the second most valuable sold at auction," NGCcoin said. "A 1796 graded Mint State 67+ star sold by Heritage Auctions on Nov. 16, 2013, and another 1796 graded Mint State 66 sold by Stack's Bowers Galleries on May 19, 2015."
Here are the most valuable American silver quarter-dollars sold at public auctions as of Nov. 7, 2023 — listed by date of coin, type of coin, price, grade (state of preservation), auction house and date of sale, according to NGC Auction Central (NGC) and Professional Coin Grading Service (PCGS).
It's important to note that higher prices have been reported on some coins through private transaction sales, but here is the list of the 10 most valuable quarters you might be able to track down at your local pawn shop, coin auction or even in your piggy bank.
1913-S MS Barber Quarter
Proof Measurement Score: Mint State 68
Sold By: Heritage Auctions
Most Recent Date of Sale: January 2005
Price at Auction: $172,500
Make Your Money Work Better for You
1916 Standing Liberty Quarter
Proof Measurement Score: Mint State 67
Sold By: Bowers and Merena
Most Recent Date of Sale: November 2010
Price at Auction: $195,500
1901-S MS Barber Quarter
Proof Measurement Score: Mint State 68
Sold By: Superior Galleries
Most Recent Date of Sale: May 1990
Price at Auction: $550,000
1850 Silver Quarter Dollar
Proof Measurement Score: 68
Sold By: Heritage Auctions
Most Recent Date of Sale: Jan. 9, 2008
Price at Auction: $460,000
1873-CC Quarter
Proof Measurement Score: Mint State 74
Sold By: Stack's Bowers Galleries
Most Recent Date of Sale: August 2012
Price at Auction: $460,000
1839 Quarter
Proof Measurement Score: 65
Sold By: Heritage Auctions
Most Recent Date of Sale: April 16, 2008
Price at Auction: $517,5000
1827/3 Overdate Quarter
Proof Measurement Score: 65 Cameo
Sold By: Stack's Bowers Galleries
Most Recent Date of Sale: Aug. 17, 2021
Price at Auction: $588,000
1807 Quarter
Proof Measurement Score: Mint State 67
Sold By: Heritage Auctions
Most Recent Date of Sale: November 2020
Price at Auction: $630,000
1827/3 Overdate Quarter
Proof Measurement Score: 66 Cameo
Sold By: Stack's Bowers Galleries
Most Recent Date of Sale: May 19, 2015
Price at Auction: $705,000
1796 Quarter (Mint State)
Proof Measurement Score: Mint State 66 
Sold By: Heritage Auctions
Most Recent Date of Sale: Jan. 10, 2022
Price at Auction: $1,740,000
More From GOBankingRates