9 Ways To Make $100,000 a Year Using AI — Even if You Don't Work in Tech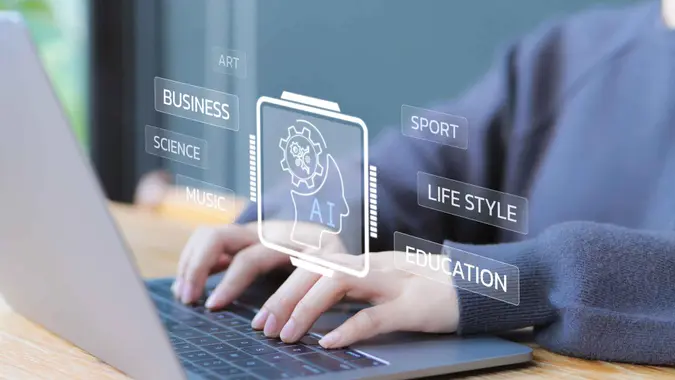 Supatman / Getty Images
Artificial intelligence (AI) has been a popular topic of conversation recently. While some are opposed to the advancements of AI, there's no doubt it's becoming an increasingly significant part of our lives.
Many people assume you must work in tech to take advantage of AI. However, it's possible to make a significant amount of money without having any tech background.
How To Build Your AI Skills
Before you can start making money with AI, you need to build a solid skillset with the technology.
To get started, familiarize yourself with some of the most popular AI tools (ChatGPT, Bard, Midjourney, etc.). Once you've taken some time to learn the ins-and-outs of each, it's time to understand how to apply the tools to build a product (or provide a service) you can monetize.
There are plenty of YouTube tutorials and informative articles on how to use AI for different tasks. Whether you want to build a customer service solution, create an educational product that people can purchase, or anything in between, you can use AI to streamline your process. Just make sure you do your research before you get started to make sure the opportunity will be a good fit for you.
Once you have your business in mind, it's time to start putting your AI skills to work.
Generate Written Content With AI
Some AI programs like ChatGPT can help generate written content quickly and easily. For example, you could create an outline and a rough draft for a blog post.
Make Your Money Work Better for You
There are also more advanced AI tools like Jasper.ai, which help you create social media content, landing pages, and even sales emails. Remember that AI doesn't provide you with a final draft ready to publish. It needs to be fact-checked, edited and rewritten to match your voice in order to be more convincing.
Generate Audio Content With AI
AI can help you quickly create audio content through text-to-speech functionality. It can also help write the script for an audiobook or translate podcasts and other audio into different languages.
Experimental AI models such as Soundraw.io also allow for AI-generated songs to be created at the click of a button, and promise to improve over the next few years.
Use AI to Create YouTube Videos
AI tools can help create ideas and scripts for YouTube videos wherein you promote a product or service. Monetizing these videos can be accomplished in a couple of different ways. You could sell these video services to clients — or produce videos for your own YouTube channel and make money through affiliate marketing or ad revenue.
Create Visual Art With AI Models
Some tools — like Stable Diffusion, Midjourney and DALL-E — can help you quickly create compelling AI images. You simply enter a prompt in the AI program, and it will generate the images. You could even create your own image prompt that can be sold on prompt marketplaces like TextCortex.
Make Your Money Work Better for You
Once you've created these images, you can either sell them as is, use them to create NFTs, or turn them into physical products like T-shirts, coffee mugs and physical artwork. There are a lot of opportunities to monetize AI-generated art.
Create Online Courses Using AI
You can use AI to help you create online courses. Courses can be created on just about any topic. Start by thinking about what you're most passionate about. If it's something you could teach others, you could create an online course around it. You could even create a course teaching others how to utilize AI to start a business.
To help the course creation process, you can use AI to write a draft for your course script, record the voiceover part of each lesson, and even put together digital materials to promote and sell your course.
Configure Chat Bots
Customer service is a critical part of any business. However, it requires a significant amount of resources to fully support the demand. AI chatbots are helping ease the human need for customer service by offering instantaneous answers to questions no matter the time of day.
You could use tools like Botsonic to create your own AI chatbot for specific businesses. While this would take a little time to learn the process, these can save companies time and money — which means they're willing to pay for the best solutions available.
Professionally Edit Photos With AI-enhanced Tools
AI photo enhancing products like Photoshop Generative Fill, Luminar, or Topaz Photo AI can help the photo editing process move more quickly. These products can help adjust lighting, enhance colors, or remove unwanted elements from the photo.
Make Your Money Work Better for You
Build Websites With AI Assistance
Building websites used to be a manual process where you needed to understand various code and all the technical aspects of web development. Today, that's no longer the case. AI can help build websites from start to finish. You can create business websites for clients or for your own business — the latter allowing you to monetize through advertising, subscription sales and affiliate marketing.
SEO Services Improved By AI
Businesses rely on search engine optimization to help their website get found through Google search results. It requires a deep understanding of search engine algorithms, content optimization and keyword research. There are AI tools that can help make the job a lot easier.
If you are interested in digital marketing, you could sell your SEO services to clients and help them rank higher in search results. AI SEO tools can help you conduct keyword research, optimize content for a better chance of ranking well and build backlinks faster than you could manually.
More From GOBankingRates