Who's Paying Trump's Legal Fees?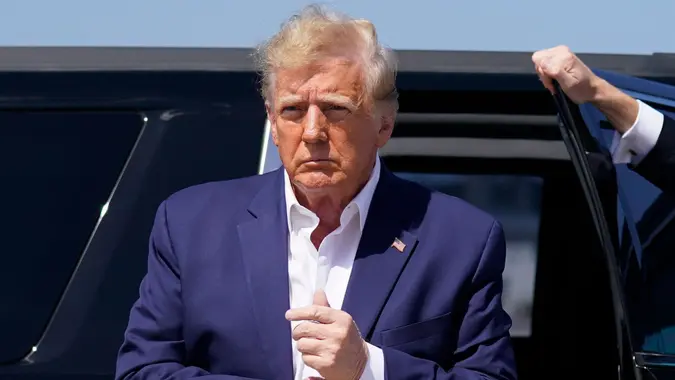 Evan Vucci / AP / iStock.com
When political action committees and political donors give money to a politician's campaign, they often assume that money will go toward helping their chosen candidate campaign for office.
But federal election filings suggest that former President Donald Trump, who was recently arraigned on 41 felony charges and pleaded "not guilty," has used roughly $10 million in funds from his political action campaign on legal fees, according to The New York Times. Rolling Stone reported that Trump's campaign raised $4 million within the first 24 hours of his indictment.
In 2021 and 2022, Trump's PAC additionally funded more than $16 million in legal costs, the records also stated. Those funds were spent before Trump officially entered the presidential race, which could be a loophole allowing the expenditures. If a candidate is not campaigning, PACs can spend funds however they see fit. However, since Trump announced his candidacy, the money could be subject to a legal limit of $3,300, with limits on how it can be spent.
Other experts say that the legal expenses related with Trump's current felony charges could be considered "campaign-related," and are costs incurred due to Trump's status as a candidate.
"Trump's lawyers could argue that the hush money case is a campaign-related activity expense because it has to do with him potentially influencing an election or he could make the argument that he's being politically targeted because of his campaign," explained the hosts of the Make It Smart podcast at Marketplace.org.
However, Trump can still run for president if he is convicted — even if he is serving jail time while campaigning, according to Politico.
Make Your Money Work Better for You
In addition to using campaign money to fund his legal defense costs, Trump's team has also sold T-shirts with faux mug shots in the official online store. According to Variety, donors who contributed $47 or more to the campaign (a nod to Trump's bid to become 47th President of the United States) would receive a free t-shirt with the image.
More From GOBankingRates