How Much is Satya Nadella Worth?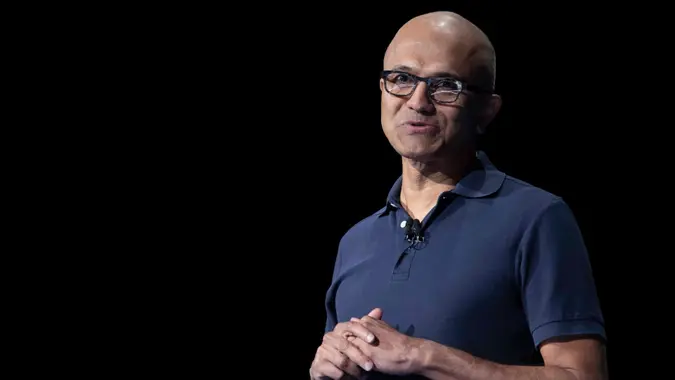 Mary Altaffer/AP/Shutterstock / Mary Altaffer/AP/Shutterstock
Indian-born Satya Nadella moved to the United States to complete his education and, after joining Microsoft in 1992, slowly rose through the ranks until he became CEO of the tech giant. According to Celebrity Net Worth, Nadella has a net worth of $250 million.
Net worth: $250 million
Date of birth: August 19, 1967
Primary source of wealth: Microsoft salary and stock
Career highlights: CEO of Microsoft since 1992
Read more: Rich People Who Live Like an Average Joe
Early Life and Education
Satya Narayana Nadella was born in Hyderabad, India. After finishing high school, he tried to get into the Indian Institute of Technology but didn't pass the exam. So instead he enrolled at Manipal Institute of Technology, where he earned a bachelor's in electrical engineering in 1988. This is also where he met his future wife, Anupama. After completing his degree at MIT, he moved to the United States and earned a Master of Science in Computer Science at the University of Wisconsin-Milwaukee. He later went on to get his MBA at the University of Chicago Booth School of Business.
Working for Microsoft
After completing his first master's, Nadella started working at Sun Microsystems as part of the technology team. He left to join Microsoft in 1992, and one of his first projects was the development of Windows NT, an operating system aimed primarily at the business sector. Nadella slowly but steadily rose through the ranks at Microsoft, wearing such hats as president of the Microsoft Central small-business service, corporate vice president of Microsoft Business Solutions, senior vice president of research and development for the online services division, president of the company's server and tools business and executive vice president of the cloud computing platform.
Make Your Money Work Better for You
CEO
In 2014, Nadella was named the CEO of Microsoft, only the third person to hold that title in the company's history. As the new chief, he has overseen Microsoft's acquisition of LinkedIn, Nokia's mobile device business, Xaramin, Github and the Swedish company Mojang. Nadella's philosophy as CEO is to build closer relationships with other companies in the tech space instead of competing with them. He currently owns around 800,000 shares of Microsoft, valued at $170 million.
His philosophy on how to be successful? "Always keep learning. You stop doing useful things if you don't learn."
Other Endeavors
In addition to his work at Microsoft, Nadella is part owner of the Seattle Sounders, published a book about his early life and career, and serves on boards of other companies and organizations including Starbucks and his alma mater, the University of Chicago. He married his wife, Anupama, in 1992, and they have three children together. The couple lives in Bellevue, Washington.
More From GOBankingRates:
Make Your Money Work Better for You
Make Your Money Work Better for You