Bob Marley, Elvis and the 14 Other Highest-Paid Dead Celebrities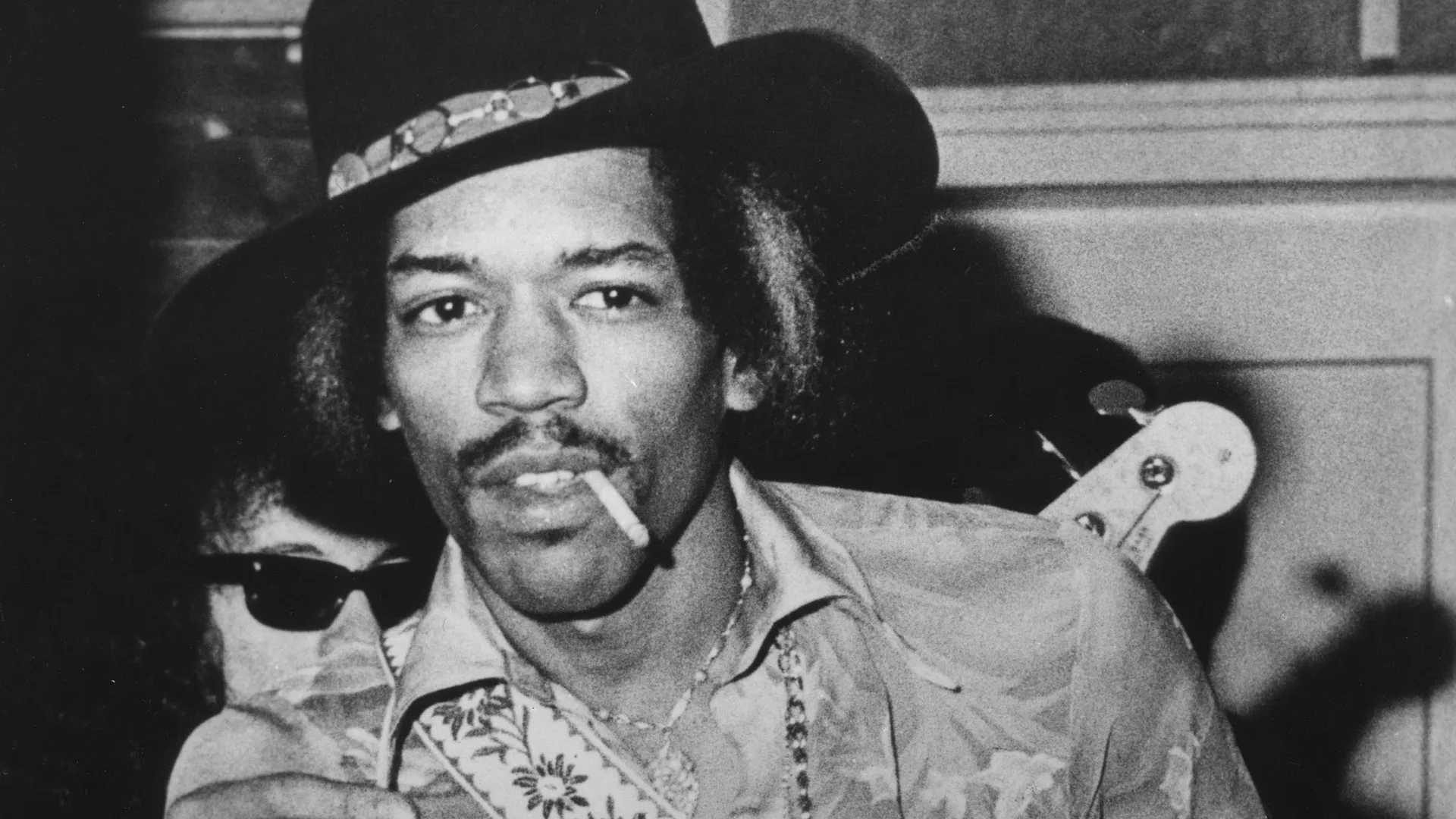 If he were still alive, Jimi Hendrix would have turned 75 on Nov. 27, 2017. Unfortunately, his life ended prematurely in 1970 when he was just 27 years old. During his short life, however, he accumulated substantial assets, including intellectual property rights to songs and merchandise rights that continue to produce income long after his death. Though Hendrix's estate isn't the most valuable ever, it's certainly among the wealthier ones. Plus, his estate is still earning money.
Though he hasn't made the list in recent years, Hendrix was ranked the No. 9 highest-earning dead celebrity in 2011, bringing in $7 million. Read on to learn about some of the richest celebrities and their eye-opening fortunes.
Make Your Money Work Better for You
John Lennon Estate — $800 Million
A member of the most famous rock band in history, former Beatle John Lennon boasted a net worth of $800 million when he was murdered outside his New York City residence in 1980. Lennon was born in England, but his music achieved worldwide acclaim.
In addition to his work with the Beatles, Lennon released solo albums and a joint album with his wife, Yoko Ono, called "Double Fantasy." Despite being just 40 at the time of his death, Lennon had a hand in 25 No. 1 singles in the U.S. He has been inducted into both the Songwriters Hall of Fame and the Rock and Roll Hall of Fame.
In 2017, Lennon's estate earned an additional $12 million from the use of his name and intellectual property, according to Forbes. The site ranked him No. 9 on its list of the year's highest-paid dead celebrities.
Michael Jackson Estate — $600 Million
Even though he passed away almost a decade ago, Michael Jackson remains one of the best-known pop stars in the world. The "Billie Jean" singer has sold 750 million albums to date.
Though Jackson brought in $50 million to $100 million per year between 1985 and 1995, his expensive lifestyle and multiple lawsuits forced him to take out loans using his assets as collateral. At the time of his death, Jackson joined the ranks of celebrities with massive amounts of debt, leaving very little in his estate.
However, the rights to Jackson's image and music collection are incredibly valuable, as well as the subject of a dispute with the Internal Revenue Service over the value of his estate. The IRS claims Jackson's image rights alone are worth more than $430 million. However, the estate argues that Jackson's value was only $2,105 at the time of his death because of negative publicity tied to child molestation and drug abuse charges against him.
Still, Jackson's earning power didn't end with his death. The sale of his half ownership of the Sony/ATV catalog added $750 million to his estate in 2016, and in 2017 his estate brought in an additional $75 million, according to Forbes.
Make Your Money Work Better for You
Elizabeth Taylor Estate — $600 Million
Jackson's close friend, Elizabeth Taylor, also had a net worth of $600 million upon her passing. Born in the U.K., Taylor became one of the best-known actresses during Hollywood's Golden Age.
Taylor won two Best Actress Oscars and was nominated for three more. She also received the Jean Hersholt Humanitarian Award, multiple Golden Globes and numerous other awards. Additionally, Taylor gained international fame due to her tumultuous romantic life. She married eight times during her life and also dated legendary tycoon Howard Hughes.
After her acting career was over, Taylor remained a very public figure. In 1991, the star launched the Elizabeth Taylor HIV/AIDS Foundation after a close friend and fellow actor died of the illness.
A Look at Another Legacy: Debbie Reynolds' Glamorous Life, Career and Fortune
Elvis Presley Estate — $300 Million
Elvis Presley has been rocking and rolling in the dough since "Heartbreak Hotel" was released in 1956 and became a No. 1 song. He would go on to sell more than 1 billion records.
But rock and roll wasn't Elvis' only talent. His gospel music won three Grammys. In addition, Presley earned acclaim as an actor, appearing in more than 30 movies.
Presley's home, known as Graceland, is still standing in Memphis, Tenn., and devoted fans can visit and tour the property. The grounds also include a museum devoted to the star's life and an exhibit of his favorite cars.
Prince Estate — $300 Million
Also boasting a $300 million estate, Prince died in 2016 at the age of 57. During his life, the "Purple Rain" singer released over 30 albums. He also created his own record label and recording studio so he could produce his own music.
During a dispute with his record company in the 1990s, Prince changed his name to an unpronounceable symbol, leading journalists to refer to him as "the artist formerly known as Prince." After his contract expired in 2000, he changed his name back to Prince.
Prince's high net worth was due in part to the fact that he sold more than 100 million albums worldwide, and you should expect that number grow. His estate includes an unknown number of previously unreleased songs by the pop star. Currently, Prince's estate and his label, NPG Records, are suing Roc Nation over licensing rights to Prince's music.
Make Your Money Work Better for You
Jimi Hendrix Estate — $175 Million
Jimi Hendrix learned music by playing Elvis' songs on a ukulele. Following a brief stint in the military, Hendrix was honorably discharged and started recording. But, unlike some of the other musicians on this list, his career didn't take off instantly.
Hendrix initially played backup for a number of well-known musicians, including Little Richard and the Isley Brothers. In 1966, he formed the band known as The Jimi Hendrix Experience. That's when his ability as a performer truly began to shine.
Unfortunately, Hendrix died of drug-related complications at age 27, just four years after the launch of the band. But his talent lives on. In 2015, the release of a new Jimi Hendrix album appeared on the Billboard 200.
Joan Rivers Estate — $150 Million
Joan Rivers also had a slow start on the road to stardom, but she made up ground quickly. She graduated from Barnard College with degrees in English literature and anthropology before working at an ad agency and as a fashion consultant. Then, during the 1960s, she rose to fame for her comedy appearances on late-night TV.
Within a few years, she had her own show, titled "That Show With Joan Rivers." She would go on to help launch the Fox Network in the 1980s. Along with winning a Daytime Emmy and a Grammy, the funny woman created her own line of fashion jewelry and accessories in the 1990s, wrote 12 books and voiced several animated characters. Rivers also appeared on "The Celebrity Apprentice 2."
Rivers devoted herself to numerous charitable causes, including God's Love We Deliver, Guide Dogs for the Blind and the American Foundation for Suicide Prevention.
Ranked: The 50 Richest and Poorest Celebrity Apprentice Cast Members
Bob Marley Estate — $130 Million
Bob Marley sold more than 20 million albums during his career, but financial success was slow in coming. Although his band the Wailers was popular in its native Jamaica, the group didn't get its big break until 1972. After signing with Island Records, Marley became an international star.
Marley didn't let fame go to his head, though. When he was in Jamaica for a concert in 1976, a rival political group attempted to assassinate him. Marley survived and played the show anyway.
The talented musician died of cancer in 1981 after refusing to have his toe amputated because of religious beliefs. Prior to his death, he received the Order of Merit from the Jamaican government and the Medal of Peace from the United Nations. Marley's popularity continues on despite his death. In fact, he appeared at No. 5 on Forbes' list of top-earning dead celebrities for 2017.
Make Your Money Work Better for You
John F. Kennedy Estate — $100 Million
John F. Kennedy is best known for serving as the 35th president of the United States. However, he was also well known for his family's incredible wealth. In fact, Kennedy was so rich he donated his congressional and presidential salaries to charity. The Kennedy family's wealth came from its patriarch, JFK's father, Joseph Kennedy, Sr.
Though many remember him as the president who battled the USSR in the space race, few recall that JFK actually proposed working with the Soviet Union to put a man on the moon in a United Nations address. Kennedy was also an excellent writer, receiving the Pulitzer Prize for his book, "Profiles in Courage," in 1957.
His life was cut short when he was assassinated on Nov. 22, 1963.
Robin Williams Estate — $50 Million
Robin Williams' big break came after his "Happy Days" character, Mork, achieved enough popularity to warrant a spin-off show. The comedian earned $35,000 for each episode of "Mork & Mindy," which ran for four seasons. Williams went on to win an Academy Award for a more serious role in "Good Will Hunting."
The star married three times during his life and had three children. It is estimated that his divorces cost him more than $30 million combined.
Williams committed suicide in 2014 when he was 63. He left the rights to his image to the Windfall Foundation but stipulated that it could not be used in ads for at least 25 years. So, mark your calendars for 2039.
Carrie Fisher Estate — $25 Million
Best known for her role as Princess Leia in the "Star Wars" films, Carrie Fisher died at 60 with a net worth of $25 million. Along with her acting prowess, Fisher was known for her talents as a script doctor. She worked on the "Star Wars" screenplays, as well as those for "Sister Act" and "Hook." She also published a novel and acted on Broadway.
Prior to her death, Fisher had completed filming for "Episode VIII" of the Star Wars series. Disney reportedly cashed in a $50 million policy designed to pay out in the event that Fisher was unable to complete her role in the films. It remains to be seen whether Disney will use the money to pay Fisher's estate for the use of her image.
Shortly before her death, Fisher received the Annual Outstanding Lifetime Achievement Award in Cultural Humanism for her advocacy regarding addiction and mental illness.
See Also: The Incredible Career, Fame and Fortune of Carrie Fisher
Make Your Money Work Better for You
Marilyn Monroe Estate — $10 Million
Marilyn Monroe started her career as a model in the 1940s and holds the distinction of being Playboy's first Sweetheart of the Month in 1953. However, the star had a rough childhood, bouncing through 11 different foster homes after her mother was institutionalized.
Monroe died at 36 from a drug overdose. Despite receiving less money for her work than her contemporaries, she managed to leave behind a $10 million estate that continues to generate about $5 million in revenue a year.
Her estate has also benefited from the auction of her possessions, including a piano that belonged to her mother and which Monroe owned until the time of her death. Additionally, the estate grew by $1 million thanks to the sale of the dress Monroe wore while singing "Happy Birthday" to President Kennedy.
One thing you won't see Monroe wearing in photos is fur. Her heirs have barred the use of any photos that show the star in animal skin, as she was reportedly an animal lover.
Bruce Lee Estate — $10 Million
Bruce Lee, born Lee Jun-fan, also died young. He was only 32 when he passed away in 1973. Growing up in San Francisco and Hong Kong, he got involved with gangs until he decided to start studying martial arts. Lee later moved back to the U.S. to study at the University of Washington. He paid his way by teaching Kung Fu.
When he started acting, Lee was literally too fast for the cameras used to film "The Green Hornet." Because he punched and kicked so quickly, the film only caught people falling down, and Lee had to adjust his style accordingly.
He went on to star in numerous films, including "The Big Boss," "Return of the Dragon" and "Enter the Dragon."
Make Your Money Work Better for You
Albert Einstein Estate — $1 Million
A Nobel Prize winner, Albert Einstein died in 1955 with a net worth of $1 million. He is best known for his equation E=mc2, otherwise known as the theory of relativity.
The son of Jewish parents, Einstein grew up in Germany and Italy and was later educated in Switzerland. He continued to work in Germany after completing his education. However, he relocated to the U.S. in 1933 to escape the Nazis. After taking a job as a professor of theoretical physics at Princeton, he eventually became an American citizen in 1940.
Einstein's estate brings in more money today than he was worth at the time of his death. In 2017, it raked in $10 million, making Einstein the 10th-most valuable dead celebrity for the year.
See: How Much Money Nobel Prize Winners Received From 1901-2017
Babe Ruth Estate — $800,000
The "Sultan of Swat" was known for his big swing during his professional baseball career with the Boston Red Sox, New York Yankees and Boston Braves. Babe Ruth hit 714 home runs, a record that stood until Hank Aaron broke it in 1974.
Unfortunately for the Babe, baseball salaries are much higher now than they were in his day. Babe Ruth was the first player ever to be paid more than $50,000 a year, but his annual earnings peaked at $80,000. According to an ESPN analysis, at today's rates, Ruth could have earned more than $1 billion over his career.
Though Babe Ruth left behind less than $1 million in his estate, his memorabilia is now worth much more than that. In 2012, for example, a 1920 Babe Ruth jersey sold for $4.4 million.
About the Author