How Rich Is 2022 Oscar Winner Will Smith?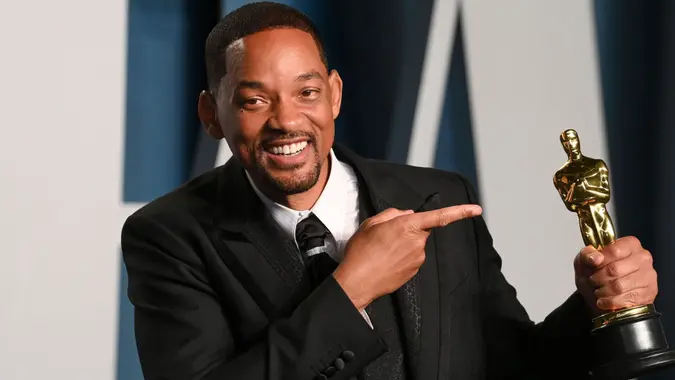 David Fisher/Shutterstock / David Fisher/Shutterstock
The Fresh Prince of Bel-Air became king of the Oscars. Will Smith was nominated for two of the biggest honors at the 93rd Academy Awards — Best Actor and Best Picture — as the star and producer of "King Richard" and won in both categories.
However, Smith may have to give the statues back. In a now-viral moment, he hit presenter Chris Rock after the comedian made fun of Smith's wife, Jada Pinkett Smith. The Academy Award code of conduct holds its members to a high standard. When it was established, according to Variety, AMPAS CEO Dawn Hudson wrote to members:
"There is no place in the Academy for people who abuse their status, power or influence in a manner that violates recognized standards of decency." 
Also Popular: How Rich Is Chris Rock?
Discover: How Rich Is Pete Davidson?
Net Worth: $350 Million
A household name since 1990, the multitalented Smith has accumulated a notable fortune over the past three-plus decades. The A-lister will be at home on the Oscars red carpet, because he already has been nominated for Best Actor twice. He was nominated in 2001 for his portrayal of Muhammad Ali in "Ali" and in 2006 for his work as Chris Gardner in "The Pursuit of Happyness."
Make Your Money Work Better for You
Film Career
After starring in "The Fresh Prince of Bel-Air" from 1990 to 1996, Smith quickly became a bona fide movie star. His films have amassed $6.6 billion at box offices worldwide, according to The Numbers — and he has been paid handsomely for it.
Most recently, he earned $40 million for "King Richard," according to Variety. He also reportedly scored a $27 million up-front salary for "Bright," as well as $12.5 million up front for "Aladdin" — along with a strong back end — according to The Hollywood Reporter. Additionally, he scored a $12.5 million payday for "Gemini Man."
Of course, those are only his more recent works. Some of his most iconic films include "Men in Black," "I Am Legend," "Independence Day," "Hitch" and the "Bad Boyz" films — just to name a few. The busy actor also has several upcoming projects in the works, including "Fast and Loose," "The Council," "Bad Boys 4" and "Bright 2."
Also See: Highest-Paid Movie Roles of All Time
Not surprisingly, Smith is expected to receive a massive raise for "Bright 2." Specifically, his paycheck is rumored to be $35 million, according to Variety.
Make Your Money Work Better for You
Music Career
Smith's A-list talents aren't limited to his acting career. He's also a wildly successful rapper who released several hit albums in the late '90s and early aughts. He's been nominated for eight Grammys and scored four wins. Additionally, his songs "Getting' Jiggy Wit It" and "Wild Wild West" secured the top spot on the Billboard Hot 100 chart.
In total, he has sold more than 12 million albums. His most successful record is "Big Willie Style," which has sold more than nine million copies since its release in November 1997.
Investments
Also a businessman, Smith is the co-founder of Dreamers VC, a $55 million venture capital fund. The group has invested in dozens of companies, including Clubhouse, Just Water and Genome Medical.
In September 2021, the company made headlines for joining forces with Jay-Z's Roc Nation, Sequoia Capital and other groups to invest $165 million in Landis, a startup that helps renters build credit until they can purchase homes. That same month, Smith's firm also made the news by uniting with other investors to provide $4 million in backing to investment platform Front.
Make Your Money Work Better for You
Net worth information was provided by CelebrityNetWorth.
More From GOBankingRates
Make Your Money Work Better for You