Blue Ivy, North West and 58 More of the Richest Celebrity Children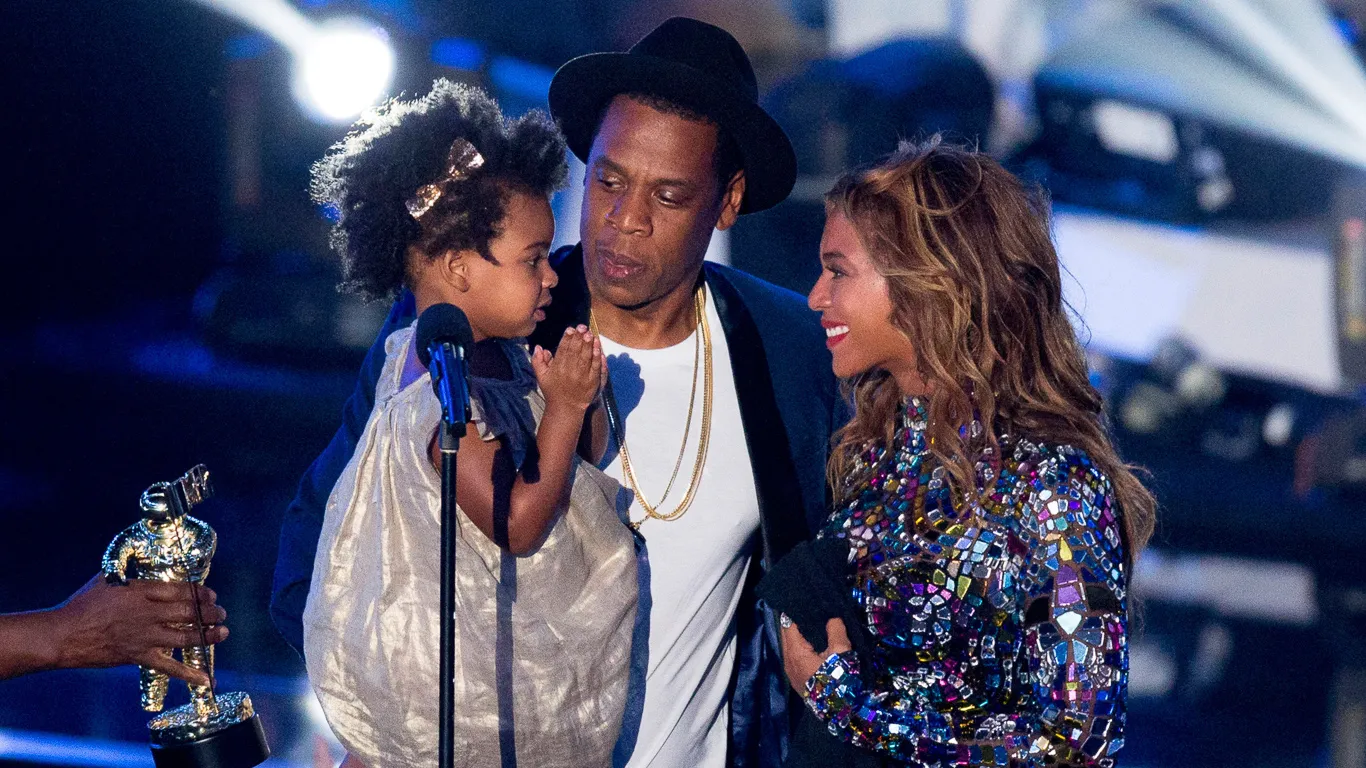 Stormi Webster
Mom Kylie Jenner's net worth:

$700 million

Dad Travis Scott's net worth: $50 million
Stormi Webster, 2, is living the high life. As an infant, she accompanied mom Kylie Jenner on tour with dad Travis Scott — prior to their breakup — and got her own room backstage at every venue. She has a playhouse the size of an actual house, a $1,180 Louis Vuitton bag, and a fleet of play cars, including a Mercedes with a "Stormi" license plate. The tot also has a "Stormi World" birthday party each year, consisting of a mini theme park depicting her favorite things.
Blue Ivy, Sir and Rumi Carter
Mom Beyoncé's net worth: $500 million
Dad Jay-Z's net worth: $1 billion
Beyoncé and Jay-Z are parents to 8-year-old Blue Ivy and 3-year-old twins Sir and Rumi. In 2019, Beyoncé and Blue Ivy were photographed at "The Lion King" premiere in Los Angeles, wearing matching custom Alexander McQueen outfits. The couple's eldest daughter was also famously photographed at the 2018 Grammys with her parents, with her mother holding her juice box—but Blue Ivy is coming into her own. In June, her work on Bey's "Brown Skin Girl" on "The Lion King: The Gift" soundtrack made her the youngest star ever to win a BET Award.  
Make Your Money Work Better for You
 Suri Cruise
Mom Katie Holmes' net worth: $25 million
Dad Tom Cruise's net worth:

$600 million
Now 14 years old, Suri Cruise has been raised by mom Katie Holmes since her parents divorced in 2012. The duo resides in New York City, where they're often photographed doing normal things like getting smoothies and walking their two dogs. In a 2020 US Weekly article, Suri was praised as an "extremely polite and well-manned" girl who "doesn't come across as spoiled or like a celebrity kid at all"—but celebrity kid, she most certainly is. According to Style, Suri has a $3 million wardrobe.
Pax, Zahara, Shiloh, Vivienne and Knox Jolie-Pitt
Mom Angelina Jolie's net worth: $120 million
Dad Brad Pitt's net worth: $300 million
Brad Pitt and Angelina Jolie split in 2016, but the A-listers share Maddox, 19; Pax, 16; Zahara, 15; Shiloh, 14; and twins Knox and Vivienne, 12. The kids have a history of traveling on private jets and vacationing at Chateau Miraval — their parents' $67 million French estate. In 2018, Pitt's attorney filed a statement claiming the actor had paid more than $1.3 million "for the benefit of [Jolie] and the minor" children since their split and loaned his ex $8 million to purchase her current home.
North, Saint, Chicago and Psalm West
Mom Kim Kardashian West's net worth: $900 million
Dad Kanye West's net worth:

$3.2 billion
Born into the "Keeping Up With the Kardashians" empire, 7-year-old North; Saint, 4; Chicago, 2; and Psalm, 1 are growing up in front of the cameras. The family reportedly has 24-hour nanny care — provided by a team of six total nannies — in addition to tutors, a chef, housekeeper, and a driver to help with the kids, according to The Sun. Also jetsetters, the Wests treated North and Saint to a Japan trip in 2019.
Cruz and Harper Beckham
Mom Victoria Beckham and dad David Beckham's net worth (combined): $450 million
Victoria and David Beckham are the proud parents of Cruz, 15. and Harper, 9. (They also have adult sons Brooklyn, 21, and Romeo, 18.) The Beckhams' only daughter enjoys a life many adults would envy, including attending her mother's London Fashion Week show — seated next to Vogue editor Anna Wintour — and meeting Princess Eugenie at Buckingham Palace on her sixth birthday. When Romeo entered adulthood in September the family threw him a private and intimate birthday in one of their homes.
Make Your Money Work Better for You
Alexis Olympia Ohanian Jr.
Mom Serena Williams' net worth:

$210 million

Dad Alexis Ohanian's net worth: $40 million
The 3-year-old daughter of tennis champion Serena Williams and Reddit co-founder Alexis Ohanian is clearly the apple of her parents' eyes. Mom often posts photos of the duo twinning on Instagram and dad has shared pictures of pancake art created for the tot. The notably grounded family seems to enjoy cooking together and adorable spontaneous dance parties.
Apple and Moses Martin
Mom Gwyneth Paltrow's net worth: $150 million
Dad Chris Martin's net worth: $130 million
Apple, 16, and Moses, 14, saw their parents consciously uncouple in 2014. Dad Chris Martin bought a house across the street from mom Gwyneth Paltrow, so the kids could spend time with both parents, according to US Weekly. Unlike many celebrity children, Apple has a job, but just as any other teen, she finds her mother mortifying, according to Paltrow, who gave John Legend an update on her kids when he hosted "The Ellen DeGeneres Show" in February 2020.
Monroe and Moroccan Cannon
Mom Mariah Carey's net worth: $320 million
Dad Nick Cannon's net worth: $30 million
In April 2011, Mariah Carey and Nick Cannon welcomed twins Monroe and Moroccan on their fourth wedding anniversary. The couple split in 2014, but Cannon — who is also dad to son Golden, 3 — told US Weekly in 2019 that their "unconditional love" for their children allows them to co-parent as a team. The twins accompanied their mother on her 2019 Caution world tour, but Cannon told "Entertainment Tonight" they're also happy eating Doritos and playing Roadblocks with dad.
Sean Preston and Jayden James Federline
Mom Britney Spears' net worth:

$115 million

Dad Kevin Federline's net worth: $6 million
Britney Spears and Kevin Federline split in 2007, but continue to co-parent Sean Preston, 15, and Jayden James, 14. Their birthdays fall in the same week in September. Not your average childhood, the boys have grown up going to movie premieres and touring with mom. They also reportedly attend private school and have enjoyed trips to Disneyland and Hawaii with Spears in recent years.
Make Your Money Work Better for You
Kingston, Zuma and Apollo Rossdale
Mom Gwen Stefani's worth: $150 million
Dad Gavin Rossdale's net worth: $45 million
They split in 2015, but Gwen Stefani and Gavin Rossdale share three sons — Kingston, 14; Zuma, 12; and Apollo, 6. Striking a balance between Hollywood and reality, the kids were photographed at the premiere of mom's movie "Ugly Dolls" in 2020 but are quarantining at Stefani's boyfriend Blake Shelton's Oklahoma ranch during the COVID-19 pandemic.
Kulture Cephus
Mom Cardi B's net worth: $24 million
Dad Offset's net worth: $26 million
Thanks to mom Cardi B and dad Offset, Kulture Cephus is a seriously stylish 2-year-old. Her enviable wardrobe reportedly includes an $8,000 Birkin bag, a $5,900 namesake bracelet and a $100,000 necklace. Her lavish second birthday party featured balloon arches, cotton candy machines and a ball pit, which came on the heels of a first birthday party that cost $400,000, according to TMZ.
Mason, Penelope and Reign Disick
Mom Kourtney Kardashian's net worth: $45 million
Dad Scott Disick's net worth: $40 million
Their romantic relationship didn't last, but Kourtney Kardashian and Scott Disick remain committed to their three children: Mason, 10; Penelope, 8; and Reign, 5. Over the years, the kids have been featured on several seasons of "Keeping Up With the Kardashians." Dad also has his own reality show "Flip It Like Disick," and a season one episode featured him building the kids a playhouse that cost more than $100,000.
Maximilian and Emme Muniz
Mom Jennifer Lopez's net worth: $400 million
Dad Marc Anthony's net worth: $80 million
They split in 2011, but Jennifer Lopez and Marc Anthony remain devoted to their 12-year-old twins, Max and Emme. Notably normal, for their 12th birthday, Lopez shared a sweet Instagram video highlighting a sleepover at home with their friends. Being J.Lo's offspring definitely comes with perks though, as Emme made a cameo during her mother's 2020 Super Bowl halftime performance and stole the show.
Make Your Money Work Better for You
True Thompson
Mom Khloe Kardashian's net worth: $50 million
Dad Tristan Thompson's net worth:

$45 million
Two-year-old True Thompson already leads a more glamorous life than most. Her parents split but continue showering her with love, including a lavish first birthday party with unicorns and a cotton candy machine. Her nursery included a $4,500 crib and a $1,525 Hermes blanket, and she's appeared on mom's Instagram account wearing Gucci, traveling on private jets and relaxing on a boat.
Violet, Seraphina and Samuel Affleck
Mom Jennifer Garner's net worth: $80 million
Dad Ben Affleck's net worth: $150 million
Following a long separation, Ben Affleck and Jennifer Garner divorced in 2018 but remain hands-on parents to Violet, 14; Seraphina, 11; and Samuel, 8. Impressively grounded, on a June 2020 episode of "The Ellen DeGeneres Show," Garner revealed she and the kids clean their home together every Sunday. Still a bit Hollywood, the children were spotted boarding a private jet with Affleck for a vacation that same month.
Valentina Pinault
Mom Salma Hayek's net worth: $200 million
Dad Francois-Henri Pinault's net worth: $7 billion
She's only 13 years old, but Valentina Pinault has long-been far more chic than the average person. From shopping with mom Salma Hayek at the Balenciaga boutique in West Hollywood when she was 6 months old to attending art festivals in Italy, vacationing in St. Bart's and even hanging out with Oprah in 2018, she definitely leads a charmed life. When Valentina turned 13 in September, Hayek posted a throwback pic of her then brand-new daughter as a newborn.
Lea De Seine Shayk Cooper
Mom Irina Shayk's net worth:

$25 million

Dad Bradley Cooper's net worth: $100 million
The only child of actor Bradley Cooper and model Irina Shayk, 3-year-old Lea De Seine Shayk Cooper is clearly adored by her doting parents. They split in 2019, but both agreed to live in New York City to share custody of their daughter, according to TMZ. From Disneyland to the streets of the Big Apple, Cooper has been spotted spending quality time with his daughter on many occasions. Shayk is also often photographed taking the tot for walks around New York City.
Make Your Money Work Better for You
Silas Timberlake
Mom Jessica Biel and dad Justin Timberlake's net worth (combined): $250 million
At 5 years old, Silas Timberlake is already a recording artist — he made a cameo on dad's 2018 song "Young Man." Not much is known about Silas, but Timberlake described his fifth birthday — in quarantine, due to COVID-19 — on "The Kelly Clarkson Show" in April 2020. Silas enjoyed LEGOs, free items Timberlake received from his "Trolls" movie and a bouncy house that dad jumped in for hours with him. The couple reportedly welcomed a second baby boy in July 2020, according to the Daily Mail.
 Louis and Laila Bullock
Mom Sandra Bullock's net worth: $200 million
She's an A-list movie star, but Sandra Bullock largely keeps Louis, 10, and Laila, 8, out of the public eye. Not much is known about their family life, but the kids have been spotted at Disneyland with their famous mom and get to enjoy brunch at swanky spots like members-only club Soho House in Los Angeles.
Valentino, Matteo, Lucia and Renn Martin
Dad Ricky Martin's net worth: $120 million
Ricky Martin and husband Jwan Yosef's family includes Lucia and Renn, both 1, and twins Matteo and Valentino, 11. Like many older siblings, Martin praised his twins for helping out with their baby sisters in a 2020 interview with People. However, unlike most kids, they go on tour with their popstar dad and tend to travel on private jets.
Harper and Gideon Burtka-Harris
Dad Neil Patrick Harris' net worth: $50 million
Dad David Burtka's net worth: $3 million
Ten-year-old twins Harper and Gideon Burtka-Harris live a charmed life. From attending the Family Gala at the Metropolitan Museum of Art in February 2020 to enjoying gelato in Venice, Italy, and vacationing in Aspen, Colorado, dad Neil Patrick Harris regularly documents their adventures on Instagram. However, the family has plenty of relatable house rules, including limiting screen time and refusing to give the twins cellphones, Harris revealed in a 2019 Prevention.com interview.
Make Your Money Work Better for You
Dusty Rose and Gio Grace Levine
Mom Behati Prinsloo's net worth: $9 million
Dad Adam Levine's net worth: $120 million
Maroon 5 frontman Adam Levine and his supermodel wife, Behati Prinsloo, are parents to daughters Dusty Rose, 4, and Gio Grace, 2. The close-knit family enjoys refreshingly normal activities together, including a 2019 Halloween outing where Levine was photographed pulling his two girls in a wagon. Of course, the kids also get to experience the perks of having a rockstar dad, including touring with Maroon 5 in 2018.
Chance, Jessie and D'Lila Combs
Dad Sean Combs' net worth: $885 million
He's a hip-hop star and business mogul, but Sean Combs is also a father of six — Quincy, 29; Justin, 26; King, 22; Chance, 14; and twins Jessie and D'Lila, 13. The doting dad threw his twin daughters a roller skating party for their 12th birthday, which Blue Ivy Carter and Saint West reportedly attended. He also took several of his children to Disneyland to celebrate Chance's 13th birthday in 2019.
Flynn Bloom
Mom Miranda Kerr's net worth:

$60 million

Dad Orlando Bloom's net worth: $40 million
Nine-year-old Flynn Bloom has a supermodel mother and an actor father, but his famous family doesn't stop there. Miranda Kerr married Snapchat billionaire Evan Spiegel in 2017 — the couple shares Hart, 2, and Miles, 1 — and Orlando Bloom is engaged to singer Katy Perry, who gave birth to their first child, Daisy, in October. Also in 2020, Spiegel praised Kerr and Bloom's co-parenting abilities in the WSJ Magazine's Marriage of Mindfulness issue and proudly noted that he feels like part of "Team Flynn."
Tabitha and Marion Broderick
Mom Sarah Jessica Parker and dad Matthew Broderick's net worth (combined):

$200 million
Sarah Jessica Parker and Matthew Broderick are hands-on parents to twins Tabitha and Marion, 11 (they also have 18-year-old son James Wilkie). Parker told Vogue they have a nanny for the twins and an aid to help with James Wilkie's schedule, but no live-in staff. The couple works to keep their kids grounded, but they still get to enjoy some celebrity perks, as James Wilkie was been spotted sitting courtside with his dad at a New York Knicks game in 2019.
Make Your Money Work Better for You
Zachary and Elijah Furnish-John
Dad Elton John's net worth: $500 million
Dad David Furnish's net worth: $50 million
Elton John and husband David Furnish share sons Zachary, 9, and Elijah, 7. In a 2019 interview with the Mirror, John acknowledged that his sons don't lead a normal life, but revealed he and Furnish try not to spoil them. He noted that they have to do chores around the house and receive a modest weekly allowance.
Nahla Aubry
Mom Halle Berry's net worth: $90 million
Dad Gabriel Aubry's net worth: $4.5 million
Her parents, Halle Berry — also mom to Maceo-Robert, 7 — and Gabriel Aubrey, split in 2010 but remain committed to 12-year-old Nahla. Photographed at a carnival with her parents in 2018, she appears to lead a relatively normal life. Berry has been spotted picking her up from school and even taking her to In-N-Out Burger.
Jackson and August Theron
Mom Charlize Theron's net worth: $160 million
Charlize Theron largely keeps Jackson, 8, and August, 5, away from the public eye. In a 2018 interview with Ellen, Theron revealed a nanny and her mother help with her kids — not a large staff as people often assume. The actress did reveal that early on, Jackson spent a lot of time on the "Mad Max" set. In June 2020, the family was spotted dining at celeb-favorite Nobu in Malibu, California.
Rhodes Emilio Gilbert Perry
Mom Sara Gilbert's net worth: $35 million
Mom Linda Perry's net worth: $18 million
Sara Gilbert and Linda Perry split in December 2019, but the exes continue to co-parent their 5-year-old son Rhodes Emilio Gilbert Perry. Not much is known about Rhodes Emilio, but as an infant, he attended the Dalai Lama's 80th birthday celebration with his moms. In 2019, he was also photographed at a Los Angeles farmer's market with Gilbert — also mom to Levi, 16, and Sawyer, 13 — having his face painted and enjoying a train ride.
More From GOBankingRates
Andrew Lisa contributed to the reporting for this article.
All net worth information is via Celebrity Net Worth.