Quiz: Who's Richer — This Celebrity or Their Famous Parent?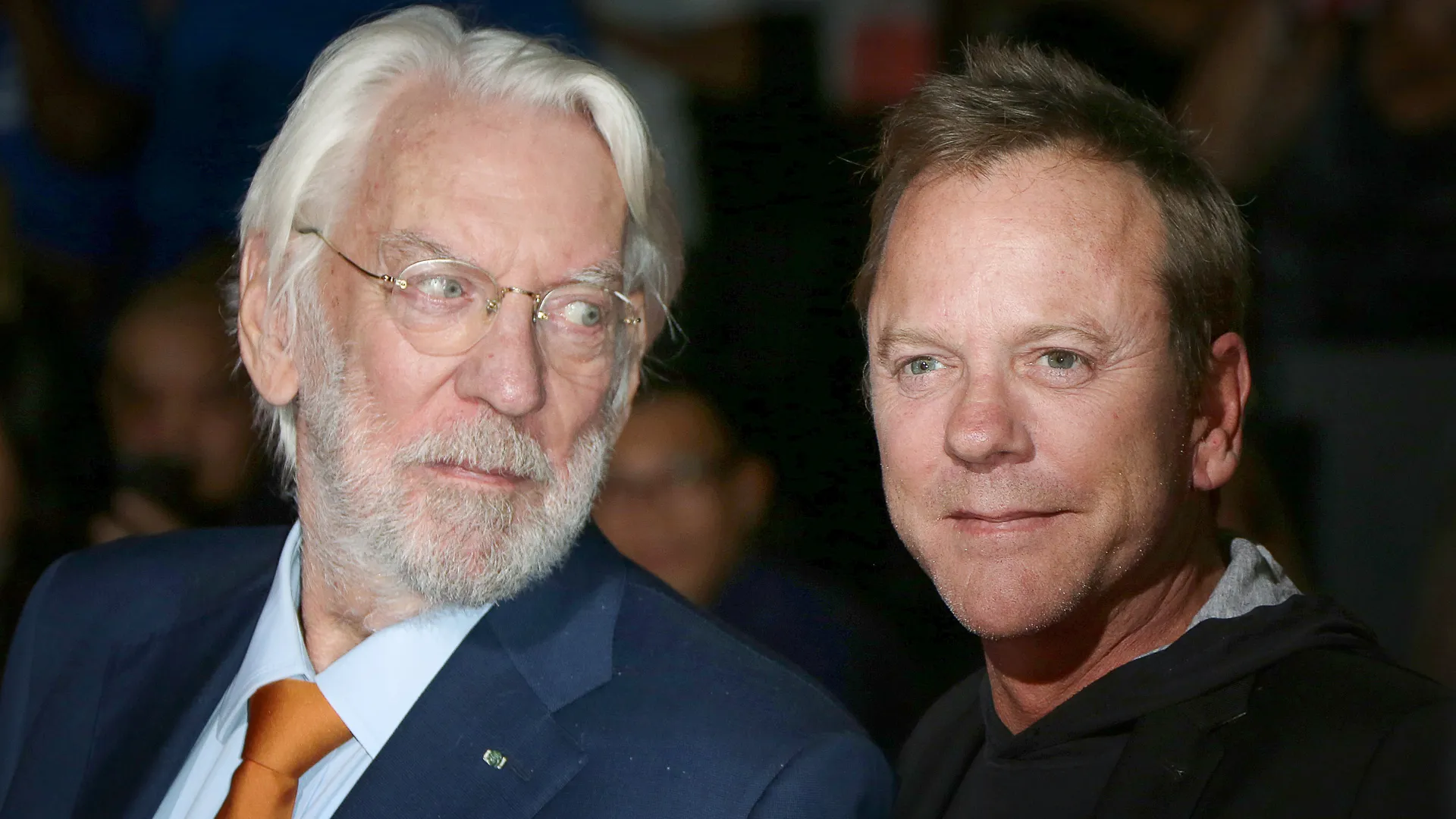 Some celebrities were born to be stars. These famous singers, actors and fashion designers are all the offspring of entertainment biz veterans, and they've followed in their parents' footsteps. Even though the parent has been in the industry longer, some of these celebrities have been able to outearn their moms and dads.
Can you guess if these famous children have surpassed their parents' wealth?
Last updated: Aug. 13. 2020
Make Your Money Work Better for You
Miley Cyrus vs. Billy Ray Cyrus
Singing is in Miley Cyrus' blood. The pop star is the daughter of country crooner Billy Ray Cyrus, who had a huge hit in 1992 with the song "Achy Breaky Heart." Billy Ray and Miley even have released music together, including the 2007 hit "Ready, Set, Don't Go."
But which Cyrus has made more bank?
Miley Cyrus Is Richer
Miley Cyrus' net worth: $160 million
Billy Ray Cyrus' net worth: $20 million
Billy Ray made a massive comeback in 2019 when he teamed up with rapper Lil Nas X on the song "Old Town Road," which spent 19 weeks as the No. 1 song on the Billboard charts. However, it's Miley who's had a more lucrative career. Before making it big as a singer, Miley made millions, thanks to her Disney alter-ego Hannah Montana, and she has gone on to release three platinum albums under her own name.
Enrique Iglesias vs. Julio Iglesias
Although Enrique and Julio Iglesias have a famously fraught relationship, that didn't stop Enrique from following in his father's musical footsteps. Both have become superstars in the Latin music world, though Enrique also has crossed over to the mainstream with his English pop hits.
Find out which Iglesias has sung his way to more riches.
Julio Iglesias Is Richer
Enrique Iglesias' net worth: $100 million
Julio Iglesias' net worth: $600 million
Julio and Enrique each have seven albums that reached platinum status but perhaps Julio's higher net worth has come from his equity investment strategy. He owned a stake in one of the Dominican Republic's largest hotel groups, which he sold, but he maintains a 5% stake in the airport run by the company, Forbes reported. He also has an extensive real estate catalog, and earlier this year listed his Miami Beach waterfront property for $31.8 million. 
Make Your Money Work Better for You
Kate Hudson vs. Goldie Hawn
Kate Hudson grew up in Los Angeles surrounded by Hollywood power players. Her mother, Goldie Hawn, and biological father, Bill Hudson, are both entertainers, and she largely was raised by Hawn and her longtime partner, fellow actor Kurt Russell. Her grandparents, aunts and uncles also worked in the entertainment business as publicists, producers and musicians. Hudson herself got her big break in 2000 as one of the stars of "Almost Famous."
See who wins in this mother-daughter wealth showdown.
Goldie Hawn Is Richer
Kate Hudson's net worth: $80 million
Goldie Hawn's net worth: $90 million
Hudson has made millions from her rom-com roles and endorsement deals, and she's also increased her net worth as a co-founder of the athleisure brand Fabletics. The company was founded in 2013, and it was valued at $250 million as of 2018, Forbes reported. However, Hawn is the richer of the two by $10 million. Considering her long Hollywood career, it's not too surprising.
Lily Collins vs. Phil Collins
Golden Globe-nominated actress Lily Collins got her big break acting alongside Sandra Bullock in "The Blind Side" in 2009, and she has landed a steady stream of movie and TV roles since. Her father, Phil Collins, has been nominated for 28 Grammy Awards, winning eight, and continues to tour.
Is it Lily's acting career or Phil's singing career that's brought in the bigger bucks?
Phil Collins Is Richer
Lily Collins' net worth: $8 million
Phil Collins' net worth:

 

$300 million
Lily's career has taken off over the past decade, but Phil has been releasing hits since the 1970s. He first cracked the top 10 of the Billboard 200 with the 1981 Genesis album "Abacab." Phil went on to have an extremely successful solo career, with seven No. 1 hits that include "Groovy Kind of Love" and "Against All Odds (Take a Look at Me Now)." In 2019 alone, the Brit rocker grossed $87.6 million, Forbes reported.
Learn: 24 Celebrities Who Tried and Failed To Start New Careers
Make Your Money Work Better for You
Angelina Jolie vs. Jon Voight
As the daughter of actors Jon Voight and Marcheline Bertrand, it seemed written in the stars that Angelina Jolie would become an actress herself. Jolie got her breakout role in 1999's "Girl, Interrupted" and has acted steadily since. But has her star risen high enough to outshine her father's when it comes to net worth?
Angelina Jolie Is Richer
Angelina Jolie's net worth:

 

$120 million
Jon Voight's net worth: $55 million
Voight's films have grossed $2.27 billion at box offices, according to Box Office Mojo, but Jolie is the wealthier family member. She has commanded some of the highest fees for her on-screen roles, Forbes reported, and has added to her wealth as a director and producer. Jolie has taken home two Academy Awards — one for her role in "Girl, Interrupted" and the other a special humanitarian award.
Charlie Sheen vs. Martin Sheen
When Charlie Sheen was born, his father, Martin, was just breaking into the entertainment business as a Broadway actor. Both went on to have successful acting careers, with Martin starring in critically acclaimed movies such as "The Departed," "Apocalypse Now" and "Badlands," and the hit TV show "The West Wing." Meanwhile, Charlie became the highest-paid actor on television — twice. During his time on "Two and a Half Men," he reached $1.8 million per episode, and he later earned $2 million per episode on "Anger Management," E! News reported. Charlie faced some personal and professional struggles following public meltdowns, which took a hit on his wealth.
But did he hold on to enough to be the richer Sheen?
Martin Sheen Is Richer
Charlie Sheen's net worth: $10 million
Martin Sheen's net worth: $60 million
In 2018, Charlie filed court documents to reduce his child support payments to exes Denise Richards and Brooke Mueller, People reported. In the papers, Charlie said that he had "been unable to find steady work, and [has] been blacklisted from many aspects of the entertainment industry," leaving him in a "dire financial crisis." 
Fortunately for Martin, he hasn't had the same financial issues and is the richer of the Sheens. Martin continues to perform, co-starring in the Netflix hit series "Grace and Frankie" and in two upcoming feature films.
Make Your Money Work Better for You
Rashida Jones vs. Quincy Jones
Actress Rashida Jones has two famous parents — her father is media mogul, producer and musician Quincy Jones and her mother is late actress Peggy Lipton. Rashida started acting in 1997 and has starred in a number of TV shows and movies, including "Parks and Recreation" and "I Love You, Man." Quincy, meanwhile, is the most Grammy Award-nominated individual with 80 nominations, according to Statista. Over his decades-long career, he has worked with such legends as Frank Sinatra, Michael Jackson, Celine Dion and Aretha Franklin.
So which of the Joneses is keeping up with the other Jones?
Quincy Jones Is Richer
Rashida Jones' net worth: $25 million
Quincy Jones' net worth:

$500 million 
Quincy has a leg up on Rashida with more time in the business, having been working in entertainment for more than 60 years. He's produced some of the biggest hits of all time, including Michael Jackson's "Billie Jean," which spent 22 weeks on the charts, was certified platinum and took home two Grammy Awards.
Big Money: Celebrities Who Are Richer Than You Think
Colin Hanks vs. Tom Hanks
Both Colin Hanks and his father, Tom, have had major successes as actors, with Colin scoring Golden Globe and Emmy nominations, and Tom earning Golden Globe and Emmy wins, as well as two Oscars for best actor.
But has Colin been able to surpass his dad's earnings?
Tom Hanks Is Richer
Colin Hanks' net worth: $15 million
Tom Hanks' net worth: $400 million
Tom has had more years in the biz, so it's no surprise he's been the bigger moneymaker. He'll star in the upcoming Mr. Rogers biopic "A Beautiful Day in the Neighborhood" in November 2019 and has a number of other films in the works — both as an actor and producer. Tom typically makes big money from his acting roles and has made as much as $26 million in a single year, Forbes reported. His movies have grossed more than $5 billion in box offices, according to Box Office Mojo.
Make Your Money Work Better for You
Dakota Johnson vs. Melanie Griffith
"Fifty Shades of Grey" star Dakota Johnson comes from a lineage of Hollywood royalty — her mother is Melanie Griffith and her maternal grandmother is actress Tippi Hedren. Her father, Don Johnson, is also an actor. With the success of the "Fifty Shades" franchise, has Dakota been able to outearn her mother?
Melanie Griffith Is Richer
Dakota Johnson's net worth: $14 million
Melanie Griffith's net worth: $40 million
Even though all three of the "Fifty Shades" films have grossed more than $100 million, according to Box Office Mojo, Griffith is still the richer actress. She starred in a number of hits throughout the 1980s and '90s, including "Working Girl" — which earned her an Oscar nom — "Body Double" and "Something Wild." Griffith continues to act today.
Take a Look: 28 Former Celebrities Who Have Normal Jobs Now
Zoe Kravitz vs. Lenny Kravitz
"Big Little Lies" star Zoe Kravitz has two famous parents — singer Lenny Kravitz and actress Lisa Bonet. Zoe got bitten by the acting bug early and began doing it professionally in high school. She went on to star in a number of films, including "Mad Max: Fury Road," "X-Men: First Class" and "Divergent." Meanwhile, Lenny has released 11 albums, most recently 2018's "Raise Vibration."
Find out which Kravitz is richer.
Lenny Kravitz Is Richer
Zoe Kravitz's net worth: $8 million
Lenny Kravitz's net worth: $50 million
Zoe has yet to reach her father's level of wealth. Lenny has amassed a fortune through his music, producing, acting and design. In addition to churning out hits — he's had 16 songs on Billboard's Hot 100 chart — he has brought in earnings through collaborations with Leica Camera and champagne brand Dom Perignon. Lenny also acted in the mega-moneymaking series of "The Hunger Games" films, and his movies have grossed $996 million in total, Box Office Mojo reported.
Make Your Money Work Better for You
Stella McCartney vs. Paul McCartney
Fashion designer Stella McCartney got her start in the design industry as an intern for Christian Lacroix at age 16. After working as the creative director of Chloé, she launched her own brand in 2001. Stella is talented in her own right, but being the daughter of Beatle Paul McCartney helped her launch her career. "It certainly opened a lot of doors," she told CNN. 
Has Stella's design empire helped her reach the level of wealth of her rock star dad?
Paul McCartney Is Richer
Stella McCartney's net worth: $75 million
Paul McCartney's net worth: $1.2 billion
Stella's made it in the fashion biz, but her wealth pales in comparison to her father's. Paul was one of the top-earning celebrities of 2019, with $48 million in earnings as of July 2019, Forbes reported. He continues to tour and make music — his most recent solo tour grossed an average of $4 million per stop, and he released his 17th solo album, "Egypt Station," in 2018.
Nicole Richie vs. Lionel Richie
Lionel Richie Is Richer
Nicole Richie net worth: $10 million
Lionel Richie net worth: $200 million
Nicole's reality fame and fortune is a fraction of her adopted dad's. Lionel has had five platinum albums and one diamond album — his 1983 album "Can't Slow Down" sold 10 million certified units, according to the Recording Industry Association of America. He continues to tour, has a home collection with JCPenney and returned as a judge on "American Idol" for its newest season.
Kiefer Sutherland vs. Donald Sutherland
Kiefer Sutherland, who starred on "24," is the son of actor Donald Sutherland, who has nearly 200 acting credits to his name. Donald might be best known for his portrayal of President Snow in "The Hunger Games" films, but he's starred in numerous movies and TV shows since he began his acting career nearly six decades ago. Kiefer doesn't have as many years in the biz, but he's definitely made a name for himself since his breakout role in "24" in 2001.
Both Sutherlands are talented, but which one is richer?
Kiefer Sutherland Is Richer
Kiefer Sutherland's net worth: 

$100 million 

Donald Sutherland's net worth: $60 million
Kiefer is the richer of the father-son acting duo — and during the final season of "24," he was one of the 100 highest-paid celebrities in the world, according to Forbes. Although "24" wrapped in 2010, Kiefer continues to act and landed on the new series "The Fugitive" in 2020.
Allison Williams vs. Brian Williams
Actress Allison Williams is best known for playing Marnie on the HBO show "Girls," and she also starred as Rose in 2017's hit horror film "Get Out." She's the daughter of news host Brian Williams, who anchored "NBC Nightly News" and now hosts "The 11th Hour with Brian Williams" on MSNBC.
See which Williams has the higher net worth.
Brian Williams Is Richer
Allison Williams' net worth:

$5 million 

Brian Williams' net worth:

$50 million 
The elder Williams faced controversy in 2015 when it came to light that he had made misleading statements about a reporting trip he took to Iraq in 2003. He was suspended from "NBC Nightly News" and ultimately assigned to MSNBC where he hosts "The 11th Hour" weeknights at 11 p.m. Despite his career setback, Williams has been able to continue making millions as a network news host, a lucrative gig he has held since the mid-1990s.
More From GOBankingRates
All net worths are sourced from Celebrity Net Worth and are accurate as of Aug. 10, 2020.
About the Author