Debt Exceeds Income in All But One State — 10 States Where Inflation Is Having Biggest Negative Impact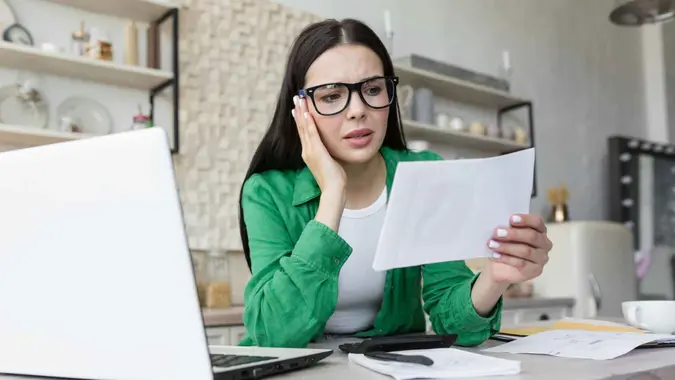 Liubomyr Vorona / iStock.com
Americans have been racking up debt very rapidly in the past months. For instance, as of the second quarter of 2023, total household debt rose by $16 billion to reach $17.06 trillion in the second quarter of 2023, led by credit card balances, according to the Federal Reserve Bank of New York.
In that time, credit card balances alone increased by a whopping $45 billion to reach a high of $1.03 trillion.
But in some regions across the country, this is more pronounced. Indeed, National Business Capital's inaugural report "The U.S. States Most Impacted By Household Debt 2023," found that households across the country face serious stress, especially in high-growth Sunbelt states.
What's more, the report found that household debt – the combined liabilities of members of a household that require payments on interest or principal, including credit card debt, automotive loans and mortgages- exceeds income in all but one state. Indeed, New York was the only state currently with a debt-to-income ratio below 1%, thanks to relatively high household incomes and lower car and homeownership rates.
"Households across the country are taking on more debt as prices rise, a problem that will soon be compounded by the resumption of student loan payments," said Brian Chevalier-Jordan, Chief Marketing Officer, National Business Capital.
Chevalier-Jordan added that New York is currently the only state where households have less than $1 of debt for every dollar of income.
"That being said, New York's credit card debt is among the highest in the nation, which could leave households very vulnerable to an economic downturn," he added.
On the other hand, the report shows that the Heartland shows dramatic restraint concerning credit card spending, and that Household budgets within these states also benefitted from lower housing demand and prices.
In terms of the type of debt, auto Loans are stressing otherwise low-cost states, such as Texas, Georgia and Florida, the report noted.
Here are the top 10 states most impacted by U.S. in 2023:
Maryland
Colorado
Nevada
Virginia
Arizona
Florida
Utah
Alaska
California
Delaware
More From GOBankingRates