I'm a Financial Planning Expert: 3 Reasons Millennials Can't Get Out of Debt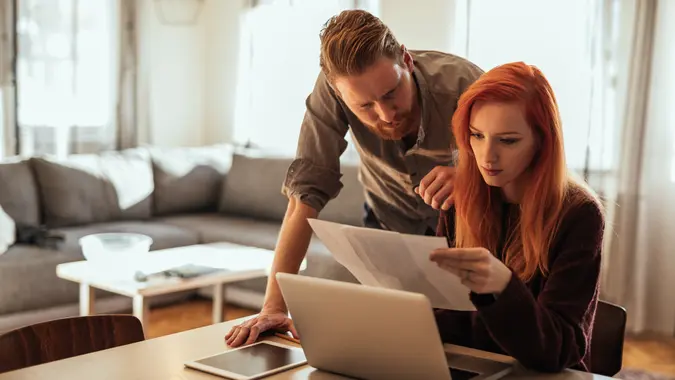 bbernard / Shutterstock.com
Millennials are currently piling on debt at record levels. According to data from the Federal Reserve Bank of New York, thirtysomething Americans had amassed nearly $4 trillion in debt in Q4 of 2022. Since 2019, this is a 27% increase in debt.
What keeps millennials from breaking free of the debt cycle? We can't pin the blame on avocado toast and lattes. The answer to this question is somewhat three-pronged in nature, connecting to how millennials started their adult lives and tying in trends from the current economic landscape.
These are the three reasons millennials can't get out of debt. 
Student Loans
Many millennials started their adult lives trapped under debt after they obtained various federal and private loans to pay for their college education. 
Some borrowers have managed to pay down or pay off these loans. Among 1,028 Americans surveyed by GOBankingRates, 54% said they do not have student loans. 
High interest rates also mean many borrowers still owe money. According to data from GOBankingRates, 14% of Americans said they owe less than $10,000 in student loans. Borrowers who received a break during the student loan repayment pause will be back to making monthly payments in October.
Make Your Money Work for You
Slow Compensation Growth
One reason millennials struggle so much to pay off student debt is that current compensation and bonuses have not kept up the pace. 
D.J. Schlegel, co-founder and financial advisor at Emeritus Wealth, refers back to college graduation statistics cited by the Education Data Initiative. Looking back at college graduation levels from 1971 to 2020, Schlegel said we went from 840,000 graduates each year to over 2 million.
That means more graduates competing for the same jobs. In this scenario, Schlegel said employers have more than enough qualified applicants applying for open positions. Due to the competitive nature of the job market, employers can dictate lower compensation levels. The more competition, the lower the wages. And the lower the wages, the harder it becomes to pay off significant sums of debt like student loans.
Increased Cost of Living
Almost every aspect of life has increased substantially in cost. Millennials who are able to get out of one form of debt, like student loans, may find they get saddled with another type of debt as they work to reach various lifestyle milestones. 
Make Your Money Work for You
Christopher Van Buren, CFP at LVW Advisors, uses the example of home ownership. Since the 2008 financial crisis, home prices have continued to rise — the average is now over $500,000. Millennials also face much higher mortgage rates now than even a few years ago. 
As interest rates increase, so do loans to buy cars and borrow money to start businesses or apply for credit cards or student loans. When it comes to everyday essentials, millennials struggle to afford weekly groceries and to pay monthly bills. 
Non-discretionary activities, like vacations, are also increasing in price. One reason Van Buren said millennials may be heaping on more debt is that they see friends and connections on social media platforms constantly on vacation. The fear of missing out, or FOMO, may be causing millennials to spend more money on flights, restaurant outings and hotel stays — all elevated in cost — to keep up with everyone else. 
There are certain strategies millennials can implement to get free of debt, including living below their means and sticking to a budget. However, Schlegel said a basic college education may not be the same silver bullet for success as it was before. 
Make Your Money Work for You
"We have roughly the same number of master's level graduates today as we did college graduates in 1971," Schlegel said. "It appears a bachelor's degree has lost its status and the master's degree seems to be taking its place in guaranteeing financial independence and success. Maybe going hundreds of thousands of dollars in debt to attain a degree which no longer gives us freedom or options makes sense unless we plan to pursue an even higher degree."
More From GOBankingRates