Wall Street Is Extremely Volatile Right Now – How Safe Is Your 401K?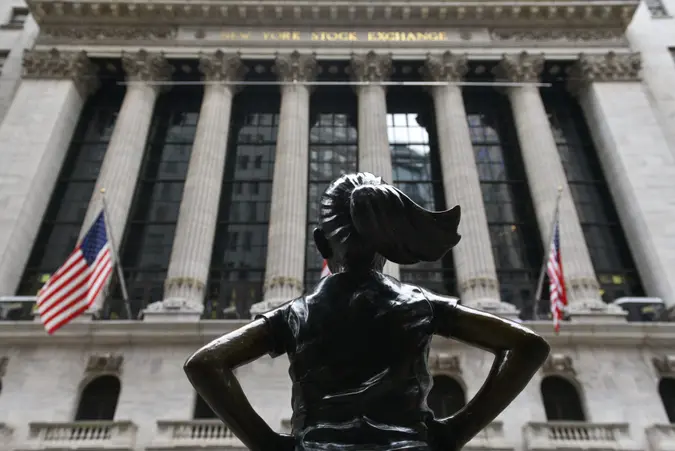 Erik Pendzich/Shutterstock / Erik Pendzich/Shutterstock
As the internet keeps buzzing about WallStreetBets, we're seeing retail traders making thousands — even millions — against hedge funds as GameStop stock peaked close to $500 midday Thursday. But people who haven't gotten involved in retail day trading yet may have concerns about what this means for other investments, including exchange-traded funds, 401ks and blue-chips stock people intend to hold for the long haul.
More Context: Robinhood Blocks Traders on Reddit and Beyond from Buying GameStop Stock – Make Sense of the Market MayhemFriday Update: Robinhood Backtracks, Says It Will Allow 'Limited Buys' of GameStop and Others – What's Really Going On?
In essence, retail traders making a difference against Wall Street hedge funds and big-money investment firms is good for a group of everyday investors who are part of the 99% of people who don't hold the majority of this country's wealth. But what about those who didn't get in early on WSB's favored stock picks? What about long-term investments and the stock market as a whole?
Is it time to dump our 401ks and run screaming for the hills?
The real question that no one is asking (because it's boring) is if these kinds of market manipulations can and will affect passive investors whose portfolios are sensibly diversified into funds. Like, will it actually affect your 401K or IRA?

— Lindsay Goldwert (@lindsaygoldwert)

January 27, 2021
Since the stock market is hilarious now, I'd like to convert my entire 401k into Quizno's giftcards.

— Rave Coulier (@synthandlasers)

January 29, 2021
Anyone else thinking about dumping the 401K and buying some land?

— Greg (@chomp33)

January 28, 2021
Don't get us wrong. Who wouldn't root for WSB to "win" the Wall Street game. We're seeing overnight millionaires. College loans paid off. People getting the head start on their future that they deserve because they were smart, savvy and frankly — in the right place at the right time. But if you've been a responsible long-term investor for years, or even decades, you may be worried about what's going to happen to the economy, and your own retirement, in light of the market this week.
Are You Retirement Ready?
See: Economy Explained: What Is the GDP – and What Does It Have to Do With You?Find: Turn Your $50K Salary into A $1M Retirement Fund
First, it's important to remember Alexandria Ocasio-Cortez' sentiments: The stock market is NOT the economy.
Stocks are not jobs or wages. Their rise and fall may affect some business owners' decisions as to where to place their money and how much to spend, but the Dow Jones, S&P 500 and Nasdaq are not the only indicators of economic wealth for our country.
Economics 101 reminder: The stock market is NOT the economy.

Stocks aren't jobs. Stocks aren't wages.

That's why stock prices can go up and normal people still won't feel any more secure about their future.

Recessions are when real GDP growth falls for 2 quarters in a row.— Alexandria Ocasio-Cortez (@AOC) February 5, 2018
Right now, the Redditors have affected a very small percentage of the market. Although their moves have caused one hedge fund to seek assistance, the Dow is still over 30,000 and the other markets haven't moved substantially, either. And those that have will right themselves in the coming days or weeks.
See: Popular Companies Set to Make a Comeback in 2021Find: Economy Explained: What Does the Fed Do, Anyway?
Many retail traders made money this week to pay off bills, pay down student loan debt and live a more comfortable life. On the whole, the market is still healthy, and long-term investments aren't crashing. The Fed, in its meeting this week, is keeping interest rates low for the time being, making it easier to borrow against home equity or take out new credit or car loans. The GDP is at its lowest point since World War II, but that occurred long before the stock market shenanigans we've seen this week.
Are You Retirement Ready?
If you're in it for the long game, consider stable stocks in the tech sector and Fortune 500 firms or index funds. That advice never goes of style. A well-diversified portfolio is the safest "Wall Street bet" you can make. Perhaps that's a lesson hedge fund operators like Melvin Capital should have considered before taking such large short positions on companies like GameStop and AMC.
More From GOBankingRates: