5 Retirement Havens Like California but Way Cheaper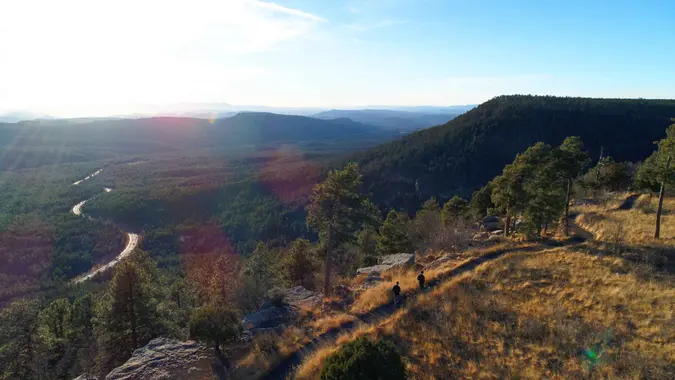 Jake Vacek / Getty Images/iStockphoto
California has long been a coveted retirement destination, with its breathtaking coastlines, beautiful landscapes, and ideal climate.
However, the soaring cost of living has many retirees exploring other options that offer similar attractions but at a fraction of the price. If you're dreaming of a California-like retirement without the hefty price tag, consider these five alternatives:
1. Oregon: A Coastal Delight
Just north of California, Oregon offers a captivating coastal charm reminiscent of the Golden State. The rugged coastline of Oregon, filled with stunning sea stacks and scenic beaches, mirrors California's picturesque shores. Cities like Astoria and Florence offer a slower pace of life with a lower price tag. While Oregon's weather can be a bit cooler and rainier than California, it's still mild and comfortable, especially in the summer.
2. Arizona: Sun-Kissed Scenery
Arizona, with its deserts and iconic landscapes like the Grand Canyon, provides a drier but equally scenic alternative. The state boasts a dry climate similar to Southern California's inland areas. Cities like Prescott and Sedona offer an affordable lifestyle while retaining access to cultural events, art scenes, and outdoor activities.
3. Nevada: Beyond Las Vegas
When one thinks of Nevada, Las Vegas often comes to mind. However, the state offers much more. Northern Nevada, with places like Reno and Carson City, provides a mix of desert and mountainous landscapes, and Lake Tahoe offers a water-centric lifestyle. The lack of a state income tax is also a major draw for retirees on a fixed income.
Are You Retirement Ready?
4. New Mexico: The Land of Enchantment
With a name like "Land of Enchantment," New Mexico promises–and delivers–a mesmerizing landscape. Santa Fe and Taos, in particular, are known for their artistic communities, Pueblo-style architecture, and gorgeous mountain backdrops. The climate is mild with blue skies dominating most days, and the cost of living is notably lower than California.
5. Utah: Mountains and More
If you're a fan of the Sierra Nevadas in California, you'll love the mountain ranges of Utah. The state is home to several national parks, including Zion and Bryce Canyon. Towns like St. George offer affordability while still providing a gateway to outdoor adventures. Utah also experiences all four seasons, offering a variety of recreational activities year-round.
Retiring in style doesn't necessarily mean breaking the bank. Several locations in the U.S. offer the scenic beauty and lifestyle perks similar to California but at a more affordable cost. Before settling down, consider exploring these alternative havens to find a spot that fits both your dreams and budget.
Editor's note: This article was produced via automated technology and then fine-tuned and verified for accuracy by a member of GOBankingRates' editorial team.
More From GOBankingRates
Are You Retirement Ready?