7 Reasons Boomers Should Cut Back on Sending Money to Family During Retirement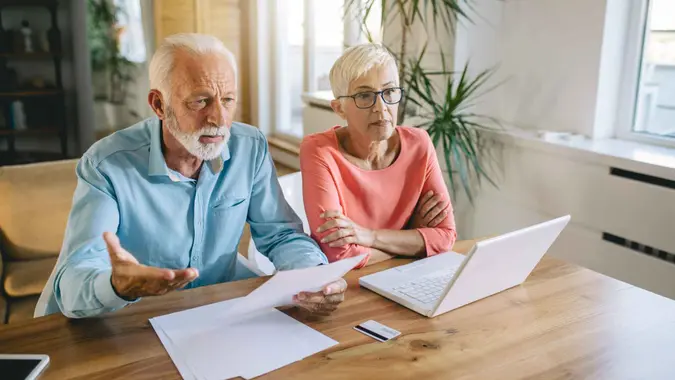 FluxFactory / iStock.com
At a time when retirement preparedness has declined and inflation — especially food costs and housing — remains uncomfortably high, parents are supporting their adult children financially more than ever before, to the potential detriment of their own financially well-being and lifestyle.
According to a recent Savings.com study, 45% of parents with at least one child provide, on average, more than $1,400 to their kids for groceries, cell phones and rent or mortgage. Parents closer to retirement — 10 years or less — contribute about $2,100 monthly to their children while only putting $643 into retirement accounts.
While it's admirable for baby boomers to want to support their families, especially heading into retirement, there are several reasons why they should consider cutting back on sending money to family members.
1. Maintaining Financial Sustainability
Many baby boomers may not have saved enough for retirement due to various reasons, such as inadequate planning, market fluctuations or unexpected expenses. One of the primary reasons to cut back on financial support to family members during retirement is to ensure that boomers can sustain their own financial well-being throughout their retirement years — without outliving their savings or relying on government assistance.
2. Soaring Healthcare Costs
Healthcare costs in the U.S. have been rising for decades and are expected to keep increasing. As individuals age, healthcare expenses tend to increase. Therefor, reducing the financial support given to family members can free up resources that may be needed to cover healthcare costs, including medical bills, long-term care and health insurance premiums.
Are You Retirement Ready?
3. Unpredictable Economic Conditions
As mentioned above, Americans are struggling amid inflation. Economic conditions can be unpredictable, and boomers may encounter unforeseen financial challenges during their retirement, such as economic downturns or unexpected expenses. Reducing financial support to family members can help them build a cushion to overcome such uncertainties.
4. Encouraging Financial Independence
Providing adult children with to unfaltering financial assistance indefinitely can hinder their ability to become financially independent. Encouraging self-sufficiency and responsible financial management among younger generations can ultimately benefit everyone in the long run.
Speaking to Fortune, 65-year-old Mark Lacy admitted to losing out of $400,000 in retirement savings by helping his two sons out financially — ever since they graduated from high school. "For some reason my generation has felt this great obligation to keep paying and allowing our children to avoid taking adult responsibility," he said. "I don't know where it came from because our parents didn't do that, to help our children avoid the reality of adult lives.
5. Unforeseen Emergencies or Changes in Circumstances
Americans of all ages should build a fund to use for any unexpected financial emergencies, such as home repairs, a medical crisis or illness or a significant drop in investment returns. Retirees may find themselves in need of additional financial support. Having a financial reserve can help people navigate these changes more comfortably and provide much-needed peace of mind.
6. Arranging Estate Planning
If baby boomers want to designate funds for estate planning purposes, such as leaving a legacy to their heirs or supporting charitable causes, decreasing ongoing financial support to family members can help them achieve these goals.
Are You Retirement Ready?
7. Sustaining a Comfortable Lifestyle
One of the main goals of saving for decades is to preserve your desired lifestyle when you finally retire. Reducing financial assistance to family members can enable retirees to maintain a comfortable lifestyle during retirement, which includes enjoying leisure activities, traveling, and pursuing hobbies without constant financial constraints.
It's important for baby boomers to strike a balance between helping their family members and ensuring their own financial security during retirement. This should involve setting clear boundaries, having open conversations about financial expectations and considering alternative ways to support loved ones without endangering their own retirement plans.
"If you're offering financial support to adult children, make sure it's coupled with the opportunities and requirements that they learn, grow, and take responsibility," says J.P. Morgan Private Bank's head of behavioral science, Jeff Kreisler.
More From GOBankingRates