8 Unexpected Retirement Costs To Plan For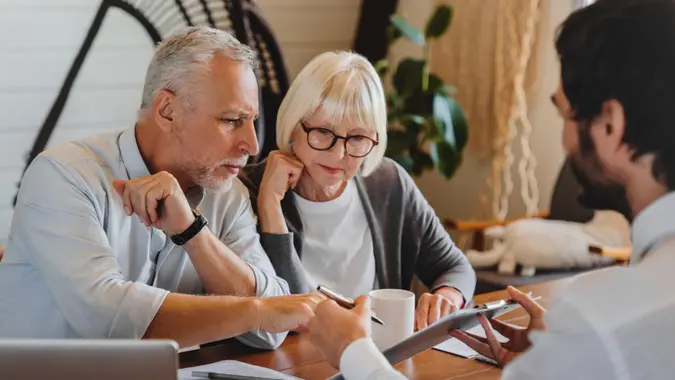 Inside Creative House / Getty Images/iStockphoto
Bad retirement advice isn't always obvious, especially to inexperienced investors. Because retirement planning isn't a straightforward, uniform process, you have to learn how to look for hidden costs and recognize when advice that is good for someone else could flat-out ruin your retirement plan.
If you want to get your retirement savings on track, make sure you're not overlooking one of these eight retirement expenses.
1. Overly-Conservative Investments
When it comes to asset allocation, conventional wisdom used to dictate that the percentage of stocks in your portfolio should equal 100 minus your age – 50% for a 50-year-old, for example. Current thinking says that's too conservative and might cause you to outlive your money.
"Excessively high allocations to bonds and cash can be the single biggest impediment to achieving retirement investment goals, LCV Advisors, a fee-only Registered Investment Advisor in Northern Chicago, noted on its blog. The firm suggests replacing the "100 Rule of Thumb" with a 120 rule to maximize compounding growth.
2. Short-Term Savings Neglect
"Some people do a really good job putting money away in their long-term savings such as retirement but neglect to put money into their short-term savings," said Steve Repak, CFP, financial literacy speaker and author of the "6-Week Money Challenge: For Your Personal Finances."
When an emergency fund isn't set in place, it can be necessary to tap retirement funds if the refrigerator goes bust or you face an unplanned medical emergency. But taking funds from a 401(k) or individual retirement account doesn't just deplete retirement savings, it also comes with an additional cost. You "most likely will incur taxes and penalties on the withdrawal, which could make that emergency much more expensive," said Repak.
Are You Retirement Ready?
3. Market Volatility
There's a reason financial planners recommend investors shift to more stable securities as they approach retirement. "If the majority of your portfolio is exposed to riskier investments and you're planning to retire in a couple of years or less, a turbulent market … could force you to work longer or take substantially less" in annual income, said Carlos Dias Jr., founder and managing partner of Dias Wealth in Lake Mary, Florida.
Indeed, the current bear market, combined with inflation and the likelihood of recession, has many near-retirees on edge. You can protect your money by shifting into short-term Treasury and I bonds, Allan Roth, CFP and accountant at Wealth Logic in Colorado Springs, Colorado, told CNBC. Other defensive assets include consumer staples, utilities and gold. 
4. Out-of-Pocket Medical Costs
Traditional Medicare covers many of the medical costs Americans age 65 and older face, but it doesn't pay all of them. Even Medicare Advantage and Medigap plans, which were designed to fill gaps in Medicare Part A and Part B coverage, can leave you with a mountain of debt if you're not prepared.
The Fidelity Retiree Health Care Cost Estimate from Fidelity Investments revealed that the average 65-year-old retired couple in 2022 might need $315,000 in after-tax personal savings to cover their healthcare expenses in retirement. 
If you're unable to save that much, consider delaying retirement until you reach full retirement age or older – up to age 70. Your Social Security payments will be higher, so you'll have more cash to put toward healthcare.
Are You Retirement Ready?
5. Long-Term Care Costs
"Long-term-care healthcare expenses — like home health, assisted living care or a nursing home — can decimate retirement savings in a matter of a few years," said Dias. 
The median cost of nursing home services runs $7,908 per month for a semi-private room, according to the 2021 Cost of Care Survey by Genworth. For just one person, that adds up to nearly $95,000 per year. 
6. Ongoing Maintenance
American Family Insurance recommends budgeting about $1 per square foot of living space for annual home maintenance costs. So, for a 2,000 square-foot home, plan to spend about $2,000 per year.
For annual car maintenance, budget about 9 cents for each mile you drive over the course of a year – that's for a new car, according to AAA.
Downsizing your home or trading it for an apartment or condo can reduce your maintenance costs considerably. The same is true for your car. In fact, you can save about $1,500 per year in overall ownership costs if you drive a small sedan instead of a medium-size one. 
7. Underlying Fees
Your investment accounts could be earning you less than you realize. That's because every dollar you pay in account fees reduces your return by the same amount.
You can find fees listed on your account statements, in the prospectus for each of your holdings, and on your broker's website. Look for charges like annual maintenance fees, annual mutual fund fees, advisory fees, administration fees and expense ratios.
Are You Retirement Ready?
You might not be able to eliminate these costs, but knowing what you're paying lets you factor the expenses into your retirement plan.
8. Improper Allocation
"Investors have a hard time determining the amount of risk they are taking on," said Kaleb Robuck, associate advisor with Miller Financial Group in Red Oak, Iowa. It becomes even more difficult to figure out how much risk is inherent within a portfolio when assets are combined between spouses and among different investment vehicles, he added.
"If an investor hasn't adjusted allocation as they've reached retirement age and there is a sudden downturn in the market, a retirement plan can be adversely affected in a big way," he said. "Investors can avoid this by looking at their entire financial picture and adjust according to their risk appetite and time frame."
More From GOBankingRates
Alaina Tweddale contributed to the reporting for this article.