The Average Retirement Plan Contribution Is 11.2% — But That's Not Enough, Expert Says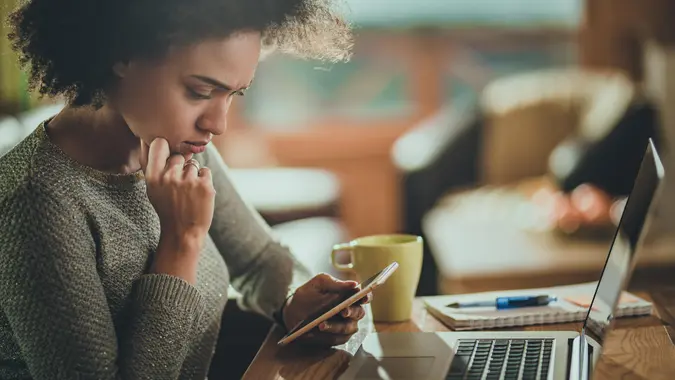 skynesher / Getty Images
Despite the financial hardships brought on by the pandemic followed by a period of inflation, many Americans are saving more for retirement than in previous years. Vanguard's How America Saves report, which analyzes the habits of its nearly 5 million retirement savers, found that in 2021, the average total contribution rate — which includes participant and employer contributions — reached 11.2%, with a median contribution rate of 10.4%. That's up from 10.8% and 10%, respectively, in 2017. But despite these gains, Americans are still not saving enough for retirement.
Good To Know: 15 Worst States To Live on Just a Social Security Check
Find Out: 7 Surprisingly Easy Ways To Reach Your Retirement Goals
GOBankingRates spoke with Matt Fleming, a wealth advisor executive at Vanguard, to find out how much Americans should actually be saving and how to realistically get to that goal.
What Is the Ideal Retirement Plan Contribution Rate?
Vanguard recommends a target retirement plan contribution rate of 12% to 15%, but as Fleming explains, there really is no one-size-fits-all approach to retirement saving.
"Within the team I work on here, we don't use a percent of salary," he said. "We would approach it more [based on] what lifestyle you want in retirement, and then back into what that means as far as saving toward that and investing toward that."
To figure out your ideal contribution rate, it's important to understand what you want your retirement to look like.
"Give some due thought to what kind of lifestyle you would like to enjoy," Fleming said. "What we find is that for a lot of investors, somewhere between 75% and 85% of their current salary would provide an adequate replacement ratio in retirement. So if you're making $100,000 today, when we back out some things like payroll taxes and fixed living costs like the cost of a mortgage, then they might be able to live more reasonably in retirement on $75,000 to $85,000 a year in today's dollars."
Take Our Poll: Are You Concerned That Social Security Benefits Will Be Reduced During Your Lifetime?
How To Up Your Contribution If You're Not Where You Should Be
Once you figure out your ideal retirement plan contribution rate, you may find that you are falling short. Fleming provided a number of tips to enable you to increase your contribution rate as needed.
Opt Into an Automatic Annual Increase
Nowadays, many 401(k) and 403(b) plans offer the option for step-up contributions.
"With step-up contributions, someone can opt into an incremental increase year over year, so that can be a little more digestible," Fleming said. "It might increase by 1% or 2% annually, so you don't feel the additional savings quite as much, as opposed to somebody saving 8% that needs to get closer to 12% — it can be hard to digest 4% all at once."
While you can increase your annual contribution manually, Fleming recommends automating it.
"What we find from investor behavior is that if you can automate your savings and increases to savings, then you're going to be more diligent at saving against that goal," he said.
Reevaluate Your Budget
When you take a closer look at what you are spending, you may find costs that you can cut that can be redirected toward retirement savings.
"A lot of clients don't have a real line of sight into what they're doing today," Fleming said. "Understand that financial balance sheet — that includes fixed expenses, discretionary expenses and what you are currently saving — and then make adjustments accordingly from there. My wife and I have a favorite saying — save where you can so you can spend where you want. The same would apply to savings. If you understand what elements are discretionary within your budget and make conscious decisions about where you might be able to trim a little bit, you can shift some of that into savings."
Seek Help From a Professional
"For folks that do have a challenge putting that discipline on themselves, partnering with an advisor is a really useful exercise," Fleming said. "Regardless of one's education, unless this is your profession, getting some help around [retirement planning] is really useful."
More From GOBankingRates