Baby Boomers: 7 Best Ways To Downsize Your Home in Retirement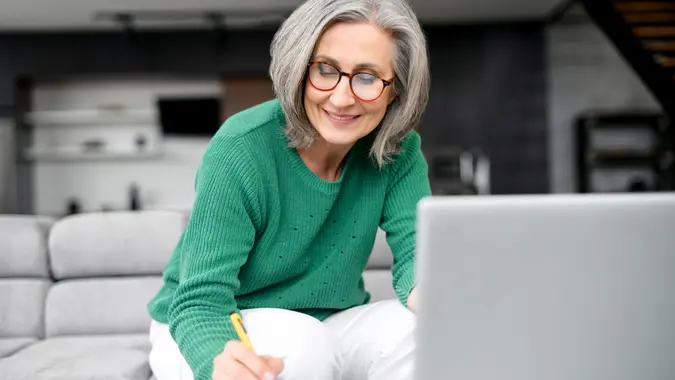 Vadym Pastukh / Getty Images/iStockphoto
As you approach your retirement years, or even once the kids are out of the house, you might be faced with the choice to downsize your home. Downsizing can be beneficial in many ways. Not only can it simplify your lifestyle, but it can also lead to lower maintenance costs or a cheaper cost of living. On top of that, it can also be a great way to refresh your way of living and set you on the right track for the next stage of your life.
But downsizing can be a long and daunting process, which is why it's good to take it in steps. Here are some simple steps for downsizing your home and how to find the right home for you in retirement.
Make a Plan
Oftentimes, downsizing involves decluttering your home, selling or giving away things you don't need, or even switching to a smaller property that's easier to maintain. But before you do any of this, it's important to understand your goals.
"Typically, one of the main reasons that homeowners downsize is to find a more affordable option," said Justin Draplin, CEO of ECLIPSE Cottages. "Empty nesters tend to downsize since they will not need all the extra space after their kids have moved out. The same goes for people going through a divorce; saving money and less living space needed." And people approaching retirement tend to downsize to cut unnecessary expenses and achieve a certain ease in their life.
Are You Retirement Ready?
Think about why you want to downsize and start planning around that. For example, do you want a different lifestyle? Are you worried about finances and want to cut costs? Will downsizing or moving to a smaller or different location help with your health-related needs?
Then, decide how much time you're willing to spend on the process. "If you have the luxury of time (i.e., you won't be moving for at least six months), then downsizing will be a process that you can take on with time and patience," said Lauren Saltman, a professional organizer and the owner of Living. Simplified. LLC. "The key to downsizing is knowing where you are going to be moving so you can work with your new floor plan to determine what pieces of furniture you can bring, as well as how much storage (closets, attic, garage) you will have in your new home. Knowing this information in advance is a huge benefit when downsizing."
Clear Out Your Unused Items
One of the hardest parts of downsizing is dealing with the emotional side of things. After all, there's a good chance that you're going to be getting rid of some prized possessions or things with sentimental value attached to them.
But getting rid of nonessentials is a necessary part of the process. "You really have to decide what is necessary to keep or what is going to take up space," Draplin said. "Many tiny home buyers live by the '100 rule,' which is choosing only 100 individual items to keep. This includes appliances, furniture, clothing, utensils, and any other personal belongings."
Are You Retirement Ready?
If you're able to get rid of things before moving, it can make that part of the process much easier, too. After all, having fewer things can cut down on packing supplies or allow you to move with a smaller vehicle.
Now, for many people, the "100 rule" can be too extreme. It's OK to start at your own pace, though, especially if you're not on a time crunch. This can also give you time to emotionally prepare as you go through your things.
And, if you can't bear to get rid of certain items, you could always store them somewhere easily accessible. "If you have sentimental items or seasonal belongings you want to hold onto, consider off-site storage options," said Joshua Findlater, managing director of Landlord Vision. "They allow you to keep important possessions while freeing up space in your downsized home."
Start With One Room at a Time
You don't need to go through every room at once. In fact, it might be better to pick one room — ideally one you don't use that often — and go through that one first before moving on to the next. Go through every closet, drawer, cupboard, dresser and bin and take the time to determine what makes the cut and what doesn't. By doing this, you'll be able to slowly but surely get rid of things you don't often need, use or even think about that much.
"This process should be done throughout your home, and slowly over time, you will work on the process of downsizing," Saltman said. "By starting in the areas of your home you use the least, you should expect that the decisions will go quickly as most likely, these items are not ones that you would bring to your new home. As you progress, you might start to find family memorabilia. Be sure to keep what you want and to pass along items to family members."
Are You Retirement Ready?
It might not seem like it at first, but downsizing comes with a lot of decision-making. If you start getting tired, or if you're unsure about something, take a break and come back tomorrow or next week for a fresh start.
Consider Your Finances
Although downsizing can ultimately help you save money, it comes with several costs that need to be considered. For example, you may need to pay for a moving truck or movers to transport your belongings.
If you're selling your current home, chances are you'll also use some of the proceeds to pay for the down payment or closing costs of your new home. It's a good idea to set aside some money for things like retirement or unexpected maintenance costs.
One other consideration is the cost of where you're moving. Although many people downsize to cut expenses, some people do it so they can live closer to their families. If your relatives live in a more expensive area, this could end up increasing your cost of living.
Other potential costs to consider include things like homeowners insurance requirements, HOA fees and property taxes. Make a budget before getting started as this will give you a rough idea of what you're going to spend. You can also speak with a real estate agent or financial advisor about potential costs and how to prepare for them.
Get Your Current Home Market-Ready
At this point, you've already decluttered your home, or at least started the process. You might also have packed away a few rooms and organized what's left.
Are You Retirement Ready?
The next step is to prepare your home for the market. This might mean doing minor renovations or repairs. It could also mean freshening up your siding or landscaping for greater curb appeal. You could even hire someone to help stage your home for prospective buyers.
Find Your New Home
When it comes to finding the perfect home, there are several other aspects to consider. "Consider factors like location, size, layout, and proximity to amenities, medical facilities, and social activities," Findlater said. "Think about the kind of space you'll need to support your desired lifestyle during retirement."
Try to align your new home with your immediate and long-term goals, lifestyle preferences and health. For example, Findlater added, "A home with single-story living can make mobility easier as you age, eliminating the need for stairs. Look for low-maintenance exteriors that require less upkeep, like smaller yards and durable materials. Accessibility features such as wider doorways, grab bars, and walk-in showers can be crucial for safety."
There are several ways to find your next property. Use websites like Zillow or Redfin to see what's in the area. Consult with a real estate agent who specializes in helping retirees or baby boomers. Check out some open houses and get a feel for different neighborhoods in your desired location. And keep in mind any price considerations you might have.
Cultivate Your New Lifestyle
Last but not least, it's time to settle into your new home and begin cultivating your new lifestyle. "Make new friends, enjoy your hobbies, and enjoy living in your new, uncluttered home where you are surrounded by all the items that bring you joy and happiness," Saltman said.
Are You Retirement Ready?
Depending on how much you've downsized, it might take some time getting used to your new lifestyle. One way to make this easier is to keep in touch with your family and friends. Along with this, get involved with the neighborhood or consider a new hobby or interest. All of these things can help make the downsizing process easier while simultaneously getting you to where you need to be.
More From GOBankingRates